Did you know there are currently 16.1 MILLION Ford F-150 trucks on the road today?
There's simply no doubt about it, Ford's legendary truck is more popular today than ever before, and for good reason. There are few vehicles on the road that offer the absolute versatility of a full-size pick truck for doing everything from hauling all of your favorite people and their gear to your favorite campsite, or simply running errands around town. Today, the full-size pickup truck has become the do – it – all vehicle for the American family but where did this move towards the family truckster all start?
At Velocity, we've had the pleasure of working on some of the finest vehicles ever offered for sale in America, and the Ford's F-Series is among our absolute favorite vehicles to work on. Although every classic F-Series truck is fantastic, among the most desirable of all F-Series trucks is the fifth generation, sold from 1967 – 1972. This generation was a game changer for Ford because the Blue Oval crew made 2 crucial marketing and design decisions that would guide F-Series trucks for the next 50 plus years and come to define the modern pickup:
Ford created a "car-like" pickup that was designed to be tough and capable, yet luxurious and easy to drive.
An Iconic design for their 4×4 models that included not only unique styling, but also components that we're specifically designed to run hard off-road.
Curious about how Ford seemingly peered into the future? Read on as we cover the amazing fifth-generation Ford F-Series.
A Truck For Every Buyer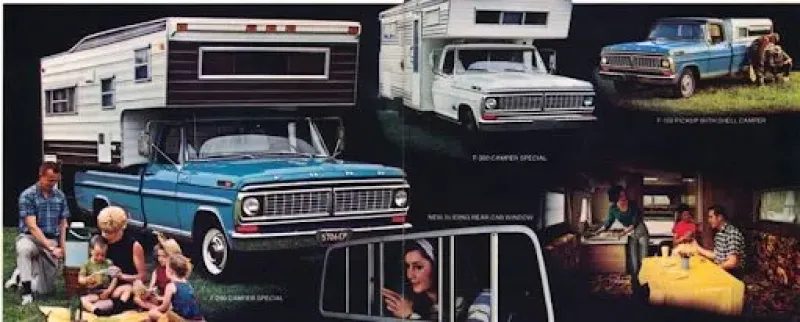 Part of the allure for the F – Series truck (today or back in the 1960's) was the ability to customize this unique truck for a variety of different tasks, and the fifth gen F-Series was where Ford really started to stretch the perception of what a truck could do for owners. In fact, 1965 was the very first four door, crew cab F – series produced by Ford, a trend that would grow and evolve over the next 50 years.
Although the crew cab was introduced in the 4th generation, the 5th generation is where Ford would really begin to expand upon the flexibility of the crew cab, along with a staggering variety of capable models and optional packages. Popular bed styles include the flareside (or bumpside) which integrated a step right into the body of the truck for easy access to the bed.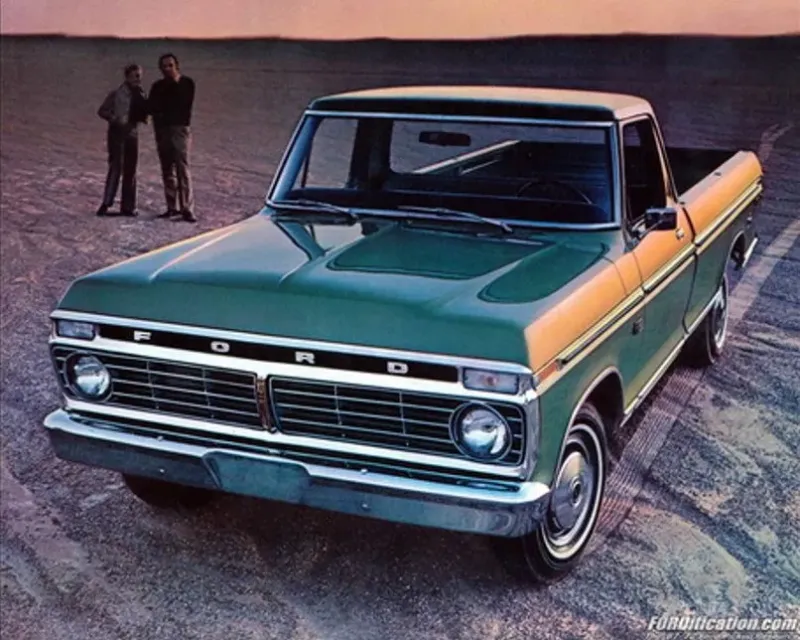 In 1973, Ford introduced the 6th generation F-Series with all new styling and an incredibly sought after design flare known as the "dentside". Yet another term coined by a Ford enthusiast, 6th-generation dentside trucks are among the most sought after years in the classic market and we've had the opportunity to work on quite a few of these stylish trucks over the years here at Velocity.
Works Like A Truck, Rides Like A Car
Although the 5th generation f-series was built on essentially the same platform as the fourth generation truck, Ford made extensive tweaks to the suspension and overall option packages to make the F-series more of a daily driver than any Ford truck before it. Sure, you could get an F100 in a bare bones, work style build out but Ford realized that consumers wanted trucks that were more friendly to drive on a daily basis. We take this trend for granted today since most modern pickup trucks could easily be taken for a luxury car inside, but in the 1960s a truck was, well, a truck!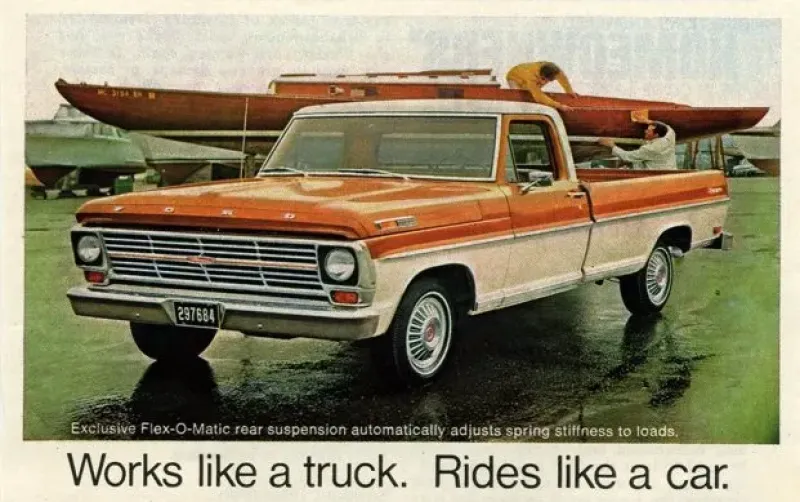 To achieve a more compliant ride, Ford utilized a Twin I-Beam suspension that was specifically designed for over-the-road comfort. This solid axle setup was suspended at all four corners with heavy-duty leaf springs and a super-strong frame. Combine this compliant suspension with an interior that was a match for the sedans of the era, and you suddenly are looking at a truck that is pretty darn nice to drive on a daily basis.
Ford offered many distinct trims for each year of fifth-generation F-Series, including the introduction of the legendary Ranger at the top of the lineup. Each and every model came with a color-coded interior that matched the exterior, full instrumentation, sun visors, armrest, and even two-speed windshield wipers.
Each trim level offered just a bit more equipment to further the daily driver mission of the 5th generation F- Series:
Standard
Even though it was base level, this truck still included features like a heater, floor mats, aluminum scuff plates, and color-keyed interior and exterior trim elements. The seating was a basic vinyl and there wasn't even carpet! Rather than continue to call their most basic truck a base or standard model, Ford decided to name their entry-level truck the Custom in 1970, to go along with the mid-cycle refresh.
Custom and Sport Custom
Ford's mid-level F-series truck was known as the Custom from 1967 to 1969. For 1970, the Custom trim became the Sport Custom trim. Here, Ford offered a much nicer seat that included heavier foam padding, a unique two-tone vinyl combination seat, color-coordinated floor mats, a unique instrument cluster, and various other interior/exterior upgrades.
Ranger & Ranger XLT
Up until 1969, the Ford F-series topped out at the Ranger trim. This pseudo luxury truck included such features as a completely bespoke dashboard, with wood grain inserts, unique pleated vinyl upholstery with cloth-like patterns, unique instrument panel molding, unique hubcaps, tailgate, and even tailgate moldings. The whole look of the Ranger was completely unique in the F-series lineup and was highly coveted but expensive.
In 1970, Ford began to offer an even more luxurious example with the Ranger XLT trim. The XLT trim included everything from complete color customization to increased weather and sound insulation, a 12-inch day and night mirror, sound-absorbing headlining, and unique exterior decor.
Ford offered an incredible variety of options for the 5th generation F-Series, including an air conditioner, an AM/FM radio, powered disc brakes, powered steering, and bucket seats. Although this may not seem like a big deal today, trucks previous to the 5th generation F100 were all work and no play, which was a huge departure in the marketing that Ford was pushing at the time.
The Highboy
4×4 5th and 6th generation F-Series trucks are affectionately known as Highboys, which is a term coined by a Ford enthusiast and was not part of Ford's marketing nomenclature. Take one look at the 4×4 F-Series trucks of this era and it's not hard to understand why these particular trucks got their unique name. Again, we take for granted the idea of a lifted truck but back in the 1960s, lifted trucks were definitely not as common as they are today!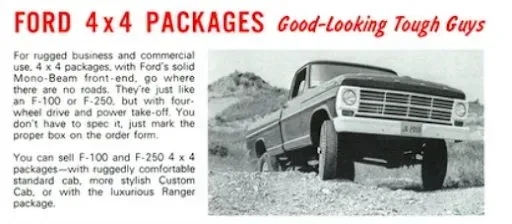 The 4×4 F-Series of this generation achieved its unique lifted appearance from a "divorced" transfer case. This design was utilized because it was cheaper to modify an existing 2WD truck and transmission for 4WD duty by adding a short driveshaft that connected the Dana 24, NP203, or NP205 transfer case to the transmission. On most modern trucks, the transfer case is "married" to the transmission directly, which allows the truck to sit lower because it does not need to accommodate the extra driveshaft. Ford did this until 1975, so 1967 to 1975.5 F – Series 4×4 trucks are ridin' high.
In addition to the lifted height, Highboy F-Series trucks also included more robust leaf springs that included a more aggressive bend, a standard 4-speed manual, and tougher suspension components all the way around. Front axles were 8-lug Dana 44, Dana 44HD, or Dana 60, and rear axles were either a 16 or 30 spline 8-lug Dana 60. Every Highboy utilized a 4.10:1 gear ratio. Most examples utilized the 360 V8 and both the F-100 and F-250 models could be ordered in the Highboy 4×4 configuration.
The Future Of A Classic
If you're a lover of classic vehicles (and especially classic trucks) then you know that the market has grown exponentially over the last several years. This data from Bring A Trailer sums it up best by showing the stratospheric popularity of the Ford Pickup over the last 6 years, and the subsequent increase in selling price as well:
Your eyes are not deceiving you, 2021 has been a gangbusters year for Ford Pickup sales, with some examples going from $100,000 to $150,000.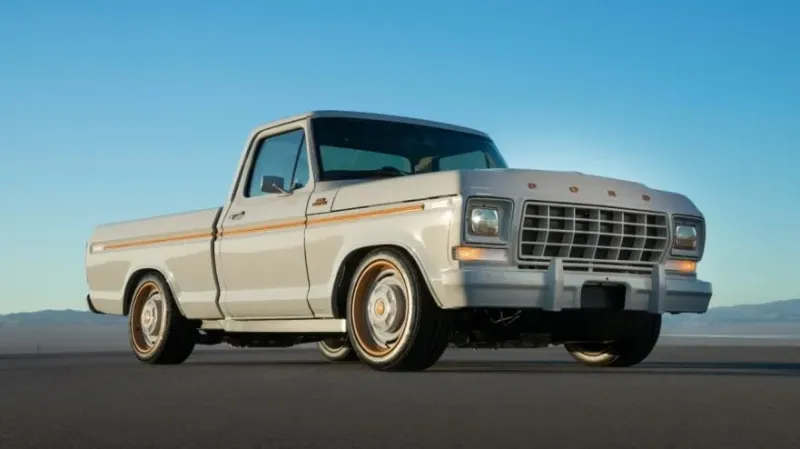 While traditional trucks are still the ones that people seem to be clamoring for the most, at this years SEMA show, Ford turned the custom world on its head by showing off a 1978 F10 that's powered by a 480 horsepower electric powertrain from the stunning Mach – E! As the world marches towards wider adoption of electric vehicles, builders and custom shops will soon have an opportunity to place these stunning electric masterpieces right into custom builds for customers, opening up an entirely new market.
It's a great time to be a builder and an even better time to be an owner of a classic truck.
Velocity F-Series Parts
As fantastic and nostalgic as the F-Series truck is, if you know Velocity, then you know that even something as cool as this classic can become even more iconic in the right hands. Since F-Series trucks (along with most classic American trucks) are so highly sought after in the ever-growing classic truck market, Velocity is ready to help both professional builders and DIY wrenchers alike with their upcoming line of F-Series parts.
That's right! The Ford F-Series fanatics at Velocity are releasing a series of premium quality F-Series parts that include everything from mirrors and cab lights to door panels and so much more. We engineer and manufacture our parts in-house at our state-of-the-art facility, ensuring the optimum quality and a classic flair that belongs on a modern classic.
To see some of these incredible parts in action, look no further than our incredible 1970 F-250 Highboy that's currently getting the Velocity treatment at our facility.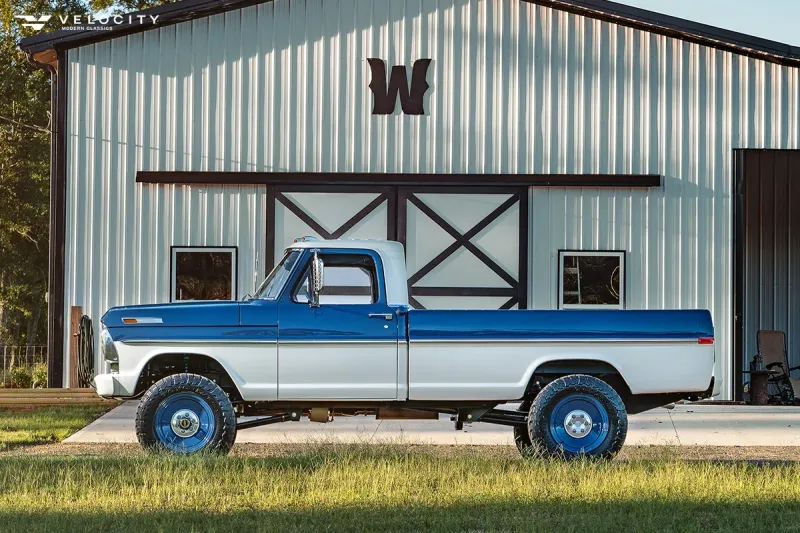 Beyond the outrageous, throwback style two-tone exterior, we've also brought a dose of modern power to this monster build with Ford's own 7.3L (445 CID) Godzilla V-8 crate engine that's bringing some serious power to this classic build. We can't wait to show you this finished build!
If you're currently building an F-Series truck or thinking about buying that perfect F-Series from an auction that needs some extra attention, stay tuned for more details on our extensive lineup of Velocity exclusive F-Series parts.