Ford's introduction of the Bronco in 1966 changed the way people used their family vehicles.
Suddenly, Americans could buy an affordable vehicle that was designed to explore the deepest parts of our country's natural treasures on the weekend, and then drive to work on Monday morning in the same vehicle. In fact, early Ford Broncos were used for everything from helping dig posts and install fences on America's plains to reaching that prized fishing or camping spot way up in the mountains during summer break. This wide range of usage prompted Ford to offer different packages and options that were designed for how people would use their classic Bronco.
Today, the market is littered with SUVs that masquerade as capable vehicles. More lifted wagon than true SUV, today's modern SUVs pale in comparison to the original Ford Bronco's off-road focused mission. Despite its rugged nature and basic design, by 1973, Ford started to realize that more and more people were looking for a version of the Bronco that had never been conceived before, a more luxurious classic Bronco.
So, how did Ford convince buyers they needed a more liveable version of their classic SUV? Let's discuss.
Changing Demand
It took Ford seven years to conceive a pseudo-luxury (for the day) version of the classic Ford Bronco. After all, the whole mission of the original Bronco was to take folks into the wilds of nature with standard 4x4, powerful engine options, and a wealth of accessories that made traversing the rough stuff easier. This was not a luxury rig, it was basic and downright utilitarian. Yet, even back in the early 1970s, the perception of what an SUV could be was changing and American drivers wanted more from their trucks and SUVs.
In the 1960s, SUVs like the classic Ford Bronco, International Scout, and Jeep CJ were seen more as tools than something you'd drive on a daily basis. They were affordable, and at a time when most things were affordable to a working family, the Ford Bronco was usually a second vehicle and not the primary driver. However, as a fuel crisis and shifting economy started to berate Americans, the concept of a second vehicle moved farther and farther away from most families.
Vehicle buyers were looking for something that could really do it all, and at that time, this really didn't exist. If you wanted an SUV for going off-road or taking to a park in the growing National Park system, you bought a utility vehicle like a Bronco or Scout. If you wanted a daily driver to commute to the office, you bought a Ford Fairlane, Galaxy, or Impala. If you had a family, you bought a station wagon like a Roadmaster or Town & Country. Muscle car? You guessed it, Mustang, Camaro, Javelin, etc.
To understand why the 1973 Bronco Ranger Edition is so significant, we need to see the Ranger Edition for what it was: a massive shift in how people bought vehicles. Jeep had tried to build a luxury version of the Grand Wagoneer in the 1960s, but that vehicle came out at the wrong time to really make an impact. Ford was excellent at riding demand, and by the time the early 1970s rolled around, the aging classic Bronco needed to redefine itself and the market was ready to accept it.
Classic SUV With A Luxury Edge
In a world of Land Rovers, Escalades, and Bentley SUVs, it's hard to look at the relatively basic trappings of the 1973 Ford Bronco Ranger Edition and think of it as a luxury SUV but for the time, it absolutely was. The highest trim version of station wagons and cars of the 60s and '70s were not necessarily defined by the accessory and feature content, but instead by their look and feel.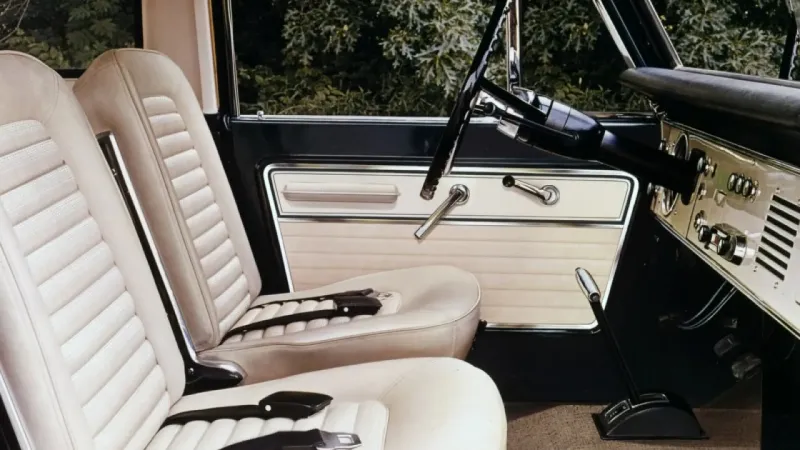 Prior to 1973, the highest trim version of the vintage Ford Bronco was the Ford Bronco Sport which included splashes of vinyl and chrome that dressed up the interior in a fairly stylish but utilitarian sort of way. It didn't have carpet, and instead used vinyl mats, and hard floors to convey the image of the strong, capable 4x4 vehicle that it was. It was damned effective, but it was basic and Ford knew that it had to come up with something more special.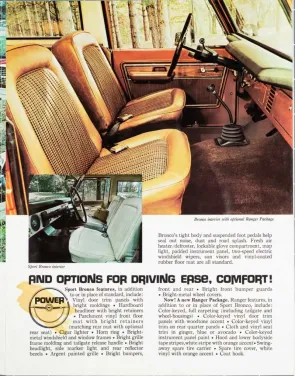 The first thing you'll notice about the classic Ford Bronco Ranger Edition is the look and feel of the interior. Rather than keep the cheaper, more utilitarian vinyl bench, the Ranger edition included a set of bucket seats (optional on other trim levels) trimmed out in a stylish houndstooth style pattern. Even today, these seats look incredible. Other highlights included full carpeting in the front and the cargo area, which was a big deal because most Bronco's got dirty while their owners were putting them through the wringer. This Bronco was not like other Broncos.
In addition to the seats and full carpeting, the Ranger Edition bronco also got some very 1970s style in the form of wood graining on the doors, along with a full color-keyed pallet throughout the inside in ginger, avocado, or blue. Unlike today, high-end versions of vehicles in this era color matched everything from the seats, to the floor and yes, even the dashboard and the floor. It's one of the things that makes classic Ford Bronco Ranger Editions really stand out from other trims and we think it's fantastic.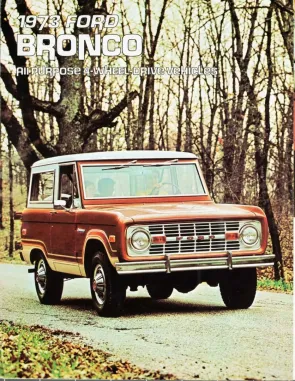 Outside, the classic Ford Ranger Bronco continued to define itself with white vinyl striping that carried an orange accent on the hood and down the sides. A swing-away tire carrier (optional on other Broncos) that was adorned with the classic Ford Bronco font and the bucking horse that has now become synonymous with the Bronco. Interestingly, they also included a coat hook on the back, which is a definite nod to the gentleman sportsman. A white top sets off the entire look.
Ford would go on to offer the Ranger edition as a top trim in the Bronco lineup throughout the second and third generations as the Ranger XLT. As the Bronco evolved into a larger, truck-based ute, the Ranger edition continued to offer that color-keyed look throughout the entire cabin with the edition of cloth inserts on bucket seats. Outside, the look evolved into what buyers of truck-based "family four-wheelers" of the day wanted: chrome, chrome, and more chrome.
By 1985, the Ranger edition was put out to pasture and the Eddie Bauer edition took its place. Ford dropped the Ranger name because it became confusing due to the fact that had brought a small pickup to market in 1983 named, you guessed it, the Ranger.
Modern Luxury, Classic Inspiration
For over a decade, the Ranger Edition classic Ford Bronco was the pinnacle of rugged, American style. Our Velocity Ford Ranger Edition Bronco pays homage to the inspiring design of the classic Ford Bronco by including iconic styling cues both inside and outside this beautifully honed machine. Our mission is to merge the past and present in a way that no other builder in the United States can and the Velocity Ranger Edition Ford Bronco does exactly that.
Ranger Inspired Design
On the outside, we've included the iconic white and orange striping from the first generation Ranger Edition Ford Bronco on the hood, and on the sides. This, combined with your choice of stunning Glasurit paint endows the Velocity Ranger Edition Ford Bronco with a rugged, yet refined appearance that bridges the present and the past with true American craftsmanship. In addition, all Velocity Ranger Editions include a Wimbledon White six-point roll cage, front bumper, and rear bumper. 17-inch Wimbledon White "Steele" wheels set off the stance and they come wrapped in all-terrain tires.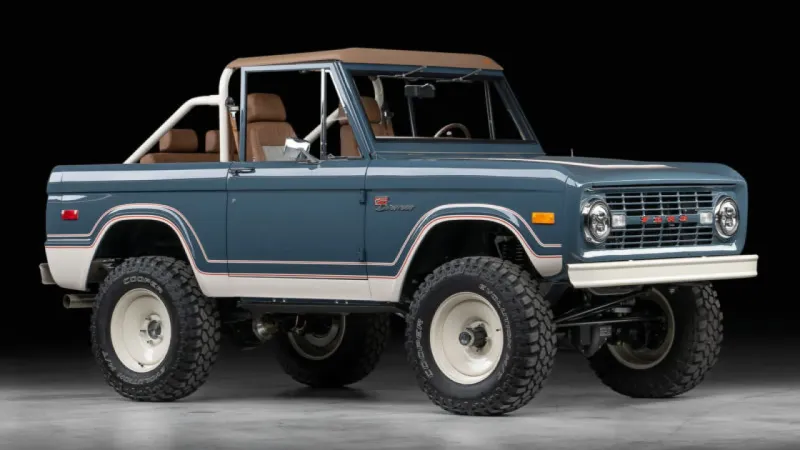 Inside, any fan of classic Broncos will immediately recognize our custom-tailored bucket seats finished in a beautiful custom vinyl that's perfectly set off by a Ranger Edition-inspired seat insert. The design of the seat insert is carried to the custom floor, where it wraps over the transmission tunnel, just like the carpeting did on the classic Ford Bronco Ranger Edition. Matching seat belts and gear selector boots and safari top are just some of the small touches that make this interior really stand out.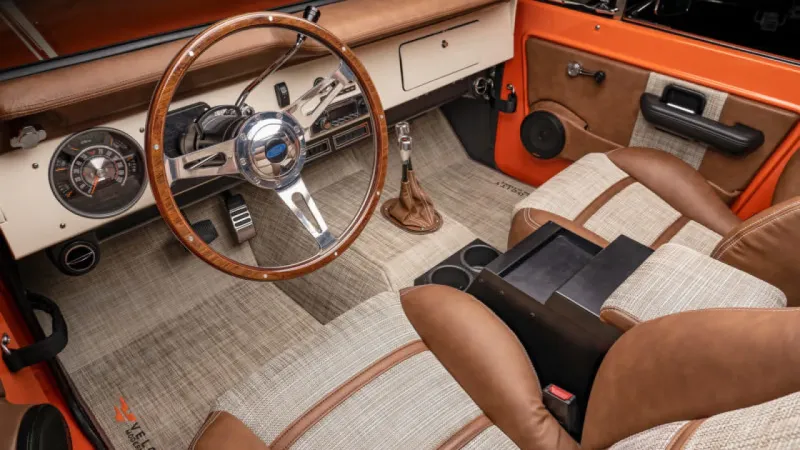 We've kept the original look and layout of the dash from the classic Bronco, but we've included a clever Retro Sound stereo that includes wireless Bluetooth technology, something that buyers in the 70s could have only dreamed of. Tucked away under the dash, we've also built in a Vintage Air A/C unit that helps make this Ranger Edition Ford Bronco more comfortable on a daily basis.
Modern Performance
Under the classic hood, we've given the Ranger the heart of a true bucking Bronco with a Coyote V8 that can launch the Ranger Edition Bronco to 60 mph in only 5.1 seconds. Velocity custom builds headers and exhaust for their builds, ensuring the highest level of performance and a thundering sound that is a perfect match for this rugged, yet refined vehicle. Every Ranger Edition Bronco by Velocity is custom tuned on our in-house Dynojet before heading out to clients. This ensures a level of refinement and performance that is unheard of in the custom industry.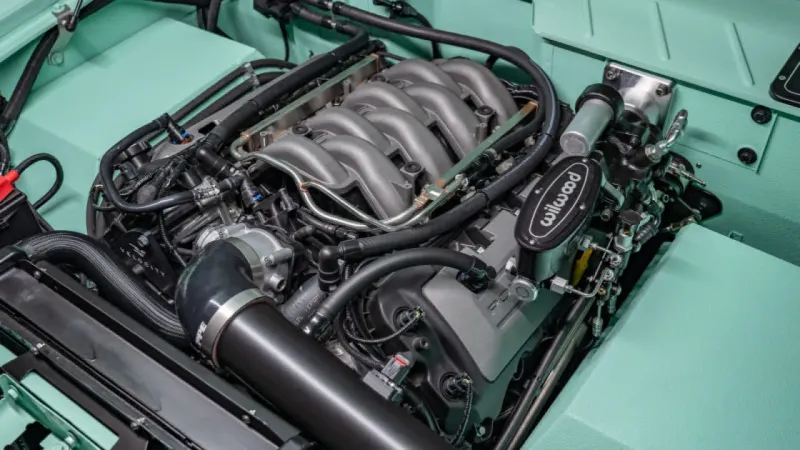 Paired with a modern 4-speed Ford transmission and rugged 4x4 system with Atlas 20 transfer case, and a Dana 44 axle, our Broncos not only look the part but are capable in every imaginable scenario that you can throw at them. Massive Wilwood brakes haul speed down confidently, while a custom-engineered suspension system ensures excellent handling and a secure, yet comfortable ride quality.
No Compromises
Drawing inspiration from the past and applying it to a modern application is what we do best. Our Ranger Edition Ford Bronco by Velocity brings in those iconic styling elements and blends them with modern materials and engineering to produce something that is at once classic yet powerfully refined. There is no other feeling on this planet like sitting in what looks like a classic SUV but feels like a modern luxury vehicle everywhere you touch. Refined, powerful, and intricately engineered, the men and women of Velocity Restorations are proud to bring you the finest classic Bronco in the world.