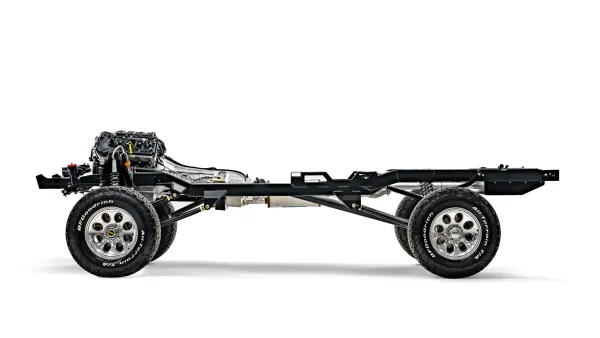 1969-72Rolling Chassis Frame & Powertrain
Classic Ford F-250
At its core lies a powerful 460-hp Gen III Coyote crate engine, smoothly paired with a 10-speed automatic transmission, but the marvels don't stop there.
Starting at 89,995
When receiving parts, the Client must take inventory of delivered parts and report any items missing or damaged to Velocity within 48 hours of parts being recorded as delivered.
Description
The VF3 boasts a two-speed Atlas 2 transfer case, driving Panhandle 2" driveshafts, ensuring superior traction across all terrains. Signature Velocity enhancements permeate the design, from our advanced 6-rib serpentine system to the bespoke exhaust and cooling systems.

Additionally, this chassis is peppered with state-of-the-art components. The precision of an Ididit steering column, the responsiveness of the Hydroboost braking system, and the comfort of the Vintage Air A/C and transmission cooler all come together in this premium offering. The VF3 chassis awaits; all that remains is your chosen body to complete the masterpiece.
Key Features
Built on VF2 Rolling Chassis
Gen III Ford Coyote V8 Engine
10R80 Transmission
Performance Exhaust
60-90 Day Lead Time
Velocity Exclusive Frame built by Roadster Shop
Dana 44 front axle with Warn premium locking hubs.
Dana 60 rear axle with Trac-Loc.
Yukon 30 Spline chromoly axels
Power Steering, Fox adjustable Steering Stabilizer
Steering assembly
Four-wheel Wilwood big brake kit. (6 Piston Front & 4 Piston Rear)
Custom Brake Line Kit installed
Coilspring Front Suspension
Triangulated 4-link rear suspension

Ford Performance Gen III Coyote Crate Engine

465 HP/ 400 TQ
11:1 compression ratio (requires 91 minimum octane)
Controlled by FRPP Control Pack
Custom-designed Stef's aluminum 7 qt oil pan to provide ample engine-to-axle clearance
Lower steering shaft and joints
Motor mount brackets with rubber motor mounts
Motorcraft starter
Lokar transmission dipstick for ease of mounting

Ford 10R80 10-speed automatic transmission with torque converter
Atlas 2 Transfer Case with cable shift twin sticks

Hi range 1:1 ratio
Low range 3:1 ratio

2" Driveshafts

Double Cardan CV joints with XB splines to improve strength and wear resistance.
Front utilizes 1310 u-joints
Rear utilizes 1350 u-joints

Velocity Serpentine 6-rib system to ensure quiet belt operation and concentrate accessories as tight towards the engine as possible.

Power Steering Pump
Alternator 175 AMP
A/C Compressor
Tensioners and Belts

Custom fabricated and TIG-welded 304 Stainless Steel Exhaust

3/8" thick 304 SS header flanges to prevent warping and leaks
1 ¾" Header primary tubes
2 ½" Header collectors
2 ½" y-pipe w/ flex pipe to a 3" outlet
3" y-pipe to tailpipe
We use v-band clamps on our exhaust systems to increase end-user ease of adjustability and maintenance.
Offered in 2 exhaust tones: w/ 2 Magnaflow mufflers for extremely quiet (almost stock) sound & w/ 1 Magnaflow muffler and secondary muffler delete pipe (more aggressive/off-road sound)
All necessary gaskets and hardware

Velocity exclusive oversized aluminum tank
ISSPRO 73-10 OHM cylinder style fuel level sender for more accurate and reliable fuel level readings.
GM style fuel pump hat assembly internally regulated @ ~58psi (no need for external fuel pressure regulator and a fuel return line). Fuel pumps available to support up to ~800 HP.
3/8" quick disconnect fuel fitting.
Dual corner pickups to keep the fuel pump hat full of fuel no matter the fuel tank level, all the way down to the last drop. Great for high inclines and banks while off-roading.
Center full-height baffle to help limit sloshing inside the tank.
Stainless Fuel Line Installed – Complete fuel tank and lines installed.
Powder-coated satin black.

Exclusive 3-core triple pass Wizard spec radiator
Black Powdercoated power steering and coolant overflows
Transmission cooler with lines and fittings
GC 16" HP Cooling Fan
Velocity aluminum satin black powder coated shroud
Radiator hoses needed w/ proper heat shrink clamps
Hydratech Hydroboost braking system
Wilwood Master Cylinder and proportioning valve with lines
Lower steering shaft and joints
Ididit Steering Column