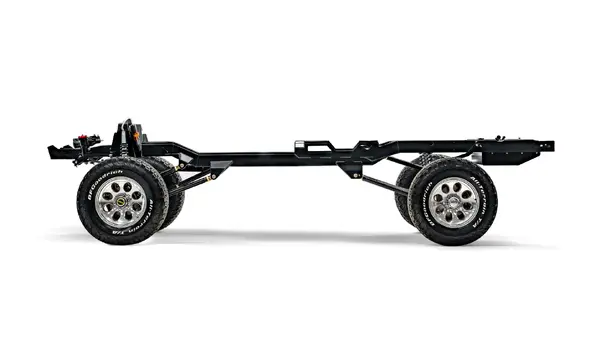 1969-72Rolling Chassis Frame
Classic Ford F-250
This premium package is pre-assembled atop Velocity's exclusive frame build by Roadster Shop.
Starting at $57,995
When receiving parts, the Client must take inventory of delivered parts and report any items missing or damaged to Velocity within 48 hours of parts being recorded as delivered.
Description
The base is a new Dana 44 front axle with Warn premium locking hubs and a new Dana 90 rear axle with Trac-Loc. The VF2 Rolling Chassis Frame is custom-fitted with a Wilwood Big Brake Kit with 6-piston brakes in the front and 4-piston in the rear, behind recommended 18" wheels and 33" tires (wheels and tires sold separately).
We've engineered the clearance you want with Fox shocks and Triangulated 4-link rear suspension. It's the perfect foundation for your Classic Ford F-250 project.
Key Features
Built on Velocity Exclusive Frame
Wilwood Disc Brakes
Fox Coilspring and Triangulated 4-link rear suspension
Velocity Fuel Tank
60-90 Day Lead Time
Velocity Exclusive Frame built by Roadster Shop
Dana 44 front axle with Warn premium locking hubs.
Dana 60 rear axle with Trac-Loc.
Yukon 30 Spline chromoly axels
Power Steering, Fox adjustable Steering Stabilizer
Steering assembly
Four-wheel Wilwood big brake kit. (6 Piston Front & 4 Piston Rear)
Custom Brake Line Kit installed
Fox Coilspring Front Suspension
Triangulated 4-link rear suspension

Velocity exclusive oversized aluminum tank
ISSPRO 73-10 OHM cylinder style fuel level sender for more accurate and reliable fuel level readings
GM-style fuel pump hat assembly
3/8" quick disconnect fuel fitting
Dual corner pickups to keep the fuel pump hat full of fuel no matter the fuel tank level, all the way down to the last drop. Great for high inclines and banks while off-roading
Center full-height baffle to help limit sloshing inside the tank
Stainless Fuel Line Installed – Complete fuel tank and lines installed
Powder-coated satin black