The mid-1970s were a weird time for the automotive industry.
Following the oil embargo, and the subsequent sudden death of the muscle car, America's car, and truck manufacturers were at a bit of a loss. Even the classic Ford Bronco was going through some major changes as the 70's rolled on in. The endless reserves of power from the previous decades were no longer at the fingertips of engineers, and the ostentatious styling that came to define the era was no longer in vogue. Everything was changing, and the manufacturers like General Motors needed to quickly adapt in order to stay relevant, but how they would go about staying relevant was a tough proposition.
General Motors had seen great success with their C/K line of pickup trucks from the 1950s to the early 1970s, especially the "Action Line", which really began the transition from a utilitarian vehicle that was at home on the farm, to a daily driver that included features more commonly found in General Motors line of sedans.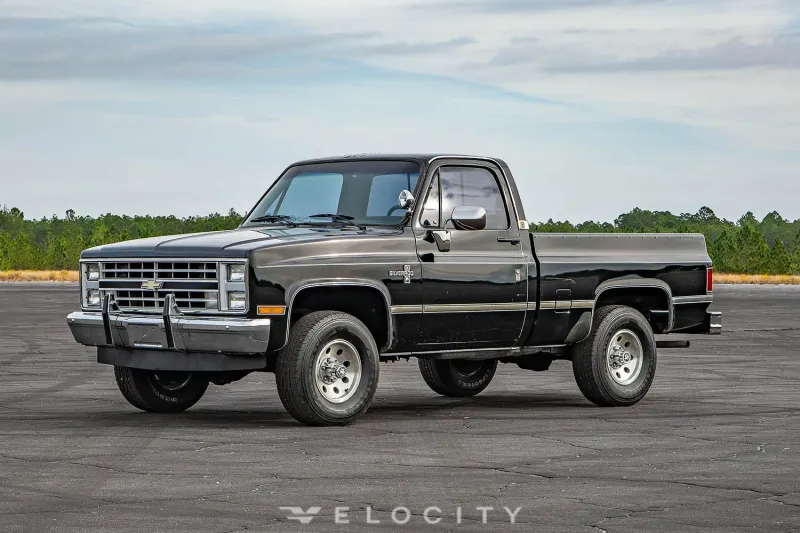 At Velocity Restorations, we've had the opportunity to work on many square-body GM trucks over the years, and we love them. Their styling exudes a classic American work ethic and makes them a perfect candidate for a classic truck restoration project that mixes the attitude of the past, with bespoke luxury and modern performance.
How good was the square body C/K line of trucks from General Motors? So good that it would go on to a staggering 18-year production run.
Ready to jump into exactly what made the aptly named square body generation of classic GM trucks as desirable as vehicles like old Ford Broncos in today's market?
Let's get into it.
Classic American Styling
First off, let's cover why these trucks are called "square body", which is especially confusing because General Motors internally referred to the third generation C/K as the "Rounded Line".
1973 marked a major departure from the styling route that GM had become somewhat notorious for up until the 1970s. The term "square body" was actually a nickname given to this truck by members of the automotive press and the truck-loving public. To the casual observer, there is nothing round about the "rounded line" except for the headlights, but in fact, the entire truck was designed in a wind tunnel to be more aerodynamic.
Internal reports at GM claim that the rounded line moniker came from a windshield with rounded corners, and a design that maximized airflow via the use of rounded-off corners where the hood met the fenders and rounded off doors that were integrated into the roof of the square body truck. Even the mirrors were more rounded to offer less wind resistance. Most of this was done in the interest of bumping fuel economy up for the venerable truck.
Since the rest of the appearance of the C/K was quite straight and boxy, it instantly earned the nickname "square body". This wide-shouldered appearance was not only attractive, but it provided a cab that was 2.5 inches wider than the previous generation and a bed that was more commodious for cargo and larger items. Although it was much different than early Ford Broncos, the look was still tough and all - American.
The result was a design that would receive only one refresh in 1981 and still goes down as one of the most attractive, and easiest-to-love classic pickup trucks for restoration.
Building A True Daily Driver Truck
Take a look at any modern pickup truck, and you're likely to see a full-size truck with 4 doors, and a cab that looks more at home in a sedan than a utility vehicle. This is by design.
Today, Americans buy more pickup trucks than ever before, and it's not really too hard to understand why. Towing? Check. Hauling kids to school? Check. Going off-road? Check. Luxurious interiors with high-end features? Double-check.
The modern truck is the ultimate family vehicle, and for GM, it all started with the square body.
Yes, the square body truck was definitely known for its iconic American styling, but what it was really known for was bringing together the sedan and the truck in a way that no General Motors vehicle had really done before. GM had started to meld the worlds of sedan and truck together with the action series but things really changed with square body truck.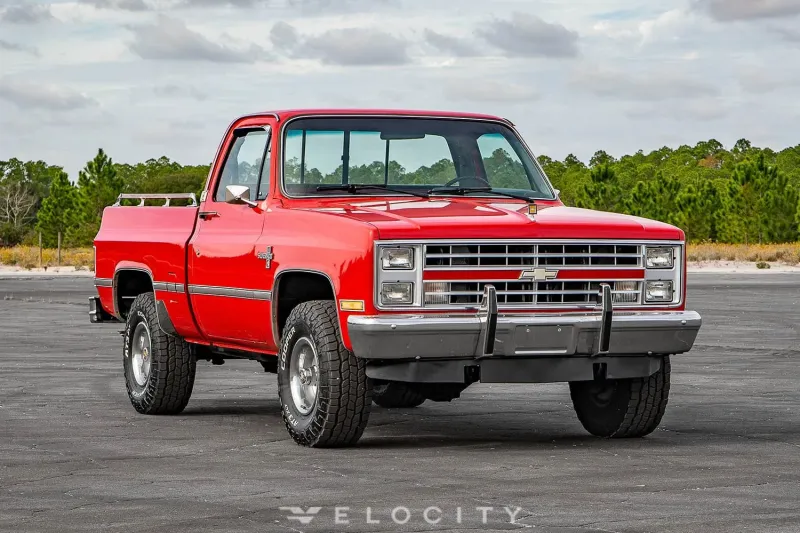 The interior moved away from the flat-faced dashboard of previous C/K trucks, and instead adopted a rounded look that integrated a wide variety of materials, and an ultra-modern, cushioned dash pad. Trim levels like the Cheyenne and top-level Silverado brought features like padded carpet, air conditioning, AM/FM radios, and much more to the table. In 1978, GM even offered power windows and door locks on the Silverado trims. Simple by today's standards, but positively unheard of for a GM truck of the time.
4 full-size doors in a modern pickup truck are just something you've come to expect, but back in the 1970s, this just wasn't that common. GM launched the C/K with the option of 4 full-size doors, and seating for up to 6 people. In addition, GM also offered the heavy-duty C/K in the "Big Dooley" configuration that was optimized for towing the heaviest of loads. You expect this on a heavy-duty hauler today, but in the 1970s, this just was not a thing and the square body "Big Dooley" was the first medium-duty truck to offer a dual rear wheel.
Expectations were shifting, and GM was riding the wave right to America's driveways.
Customized, Customized, Customized
The sheer number of configurations available for the square body is staggering, which makes the square body truck one of the most appealing classic restoration candidates for buyers looking to get a classic look with modern features.
Buyers could choose from a standard cab, or the aforementioned 4 door design, 3 wheelbase lengths, and 3 different bed configurations. GM marketed the trucks as ½ ton, ¾ ton, and 1 ton (nominal) capacities, along with 2 wheel drive or 4 wheel drive. C models are 2 wheel drive, while K models are designated as 4 wheel drive models. Although it deserves its own story, the square body generation also launched a worthy competitor to vintage Ford Broncos; the full-size Blazer.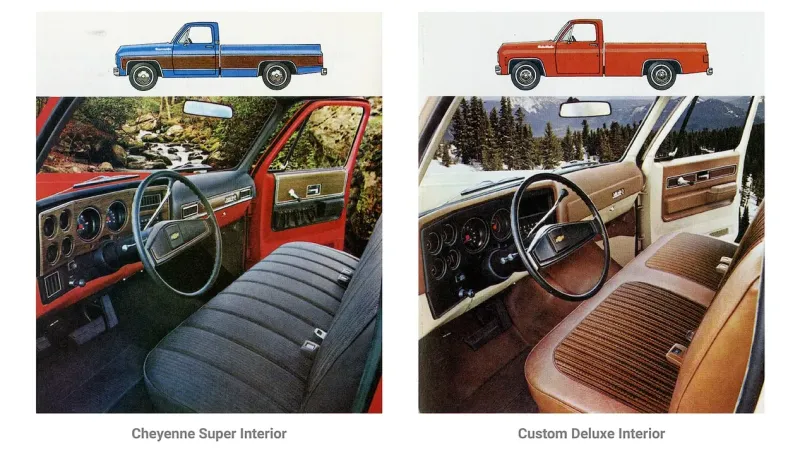 Trim levels included the Cheyenne Super, Cheyenne, Custom Deluxe, and Custom. 1975 marked the introduction of the Silverado as the top trim for the C/K, and we all know the rest of the history for the iconic Silverado nameplate, but it all started with the square body.
Every 2 wheel drive square body utilized a high-strength steel frame, with a leaf spring rear suspension in the rear and an independent set up out front (4 wheel drive version had a different setup). This was a big departure from the coil spring set up on the action line and allowed the square body to handle bigger loads easier, while still providing a more cushioned, car-like ride that resonated with buyers.
Brakes were power discs up front, with drums in the rear as standard equipment. Transmission choices ranged from either a three or four-speed manual transmission and a three or four-speed automatic transmission.
K Series trucks offered a variety of 4 wheel drive systems, and a host of upgrades over their 2 wheel drive brethren like variable-rate leaf springs, specific suspension geometry, a live front axle (replacing the more car-like independent suspension), and running gear that was tucked up tight against the underside of the truck. GM also offered bash plates, and rock rails as factory options to compete with vehicles like vintage Ford Broncos that were aimed at the off-road market.
1973 to 1981 models offered a full-time all-wheel-drive system as optional, while a conventional system came standard on all I6 equipped trucks. 1981 brought not only a refreshed look but also the addition of shift on the fly all-wheel drive that could be activated at speeds up to 25 MPH.
Why Does The Square Body Make An Great Restoration Project?
One of the most unique things about the square body truck is the sheer number of ways that a GM truck enthusiast can build out these uniquely designed vehicles to fit their style.
At Velocity Restorations, we've done everything from meticulously restored K Series trucks that offer a level of off-road capability, and style that fits right in with today's modern truck buyer to full-fledged muscle trucks that are meticulously tuned on our in house dyno. Due to the overall popularity of the platform and its 18-year production run, buyers looking to customize their square bodies can find a dizzying array of parts and accessories on the market. This makes the square body an awesome choice for a custom build that can rival the charisma of old Ford Bronco restomods.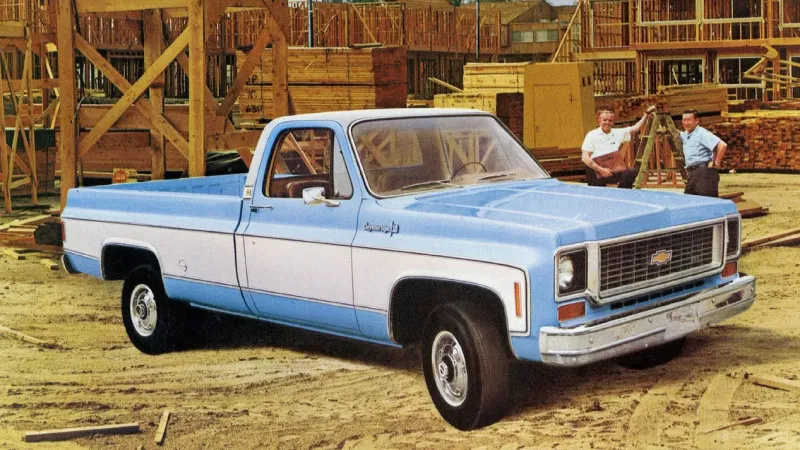 Unlike vintage Ford Broncos, although prices have gone up in the last few years, square bodies are still on the affordable end of the spectrum for builds due to the wide variety of examples on the used market. This leaves more room for making the square body into the ultimate example of a classic truck restoration done the right way.
Speaking of classic truck restorations done right, the team at Velocity restorations is here to make your square body restoration the truck of your dreams. Although we're known for building the ultimate in old Ford Bronco restorations, our ingenuity and commitment to craftsmanship don't stop with classic Ford Broncos. We've built everything from fully restored DeLoreans to jaw-dropping muscle cars and classic off-roaders like the Toyota FJ.
If you're looking for a restoration that blends sumptuous levels of bespoke luxury with modern driving dynamics, and the classic square body look; Velocity Restorations is your classic truck restoration destination.