What is it about a classic Ford Bronco that transports us to another time and place?
Take one look at the silhouette of the classic Ford Bronco and you're instantly transported back to a time when things were a heck of a lot more simple, and vehicles were purpose-built to perform a task and not much else.
When you have a chance to experience Velocity Restoration's Signature line of classic Ford Bronco restorations, it's tough to imagine what the Bronco was originally intended to do. After all, the old Ford Bronco enthusiasts at Velocity have a certain knack for transforming old Ford Broncos into modern restorations that exude a sense of quality which is unheard of in the industry. Yet, even though we transform our old Ford Bronco's into modern luxury classics, that feeling of nostalgia still exists.
One of the ways that we achieve a dynamic yet rugged appearance that harkens back to the past is by allowing our customers the opportunity to choose their own rear fender design on their Velocity Signature Ford Bronco. The rear fender design is one of the most iconic styling elements on the classic Ford Bronco, and we've taken great strides to make this often overlooked part stand out for our clients.
Velocity Restorations offers three different fender styles on our Velocity Signature Series Ford Bronco Modern Classics:
Uncut: Retain the classic look of a classic Ford Bronco with the factory look offered by our uncut fenders.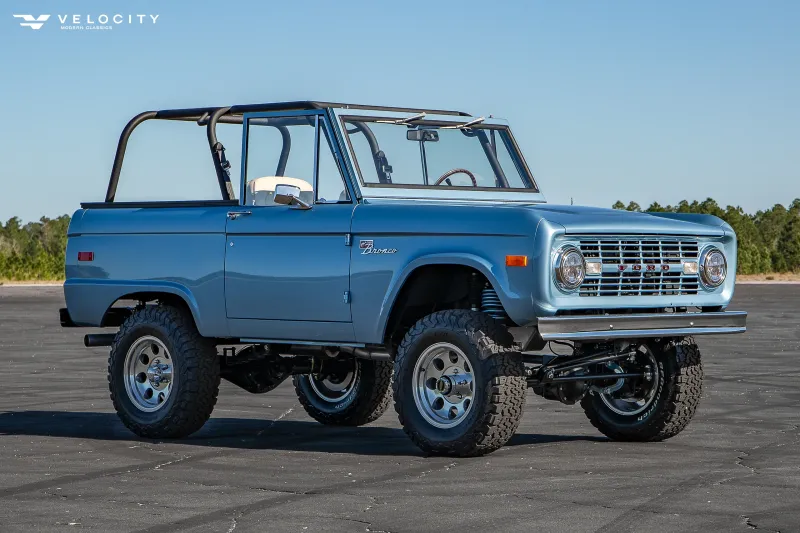 Molded: Offers a taller fender design that allows our classic Ford Bronco restorations to achieve a tougher, more rugged appearance along with the ability to utilize larger tires.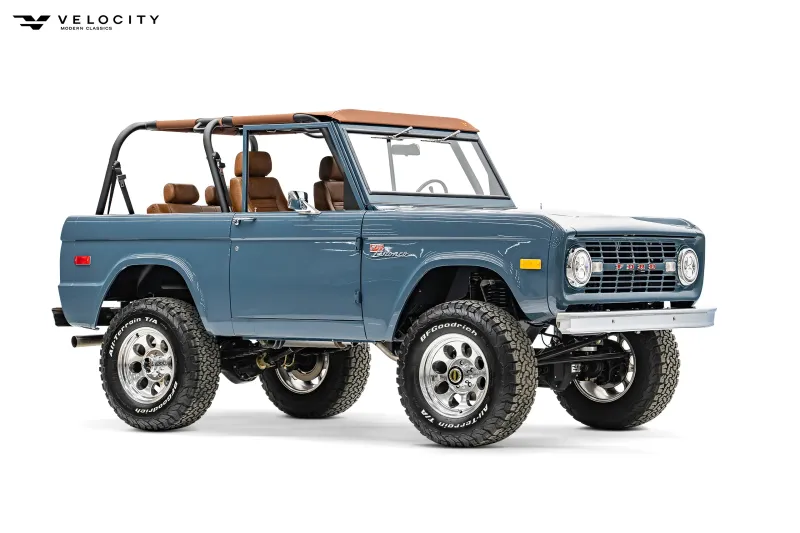 Cut: The ultimate in rugged appearance, with even more room for larger wheels and tires that really set the look off right.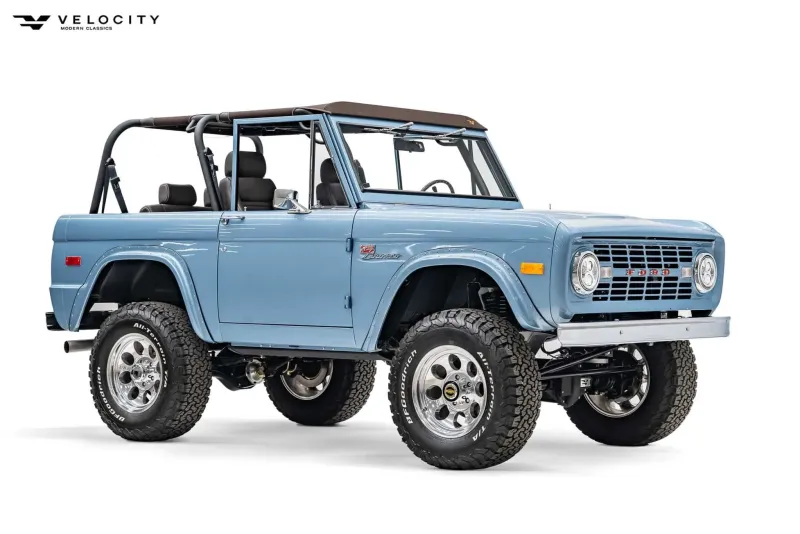 Let's take a deep dive into this iconic piece of bodywork from the classic Ford Bronco and explore how Velocity takes the ordinary and makes it extraordinary.
Bill Stroppe & Off-Roading Roots
One of the most classic styling elements of old Ford Broncos (1966 to 1977 specifically) is the delicately styled fenders that adorn the rear corners. Rather than be completely square, Ford designed the fenders to offer just a bit more wheel travel in mind and a newer, fresher look that made the Bronco stand out as a tough, off-road-ready vehicle that could do it all.
Keep in mind, old Ford Broncos were never designed to be modern luxury machines from the get-go. They were designed to hit the dirt and crawl over all manner of debris and obstacles with the standard 4 x 4 system, short wheelbase, and solid break-over angles due to the short front and rear decks. It didn't take long before owners began to push the classic Ford Bronco hard off-road, and modify it to better take on the rigors of off-road driving.
Baja Bronco
Legendary off-road racer Bill Stroppe deserves much, if not all, of the credit for pushing Ford to offer options that were more feasible for off-road driving and racing. In 1970, after winning the Baja 500 and 1000 in a classic Ford Bronco, he convinced Ford to come out with a special edition package that was sold from 1971 to 1974. Known today as the "Baja Bronco", Ford & Stroppe only sold 650, making it one of the rarest and most valuable classic Ford Bronco's on sale today.
Stroppe's Baja Bronco includes a Poppy Red with Wimbledon White paint scheme, and a hardtop that was painted a bright shade of metallic blue. Every version had a satin black hood to reduce glare (a trick that's done today). Stroppe also optioned these Baja Broncos with a standard rear seat, heavy-duty cooling system, swing-away tire carrier, heavy-duty off-road-ready suspension, a free-flowing exhaust, and an extra fuel tank for those long journeys into the bush.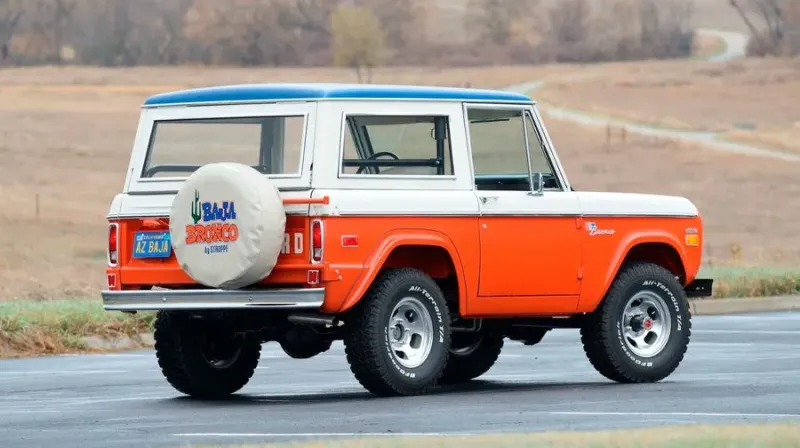 Ah, but there was one final element of the Baja Bronco that was crucial to the overall look of this factory special, early Ford Bronco build; the trimmed fenders.
Once Stroppe got the optioned out Bronco's sent to his factory in California, he immediately replaced the factory, uncut fenders with a molded fender that instantly set the Bronco apart from the rest of the lot. Working in conjunction with the heavy-duty suspension, and all-terrain tires rolling on Gates off-road mag wheels, the molded fenders allowed more wheel movement so the Baja Bronco could really hit the dirt hard. Later builds would include a riveted fender that looked even tougher.
By the mid-1970s, Ford had already built hundreds of thousands of early - Broncos, many of which had moved on to their second or third owners. Unfortunately, many early Ford Broncos were completely destroyed or run into the ground as owners converted the groundbreaking SUV into off-road trail rigs, beach wagons, and farm vehicles that were chopped up with aftermarket suspensions, cut fenders, and all manner of poorly executed modifications.
Modifying vehicles for off-road duty really took off in the 1970s, and the uniquely American look of these inspired, modified vehicles is captured by the team at Velocity Restorations on every single Velocity Signature Series Bronco that comes from our factory.
Choosing A Fender For Your Classic Ford Bronco Build
There are few components on an old Bronco build that have the visual impact of a properly designed fender.
Sure, the original Bill Stroppe Baja Broncos included cut, molded, and riveted fenders that were built for capability out in the dirt, but they also just happened to look incredible and add volumes of character to these early Bronco builds. Velocity connects the energy and passion of these early builders with the modern technology and bespoke design that speaks to the heart and soul of early Bronco enthusiasts all over the country.
Velocity Restorations offers a choice of three distinct fender designs
Uncut: Choosing an uncut fender for your Velocity Signature Bronco offers a look that is much closer to what the factory was putting out on early Ford Broncos (1966-1977). While there is still a flare to accommodate a larger wheel or tire (Ford got this right early on) the effect is more streamlined and less dramatic than other options. This design looks particularly sharp when paired with our Ranger trim.
Molded: To achieve a tougher, off-road ready look that brings plenty of character to the Velocity Signature Series Bronco, our custom molded fenders are a must. Our team of artisans design, and fabricate our molded fenders right here in our state-of-the-art facility for a look that is both purposeful and impactful at the same time. These fenders offer plenty of space for larger, off-road style tires and legendary Mickey Thompson wheels.
Cut: Velocity's cut style fender is the most ostentatious option for our Velocity Signature Series Broncos, and it's a popular option for those who want to really stand out. These unique fenders harken back to the Bill Stroppe Baja Bronco and offer a unique look with a riveted design that is "cut" from the main fender for a unique look. Although this draws inspiration from the beach wagons and off-road classic Ford Bronco's of the 1970s, these fenders are built by our craftsmen in-house and offer a premium feel.
Choose Your Own Style
Choosing a Velocity Signature Series Bronco is the perfect way to experience the energy, and passion of the past while still keeping two feet planted firmly in the present.
We mix old-school style with modern technology, and bespoke luxury to produce vehicles that are unlike anything else on the market today. Built right here in the United States at our state-of-the-art facility near beautiful Pensacola Florida, Velocity Restorations is the preeminent builder of restored Ford Broncos in the country.
Much like a large-scale vehicle manufacturer, the Signature Series Broncos build process allows buyers to choose from a variety of carefully curated colors, interior/exterior options, and much, much more. Want a cut fender with some serious style? You got it. How about a bespoke, hand-built interior with your choice of colors? No problem.
Our attention to detail means that you get a vehicle that has the attitude and style of a classic Ford Bronco, with all the safety, luxury, and conveniences of a modern vehicle. That's exactly why we call our one-of-a-kind vehicles "Modern Classics", because no one does it quite like us.
Sounds too good to be true? Contact us today to start making your classic Ford Bronco dreams a reality.