Amelia Island is the kind of place that feels like it's plucked straight out of a dream.
This unique location perched on the Northeast Florida coastline forms a series of islands that happen to contain some of the most beautifully ethereal beaches, and natural landscapes this side of a faraway tropical island. Once contested by Spanish, French, and the British, today, Amelia Island is a popular destination for those looking to break free for a few days and reconnect with family and friends at one of Amelia Island's many resorts.
Beyond the stunning natural beauty, Amelia Island also happens to host what is arguably the most prestigious car - focused event on the Eastern Seaboard: The Amelia Concours d' Elegance. This end of winter event has been a staple of the Amelia Island community since 1996, and for 27 years, people from all over Northeast Florida have come together to share their collective love of rolling automotive history and racing.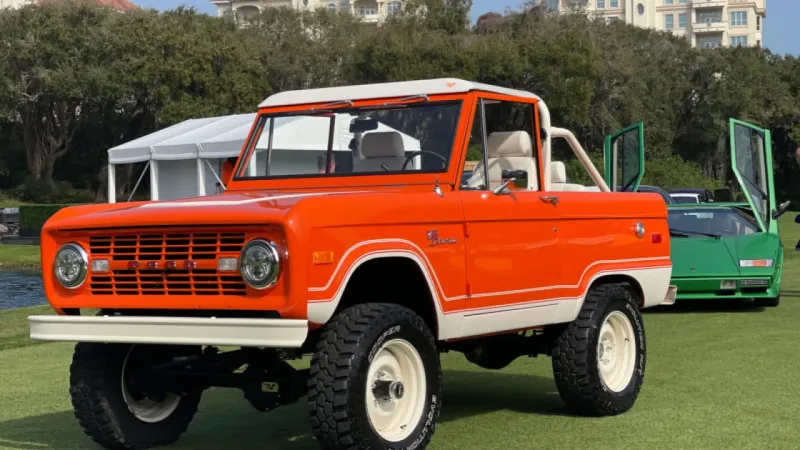 For 2022, Velocity Modern Classics had the opportunity to join in The Amelia festivities by bringing out a classic 1971 Ford Bronco that was fully decked out in our iconic Ranger trim and positively radiating on the showline in a shade of Velocity Orange Glasurit paint that was a perfect fit for the iconic event.
To say we were thrilled to take part in The Amelia for 2022 is an understatement, and we can't wait to tell you all about it.
Honoring Automotive Culture & Racing
What makes The Amelia so unique is the absolute accessibility the events offers to car loving patrons of all kinds.
One one hand, vehicles like the show winning 1934 Duesenberg parade by spectators in awe, while more accessible events allow garage kept classic Corvettes and Mustangs owned by parents and grandparents to get the attention they deserve. This inclusivity and accessibility has been a stalwart of The Amelia experience since the event first took place in 1996.
A local businessman and entrepreneur by the name of Bill Warner is where the magic of The Amelia first found it's legs. Warner was a successful journalist, photographer, and driver in the automobile industry who also had deep roots in the Northeast Florida area. Spurred on by the growing spectacles of events like the Pebble Beach Concours d' Elegance in California, the Ritz-Carlton of Amelia Island reached out to Warner and asked him to help them build out a car-focused event that would make Amelia Island a car enthusiast destination. Warner, not being the type of person that attended high-end Concours style events, agreed to set up the event as long as the event gave back to the local community.
The first Amelia Island Coucours d' Elegance was a complete hit that was put on by a relatively small group of volunteers, and Bill himself. In it's very first year, the event garnered praise from attendees and the automotive industry. Over time, the event grew in size and influence, eventually going on to win the "Motoring Event of the Year" distinction from the International Historic Motoring Awards for 2013 and 2016. To date, local charities have received over $4 million dollars from The Amelia, along with a huge boost to the local economy on a yearly basis.
Every Amelia Island Concours puts a strong emphasis on motorsport culture, and honors the best of the best every year. For 2022, legendary racing team owner and driver Chip Ganassi was the honoree, and he brought some of his rarely seen private collection to display on the fairway. The legendary owner and driver spent the day meeting with fans, signing autographs, and taking photos with fans, young and old alike.
In 2021, classic car insurance giant Hagerty took over The Amelia and brought a well-warranted spotlight on the classic event.
Velocity Modern Classic Stuns with 1971 Ranger Edition Classic Ford Bronco
The Amelia is a four day event that comprises everything from the legendary Concours competition on Sunday to ride and drive with manufacturers like Porsche and BMW.
We had the honor of participating in the new for 2022 Cars & Community event powered by Griot's Garage on Saturday March 5th, itself a combination of four unique events that are focused on the more unique side of automotive culture. From 90's supercars to Concours d' Lemons, there was something for everyone on Saturday.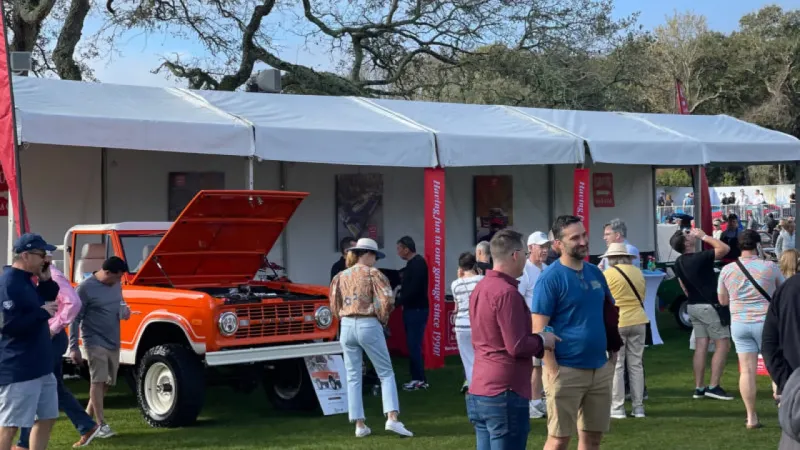 We can't thank the incredible team at Griot's Garage enough for inviting us, and hosting Velocity Restorations under their event. Those that know a thing or two about car care know that Griot's Garage is the epitome of quality. This makes their products a perfect match for builders like Velocity Restorations who spend countless hours making that classic Bronco Ranger Velocity Orange Glasurit paint look just right.
Velocity Restoration participated in the inaugural Cars & Caffeine event, which was held on the same hallowed grounds as the Concours d' Elegance that would happen the following day. 300 finally curated automobiles filled the fairway, and although there were some amazing vehicles on display, our 1971 classic Ford Bronco Ranger Edition stood out from the crowd with it's stunning shade of Glasurit Orange Paint, complete with the iconic Ranger Stripe, and white accents.
Our 1971 Ranger Edition old Ford Bronco draws inspiration from the iconic Ranger trim that was optional on early Ford Bronco models from 1972 to 1979. Ranger edition classic Ford Broncos were the "top of the line" Bronco trims, offering unique body stripes, Ranger-specific wheel covers, unique cloth seats, classic woodgrain door panels, and a fully carpeted interior. Remember, classic Ford Broncos were not luxury vehicles, but these early attempts to boost the luxury experience with a unique trim would inspire Ford's trim designations and nomenclature for many years.
We couldn't resist the opportunity to honor this unique trim with our own bespoke creation.
Classic Lines, Modern Luxury & Performance
Take one look at the 1971 Classic Ford Bronco Ranger Edition by Velocity and you know you're looking at something truly special. Everything about this modern classic is built as an homage to the Bronco Rangers of the era that took the world by storm. From colors, to wheels, and trim; this is the Bronco Ranger brought back to life in the best way possible.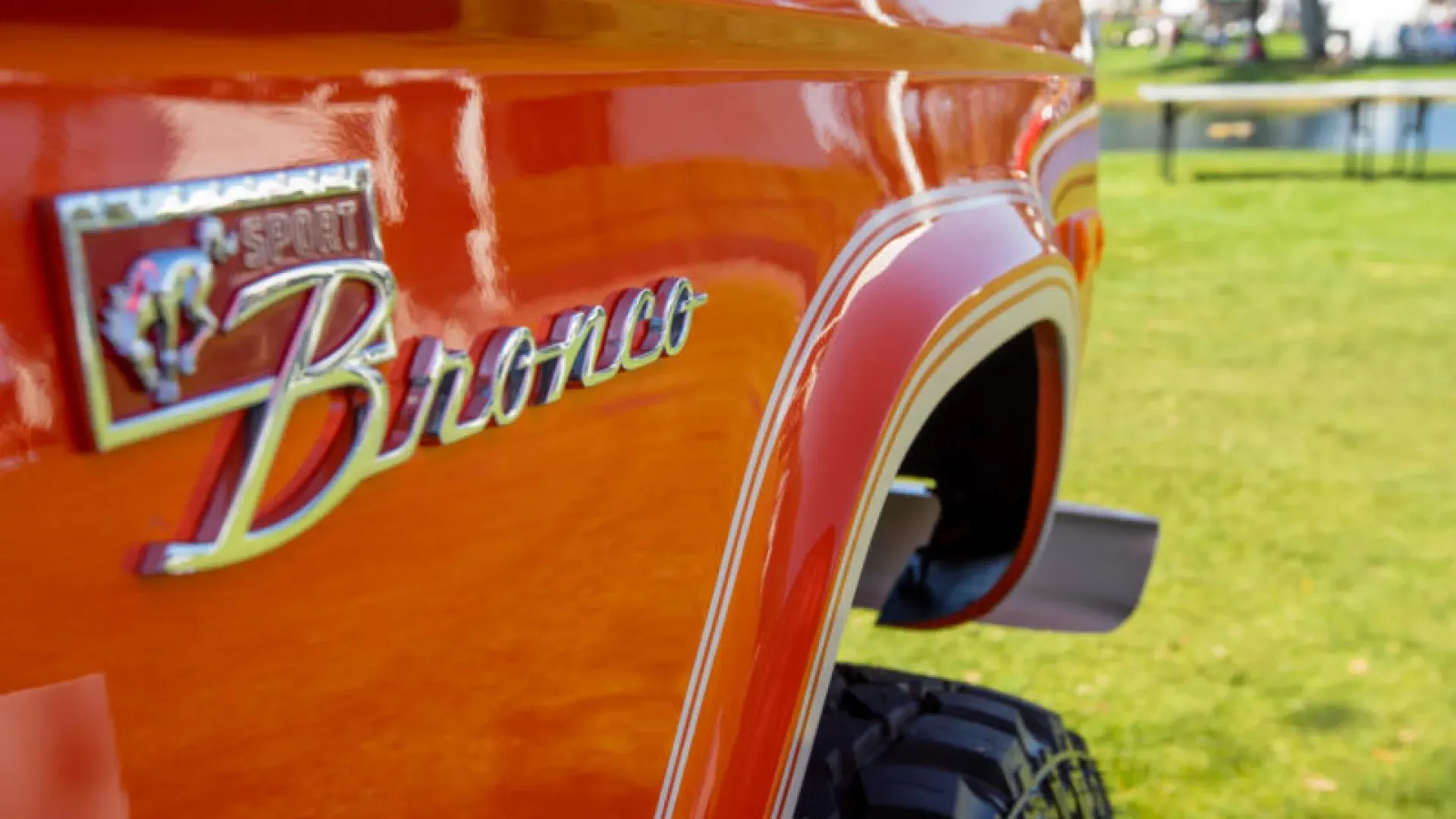 A stunning shade of nostalgia inducing, Velocity Orange Glasurit paint adorns the classic lines of the exterior, set off by a set of powder coated steel wheels wrapped with Cooper tires that are an homage to the solid dish designs of Bronco Rangers from the past. Continuing the inspiration, Velocity has installed a safari top that blends with the interior, white OEM bumpers and white roll cage, Ranger style striping, and uncut rear fenders. J.W. Speaker headlights that look classic but pack a modern punch, and a 2.5" suspension lift complete the look.
Power and Precision
Under that beautiful skin, Velocity has packed this 1971 Ford Bronco Ranger Edition with a powertrain, and chassis that honor the past with a unique energy that doesn't succumb to avoiding innovation. Can we say Coyote? Yes, this classic Bronco is packing a 5.0 liter Coyote V-8, backed up by a thoroughly modern automatic transmission in the engine bay. Our custom serpentine belt system sets off the look in the engine bay, while a Velocity exclusive exhaust system begs to be noticed. Refined, powerful, and full of character; just like us.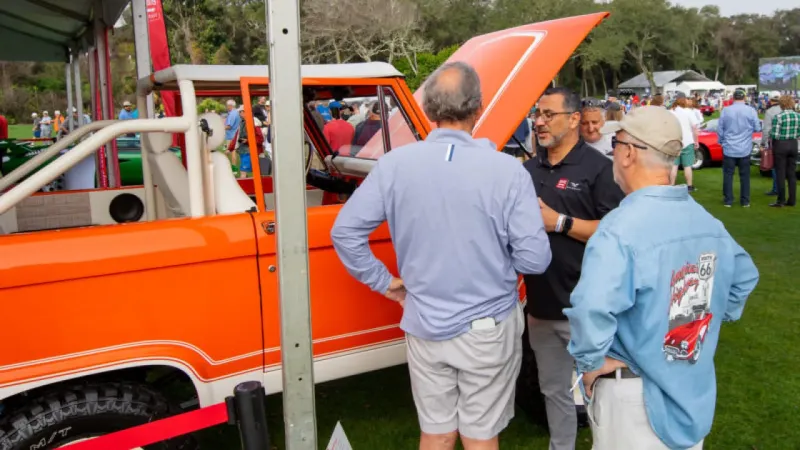 The Velocity exclusive chassis underpinning this Ford Bronco Ranger has been custom engineered in house, and includes world class components like a Velocity exclusive stainless steel fuel tank, Dana 44 front axle, Ford 9" rear axle, Wilwood 4 wheel disc brakes, and Hydroboost assisted braking. This chassis design offers ample capability for whatever the road ahead looks like, while still retaining a refined edge that recalls the past with enthusiasm.
Inside Story
Crack open the door, and slide behind the classic split-spoke style steering wheel and feast your eyes upon the absolute shining star of the classic Ford Bronco Ranger experience; the bespoke interior.
You're immediately greeted by a color matched dashboard, blended with a beautiful two tone upper dash that compliments the rest of the hand-stitched interior. Ranger exclusive high back front seats, along with a fold and tumble rear seats stun with a fabric choice that feels luxurious and modern but recalls classic Ford Broncos of the past. Velocity exclusive all-weather floor mats including a custom center tunnel mat, and matching seat belts complete the look and offer a dose of functionality.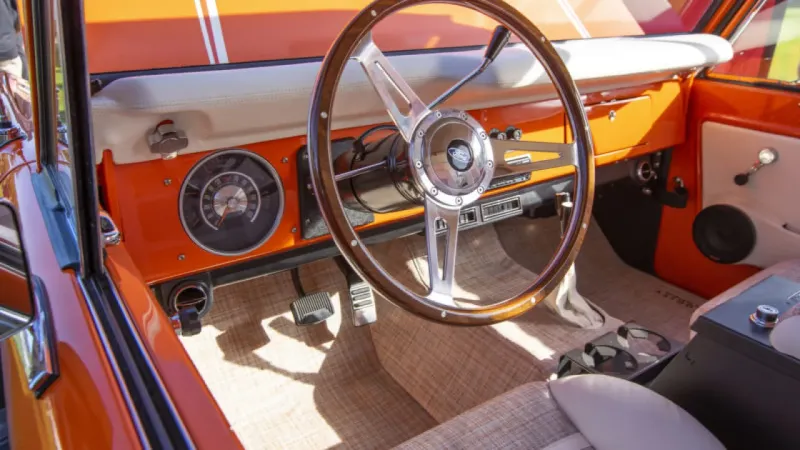 Bringing up the Ranger edition classic Ford Bronco to modern levels of technology without removing the classic looks is no easy feat, but the Velocity team have done just that. In the cab of this Modern Classic you'll find an Alpine stereo with 4 high end speakers, and Bluetooth capability, Vintage Air system with full heating and cooling, Ididit tilt steering column, and Velocity exclusive digital gauges that offer a classic look with a modern edge.
Modern Classics Done The Velocity Way
We are thrilled that we had the opportunity to roll our 1971 classic Ford Bronco Ranger Edition out onto the legendary fairways of The Ritz-Carlton as part of this year's Amelia Concours d' Elegance festivities.
The Amelia is the perfect blend of award winning classic originals, and classics that have received a modern upgrade to make them the kind of vehicle you would drive everyday. Our commitment to providing Modern Classics that honor the legends of the past without changing what makes them so special to begin with has allowed us to connect with clients from all over the world who are looking for something truly different.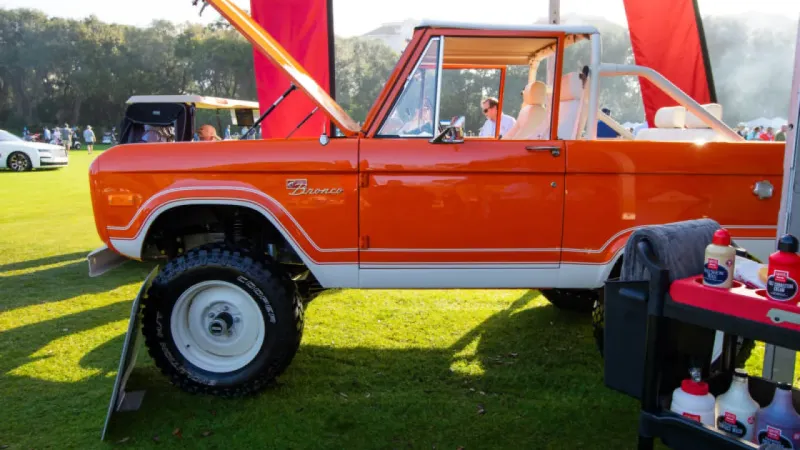 We want you to drive our classic Ford Broncos every day and share the experience of a true modern classic with your family and friends. Every single classic Bronco we produce is built right here in Florida by some of the finest craftspeople in the industry. We offer OEM levels of quality that blend nostalgia with the finest parts and materials available, along with Velocity exclusive components you can't find anywhere else.
Much like The Amelia, there's nothing quite like a Velocity Modern Classic. Look out for Velocity at upcoming events including the legendary Barrett Jackson auction this coming April! See you there!