The 1960s were a tumultuous time for the Big Three, but my word was it was a great time to be a fan of fast cars!
Every move that one would make, the other two would counter with products they considered better for one reason or another. The real challenge was making a vehicle that was the first of its kind and that would endure in the hearts and souls of Americans for generations to come. While the Chevrolet Chevelle was not the first of its kind, it's definitely a legendary classic car that continues to instill itself in the hearts of muscle cars enthusiasts to this day.
At Velocity Restorations, we've had the opportunity to work on everything from old Ford broncos to a range of awesome Chevrolet Chevelles. One thing always seems to ring clear from Chevelle owners who are looking to build the ultimate restoration: they are full of nostalgia. You'll hear the story over and over again, somebody's grandfather, father, mother, or other family member owned a Chevelle and now they want those memories back.
So, why is the Chevelle such a great candidate for a vehicle restoration done the Velocity way, and what made it so damn good in the 1960s? Let's dive right in.
A-Body Origins
Many people don't realize that the Chevelle's origins go all the way back to 1923!
Muscle car enthusiasts know that the A-body is one of the most legendary muscle car platforms ever produced. Vehicles like the Chevelle, Malibu, Monte Carlo, GTO, and Cutlass (to name a few) were all built on the A-body platform. However, the origins of the A-body actually go back to the 1920s, when General Motors ran the exact same platform on their Buick, Chevrolet, Oakland, Pontiac, and Oldsmobile lines.
The A-body platform was so good that it endured all the way through till 1959. Vehicles like the Bel Air, The Chieftain, and the Super Chief were all based on slightly modified versions of A-body. It's not hard to understand why, since most cars of the era were relatively simple machines, and the only thing that really changed mechanically on these monsters was the engines or transmissions.
A huge variety of body styles, including wagons and convertibles, would adorn the 1950s A-body models from GM.
Full-Sized Soul
General Motors killed off the A-body in 1959, only to resurrect it again for the 1964 model year.
The 1960s had become a very different place than the 1950s, mainly because people were looking for smaller, yet more fuel-efficient vehicles. On the other hand, another whole subset of the population was looking for vehicles that were thrill machines and had absolutely no interest in saving a drop of fuel. So, what is a company like General Motors supposed to do? Offer a platform that can be both a fuel-efficient commuter or a fire-breathing muscle car.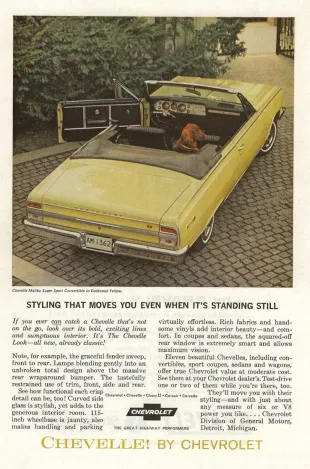 Ford brought the unibody Fairlane to the market in 1962, instantly putting the car world on notice. The Fairlane was meant to slot in between the more compact Ford Falcon and the full-size Ford Galaxy as an "intermediate" offering. Today, "intermediate" sized vehicles are known to us as "midsize" vehicles, one of the most popular segments in the automobile industry. However, way back in the 1960s, there was really no such thing as a popularized mid-size segment. Chevrolet sought to change that with the Chevelle.
Chevrolet designed the Chevelle to be the spiritual successor to the "Tri-five" Chevrolets that reigned supreme from 1955 to 1957. The original Chevelle even had the same 115 in wheelbase (slightly stretched on wagons) and would be offered in a large number of configurations that were all based on the same platform. It worked in the 1950s and it would work in the 1960s as well.
What made the Chevelle unique amongst its peers, was the fact that Chevrolet chose to run a full-size style vehicle platform underneath the more compact body, including a four-link suspension with coil springs. General motor's nomenclature at the time called the Chevelle a "senior compact", but we just call it midsize today.
There were a ton of body styles available on the classic first-generation Chevelle, and subsequent generations as well:
Two-door hardtop coupe
Four-door sedan
Four-door station wagon
Convertible
Two-door utility
Motor options for the first-generation Chevelle's ranged from the paltry HiThrift I6 to the tire obliterating 396 that was found in the SS model. The Chevelle would go on to be wildly successful in its first generation, but would soon be looking at a full redesign for the 1968 model year.
1968 Redesign
Chevrolet went with a completely different design when it launched the Chevelle in 1968. Based on the design of the incredibly successful Camaro, the Chevelle adopted a long Hood with a fastback style design and a short rear deck. The A-body platform still underpinned the 1968 model, and a huge variety of engines that ranged from a relatively fuel-efficient inline 6 to the tire-shredding SS big block continued to be offered.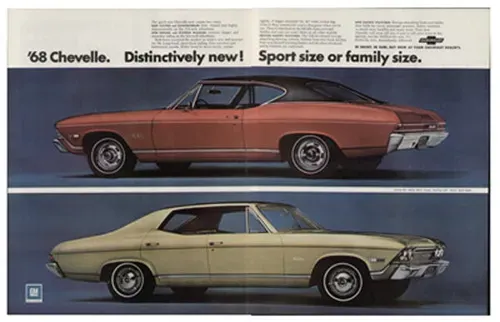 The second-generation Chevelle is extremely unique because it went through fairly drastic styling changes every single year. This made the 1968 model quite a bit different looking than the 1970 model, for example, even though they were a part of the same generation. The competition was hot and heavy during this time and GM did whatever it could to stand out from both other manufacturers and similar vehicles within its umbrella of brands.
Due to the wide variety of option packages and body styles available, the Chevelle would sell incredibly well for General Motors.
Third Generation - The Death Of The Chevelle
As with all other cars of the era, Chevrolet struggled to make the Chevelle relevant after the fuel embargo, drastic changes to Federal emissions standards, and safety regulations effectively ended the muscle car era.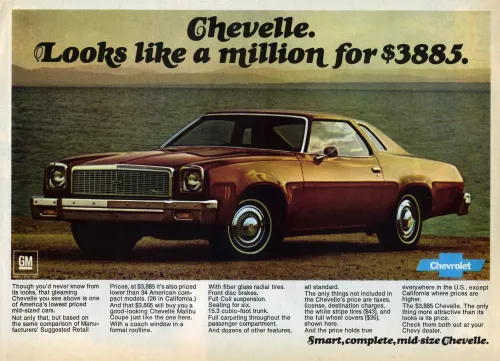 The 1973 Chevelle would mark the single biggest change to its styling in over a decade, partly driven by new federal regulations that called for increased safety in rollover crashes. One of the hallmarks of the Chevelle line had always been a hardtop coupe with pillarless windows, but pillarless windows don't do a very good job of protecting occupants in a rollover collision! In response, Chevrolet rolled out the "Colonnade Hardtop" as the showpiece for the 1973 redesign. This pillared two-door coupe would go on to be one of the most popular styles of the 1970s, and well into the 1980s. The Monte Carlo trim was by far the most popular model in the entire Chevelle lineup, which would eventually lead to it getting its own vehicle line in 1978.
Engine options would range from a 250 cubic inch straight 6 to a huge 454 Big block. Even with all that displacement, that big block only put out 245 horsepower - a true sign of the times. Chevrolet would introduce other trim levels to the Chevelle lineup, including the ultra-luxurious, top-of-the-line Laguna series, which included niceties like power seats and color-matched tops.
The Chevelle would eventually be replaced by the Monte Carlo in 1977.
The SS Package
Anyone who knows anything about muscle cars knows that a General Motors vehicle adorned with the letters 'SS' means business.
The now infamous SS package started as an option package on the Malibu trim line of the Chevelle in 1964. Originally, Chevrolet chose to equip the Chevelle SS with a relatively paltry 283 that only cranked out 220 horsepower. This engine only lasted about 6 months because, well, it was weak! To rectify this, the Chevelle could be ordered with the legendary 327 by mid-1964. Horsepower ranged anywhere from 250 horsepower up to 300 horsepower. 1965 would bless the Chevelle SS with the fantastic L79 that cranked out 350 horsepower.
Besides enhanced power, Chevelle SS models included things like unique SS emblems, specific vinyl seats with a floor console, and a four gauge cluster. As time went on and the SS got more popular, additional performance enhancements like an upgraded suspension and better engine cooling would also make their way into the SS spec sheet.
In 1966, the Chevelle SS would no longer be an option package and would become its own, true model line. To go along with this designation, Chevrolet imbued the Chevelle SS with one of its most legendary engines o come out of the era, the 396. Base versions of SS396 put out 320 horsepower, but buyers could also opt for a 350 horsepower version or a 375 horsepower version of the same engine!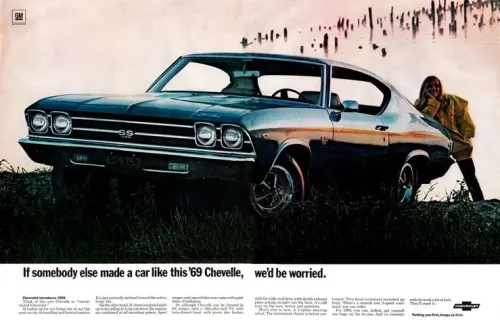 After the redesign in 1968, the 396 would endure until 1970, when Chevrolet bumped the displacement of the SS up to 402 cubic inches (although still marketed as a 396). If customers ticked the Z15 SS option box, they were treated to what is arguably the most famous Chevelle engine ever: the 454. Base versions of the 454 big block put out 360 horsepower, but that wasn't enough for Chevrolet or their fans. Opt for the LS6 version of the 454 and you were treated to 450 horsepower and 500 lb-feet of torque! This prodigious power was accomplished with the aid of a single four-barrel Holley carburetor, and a cowl induction hood. LS6 equipped Chevelles are extremely rare today, and only around 4,500 were produced.
Third-generation Chevelles continued to offer an SS option package, although it was relegated to the mid-level Malibu trim. Interestingly, you could actually get a Malibu station wagon in SS trim for 1973, although so few were ordered that the option was dropped for 1974. Since the oil embargo and federal admission standards had effectively killed the muscle car, the last generation of SS Chevelles is not exactly the most desirable. However, they do make for amazing candidates for those who want to build a modern muscle car restomod because their cost is quite a bit lower than 1960's models.
Velocity's 68' Pro-Touring Chevelle
What do you get when you combine 2000 man-hours of labor with a 68' Chevelle? Our super sinister 1968 'Pro-Touring' Chevelle, that's what.
The first thing you'll notice is that this thing is just dripping in black. From the lustrous PPG paint job to the subtle satin black racing stripes with candy red accents and black powder-coated mirrors; this is one mean-looking Chevelle. We've reshaped the lower panels for a more aggressive, sculpted appearance and set the entire exterior off with a set of FORGELINE RB3C Wheels that are powered coated in a beautiful Transparent Red. Oh, and this Chevelle is running a set of super-sticky Michelin Pilot Sport Tires for better handling when the road turns twisty.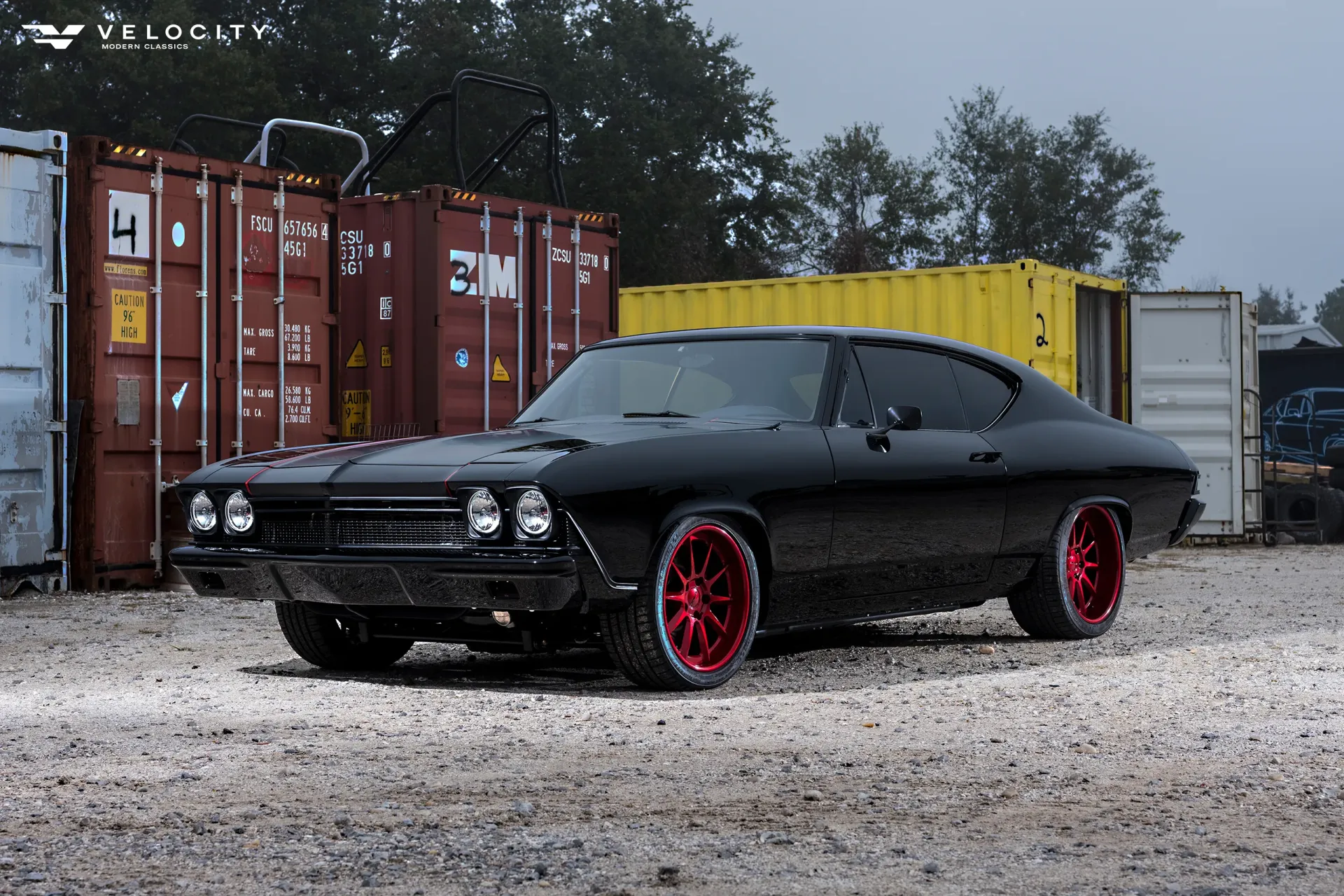 At Velocity, we build classic cars without classic car compromises. Sure, vehicles like the 68' Chevrolet Chevelle SS were brutally fast for their day, but these old engines are no match for modern engine technology. Our 68' Chevelle dumps its old-school lump for a thoroughly modern, high revving, 6.2L LS3 engine that pumps out 525 horsepower and 486 lb-ft of torque. Power hits the ground GM through a GM 4L70E Automatic Transmission, and Moser 9" rear-end that's running a 3.73 gear. This gives this all-black masterpiece some serious performance.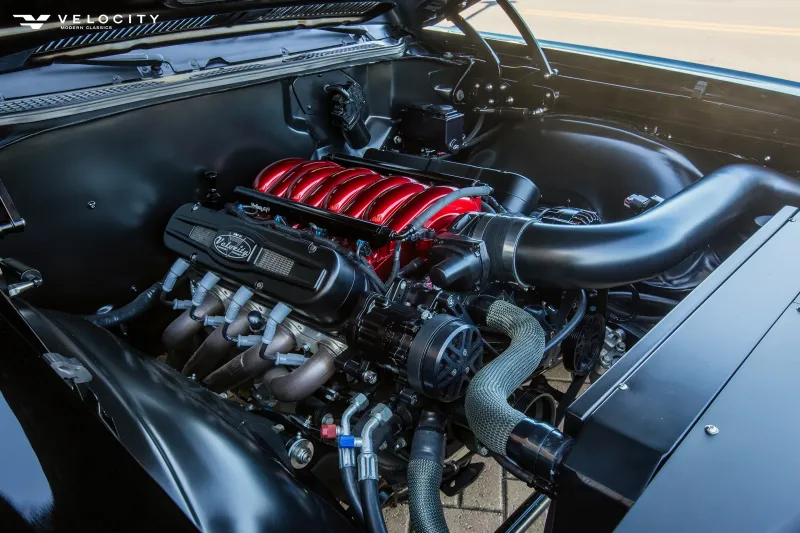 American Racing 1 7/8" Stainless Longtube Headers running to a custom, stainless 3" Dual Exhaust with Magnaflow mufflers make sure that no matter where you roll, this sinister Chevelle is going to be heard. Massive Baer 13" Front Rotors with SS4 Calipers offer incredible stopping power to reign in that 525 horsepower LS3. Underneath, we've restored the stock frame to its original condition and powder-coated it satin black to match the engine bay. To achieve a true 'Pro-Touring" muscle car, we've installed Detroit Speed stage 3 tubular front and rear suspension components, complete with tuned coil-over shocks. This setup offers world-class handling performance that's more modern sports car than muscle car.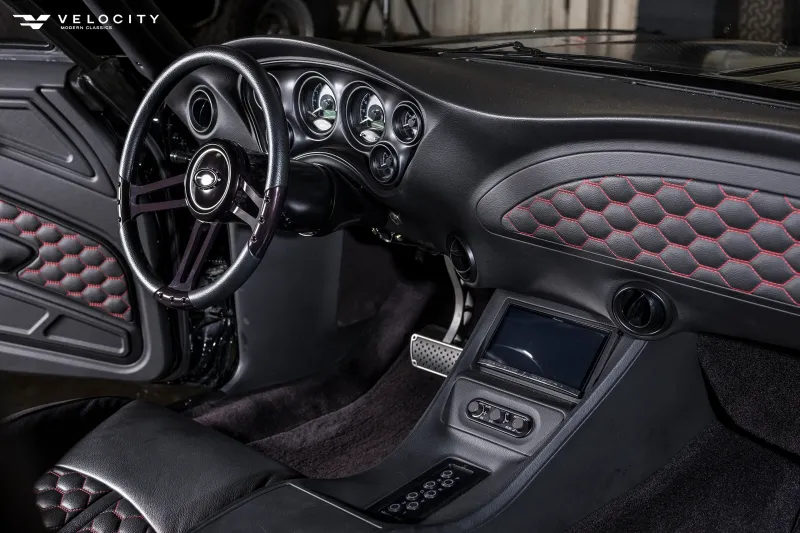 The story continues inside with a completely custom leather interior, including seats from a 2010 Camaro that are designed to hold you in place when the road gets twisty. Shiftmaster has provided the unique, ultra-modern push-button shifter that's tucked away in a custom center console. Speaking of custom, we've also designed and installed a completely custom dash, and custom door panels, that look great with a set of Dakota Digital gauges. For modern conveniences, this sinister Chevelle offers power windows, a custom stereo with 2 10" subwoofers, and air conditioning.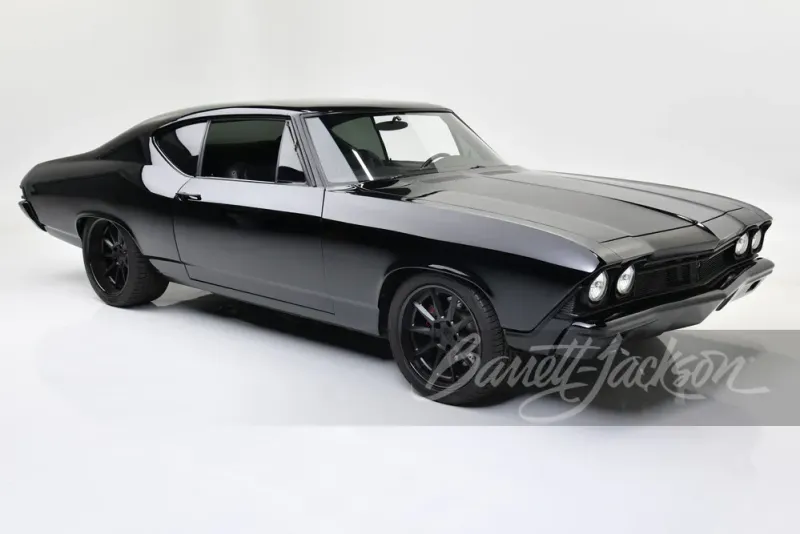 There's absolutely nothing like this Chevelle on the road today and the men and women of Velocity are proud to bring these dream machines to life.
We Build Muscle Car Dreams
If you're looking for the nostalgia of your youth, Velocity Restorations is here to help make reliving your dreams a reality.
Our team of engineers and craftsmen has spent thousands of hours building the finest restored vintage, and classic vehicles in the world. From custom frames that provide a safe and stable platform to interiors that look like they belong in a modern luxury vehicle; Velocity Restorations produces truly one-of-a-kind restored classic muscle cars.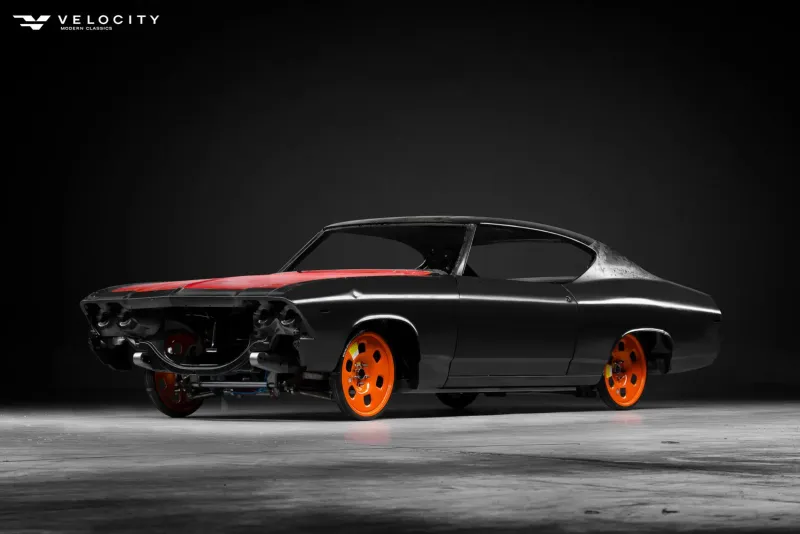 Located in beautiful Pensacola Florida, we engineer and build every vehicle to the highest standards in the industry. Our team of classic muscle car enthusiasts will help take your build from dream to reality in a way you never thought possible.
If you're looking to build a classic Chevrolet Chevelle, get in touch and speak to our team today.