Few companies have the distinction of being responsible for building the rural backbone of America, and directly taking on the Big Three with innovative vehicles that have achieved a legendary level of cult-like success today. Yet, that is exactly what International Harvester (IH) did for over 80 years.
At Velocity Restorations, there are few things we like more than an International Scout or the even more elusive International classic trucks. There's honesty in the purpose of IH products. Turning these bare-bones vehicles into Velocity Modern Classics that blend vintage style with modern luxury and technology is exactly what we do best.
Many fans of old Ford Broncos may know of one of IH's most famous models, the Bronco challenging classic International Harvester Scout. Many fans don't realize that the roots of the Scout are more tractor than truck and that the company who basically invented an entire class of full size trucks, and revolutionized farming, never made it out of the 1970s.
From vintage Travelalls to classic Travelettes and maybe a tractor or two thrown in for good measure, this is the tumultuous history of International Harvester and their light duty vehicle line up.
Roots In Rural America
International Harvester has roots that stretch all the way back to 1831 when Cyrus Hall McCormick invented a tow behind reaper that was set to completely revolutionize the agricultural industry. Along with his brother Leander, Cyrus moved to Chicago to be closer to the breadbasket of America, the Mid-West, and founded the McCormick Harvesting Machine Company.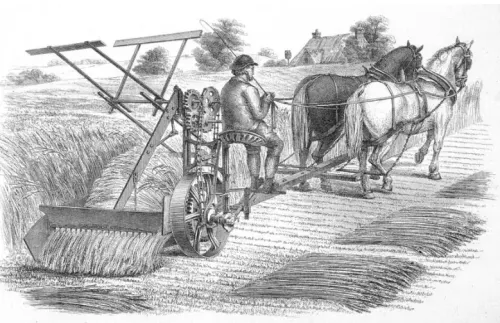 There were plenty of other inventors who were trying to gain a slice of the market, but what made Cyrus so successful was his ability to market his product just that much better than his competitors. He utilized the rapidly expanding railroad to distribute products and set up a massive network of dealers that not only sold reapers but repaired them and provided parts as needed. We take this for granted today, but this innovative approach is exactly the kind of thinking that would one day produce vehicles like vintage International Scouts.
McCormick suddenly found himself at the helm of a massively successful company. A company that he would pass down to his son Cyrus Jr. after his death in 1884. Despite a misguided attempt to quell organized labor in the early 1900s, McCormick continued to grow the company his father built. In early 1902, Jr., along with J.P. Morgan, merged McCormick Harvesting Machine Company and Deering Harvester Company, along with three smaller agricultural equipment firms (Milwaukee Harvesting Machine Co., Plano Manufacturing Co., and Warder, Bushnell, and Glessner) to create the International Harvester Company.
From Farmall to Travelall
The horse-drawn reaper was seeing the last of its days in the early 20s, and the manufacturing giants at Ford were already dipping their toes into the light-duty tractor market. Seen as a replacement for horses or mules, Ford's "Fordster" was gaining traction as a light-duty tractor that was cheap to own, and cheap to run. IH, seen as the leader in the world of industrial farming, was under intense pressure from the farming community to build a proper Fordster competitor. This wouldn't be the last time Ford and International Harvester would duke it out either!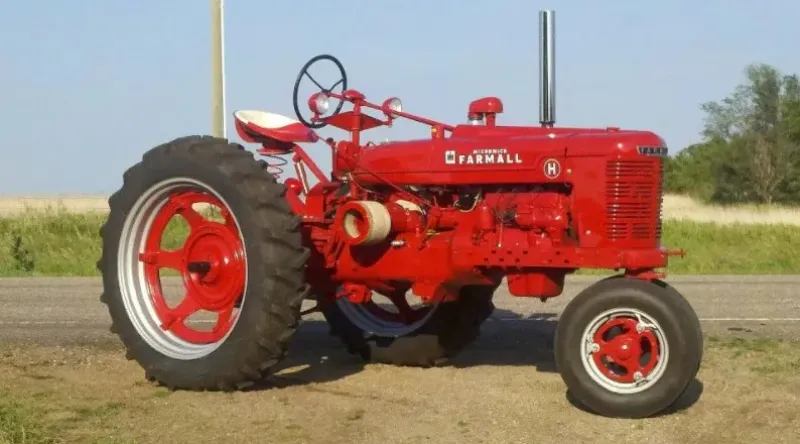 IH's competitor to the Fordster was known as the Farmall, a name that will instantly ring a bell for agricultural collectors or anyone who grew up on a farm in the country. Although they didn't initially outsell the Fordster, they did prevent Ford from owning the market, and by the late 1920s, the Farmall had become the choice for row farming in America. By 1930, IH had sold over 100,000 of these iconic machines. A 1939 redesign would introduce the "letter " series that would instantly boost the Farmall into iconic status with its revolutionary modern industrial design penned by Raymond Lowey.
What's all this got to do with trucks and SUVs? The success of the Farmall allowed IH to branch out into other markets, and provide the capital to develop an iconic line up of light-duty vehicles.
The First Truck
Remember, IH was a company that was built to service the rural communities of America. The rural communities of the early part of the century were not exactly easy to get around in, and getting produce to market was, well, tough. IH, ever the innovators, had a solution for the woes of getting around in early rural America: the first pickup truck.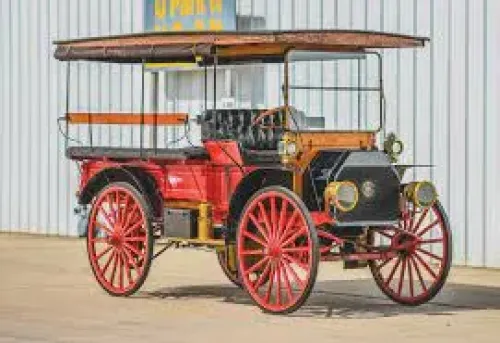 Originally known as the Model A Auto Wagon, this unique vehicle combined a powerful 15 horsepower boxer engine with a high-ground clearance and a convertible bed that could carry gear or people. This was the precursor to the modern pickup truck, and it was a huge hit for IH, despite major competition from brands like Ford. Throughout the 1910s, IH continued to build their truck line with the Model F, which brought additional upgrades to the engine and body of the early Auto Buggy. By 1915, IH was producing 5 different truck models that ranged from light-duty models to heavy trucks with chassis that could be modified for commercial duties like firefighting.
World War I would massively ramp up the production of truck. Once the war was over, the subsequent adoption of these surplus assets would cement the role of trucks in America. Production continued to grow to include hundreds of body designs, wheelbase lengths, and chassis configurations. Much like the early days, IH built their products for a job and encouraged customers to tailor their trucks for the job at hand. This innovation led to vehicles like the International Harvester Metro, one of the first step-in, panel-style delivery, multi-stop vans ever sold.
As the 30s wound to an end, IH owned the heavy-duty truck market and they were setting their sites on what they saw as the next big thing; the light-duty truck for personal usage. The combined success of the Farmall line and the commercial lines allowed IH to properly develop the personal lines, and produce vehicles that would one day go on to be some of the best Velocity Modern Classics we've ever made.
Light-Duty Trucks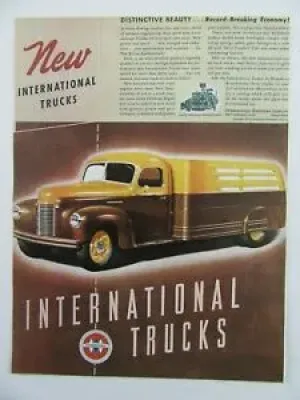 IH's very first light truck series was the K Series, which debuted in 1940.
There were 42 models for customers to choose from, including 142 different wheelbase lengths and load ratings ranging from 1/2 ton to 90,000 lbs! Each K Series corresponds with a number that reflects the weight carrying capacity of the truck. K 1-4 are generally regarded as light duty trucks, while 5-14 (skipping 9 and 13) correspond to heavy-duty trucks that did duty as everything from oil tankers to construction vehicles and more.
K Series trucks were replaced by the L series in 1949, and again replaced by the R series in 1952. While the K and L were fairly similar, the R series began to differentiate the IH line from the Big Three. Upfront, a "tractor style" grill showed off the familial connection between the R line and the Farmall line of tractors that were on family farms all over the country. The IH lineup included pickup trucks, panel trucks, and chassis-cab vehicles, and the ever popular Metro delivery van.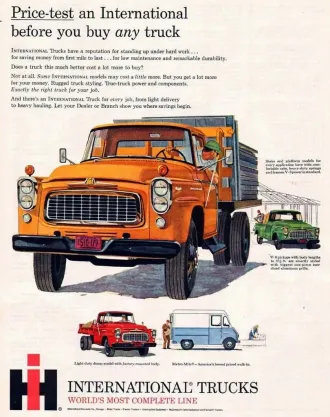 Next was the short lived S series, essentially a rebadged R series with some cosmetic changes, followed by the A Series. The letter A in this case stood for anniversary, since the A Series debuted in 1957, the Golden Anniversary for the storied brand. A mere 2 years later, IH scrapped the A line, and moved to the B line, introducing a slew of new gasoline engines (including LPG) options, and then on to the C line. Aficionados of the C line will note the "Low profile" styling, and iconic front end design.
Production moved to the 1100 series in 1972, which would last until the line completely died off in 1975. One look at the 1100 series and you can see that IH modeled the styling of this final generation to mirror the ultra - successful vintage Scout SUV. We've seen plenty of 1100 series trucks out there, and they make excellent candidates for classic vehicle restomod projects.
Travelette - The First 4 Door Crew Cab Truck
Look at any parking lot in America and you're bound to see a huge variety of four door pickup trucks from both domestic and international manufacturers.
Every single full-size crew cab truck on the market today can trace its lineage back to the International Harvester Travelette that debuted along with the above-mentioned A Series truck in 1957. This unique vehicle offered a third door on the passenger side, and a stretched cab (from the Travelall wagon) that offered seating for up to six passengers. Wheelbase and beds were also stretched to accommodate the full size cab.
When IH launched the classic B Series truck in 1959, engineers added another door, effectively creating the first four door truck sold by any manufacturer! It was marketed as a working and farm vehicle (whoops!) and as a result, never really caught on. Once the fuel crisis of 73' hit, that was the end of the unique Travelette.
This is one vehicle that Velocity Restorations would love to get their hands on! Can you imagine a Velocity Modern Classic restoration on the world's first crew cab truck? That's a match made in heaven.
Traveall - The First Full-Size SUV
Most enthusiasts will agree that the first full-size SUV to hit our streets was the Chevrolet Suburban, but what many people don't realize is that International Harvester built a direct competitor to the Suburban way, way back in 1953.
Debuting with the R line, the Travelall was a traditional, American station wagon. Unlike most station wagons, the Travelall was not based on a car, but on the R line truck chassis. It had two doors for passengers, and a rear set of barn doors (tailgate optional) for hauling cargo. IH provided the Travelall with factory four-wheel drive in 1956, cementing it as a unique offering vs. car based wagons.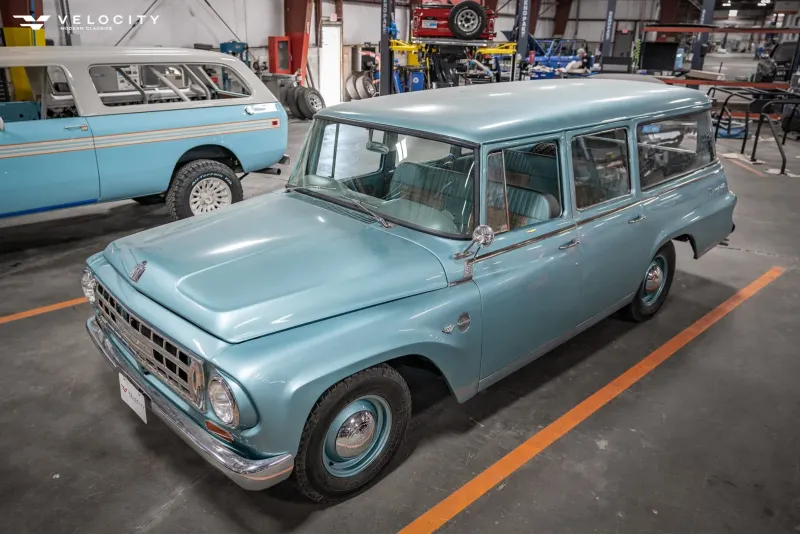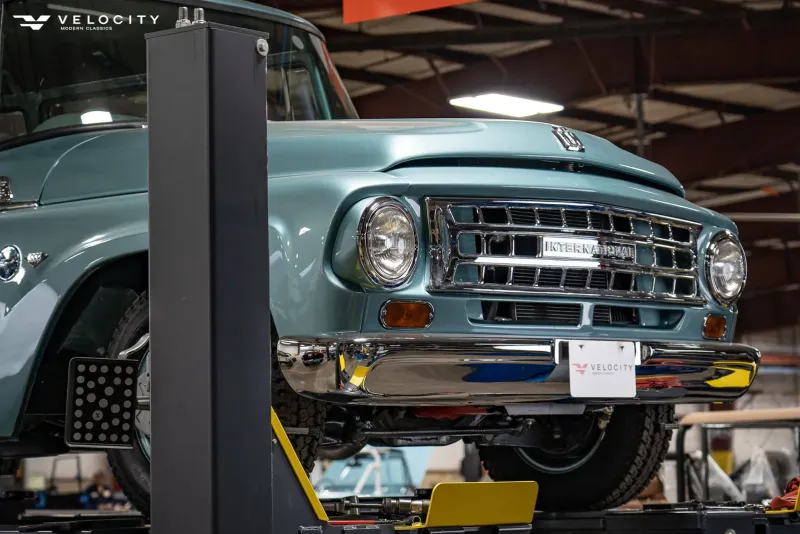 IH would produce a version of the Travelall for an additional three generations, ending along with the 1100 truck series in 1975. Every version of the Travelall came with a huge variety of options, and engine choices. By comparison to the Suburban, the Travelall was a much more basic vehicle, with a more work focused interior and options. As such, it never sold quite as well as its competitors, so there aren't a ton of these things around.
We love the Travelall because it lends well to our mission of producing Modern Classics that combine the energy of classics like the IH Travelall with modern technology, luxury and safety. We couldn't think of a better classic restomod than a Travelall!
International Harvester Restomods by Velocity Modern Classics
At Velocity Restorations, we love everything about International Harvester.
The history, and innovation of vehicles like the Travelall and Scout are a perfect match for building out the ultimate modern classic. We take the bare bones, workaday nature of IH vehicles, and transform them into modern creations that possess all the attitude of the past, but spoil both drivers and passengers in modern luxury. From Vintage Air A/C systems to digital gauges and modern engines that produce tons of refined horsepower; our approach is unlike any other builder out there.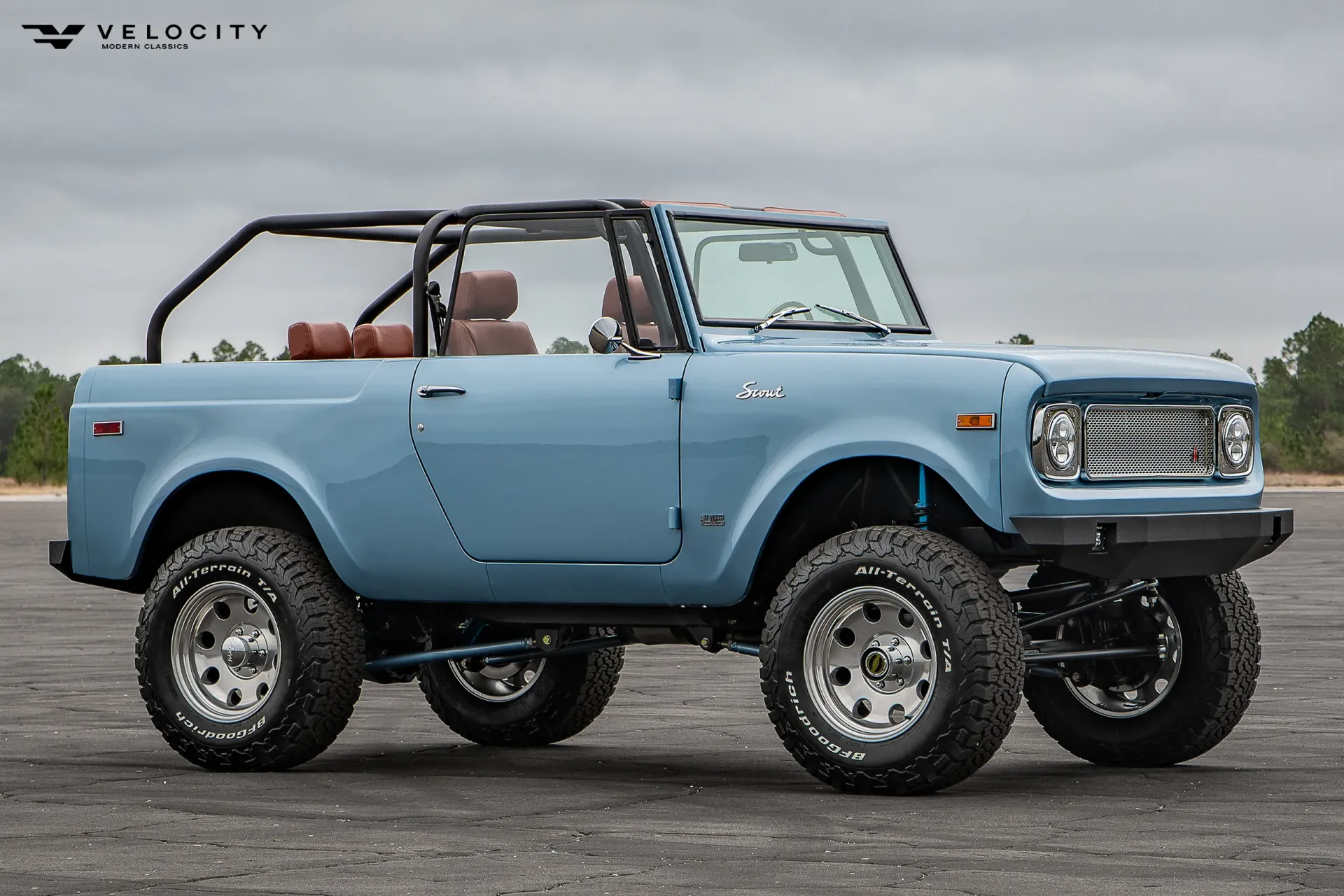 Our in house design team will render out the ultimate International Harvester Scout, Travelette, or classic truck to suit your needs perfectly. We'll stay with you every step of the way, and provide you with regular updates as your IH project makes its way through our modern production facility near beautiful Pensacola, Florida. Once the build is done, we tune the powertrain on our in house Dyno-Jet for OE levels of comfort and refinement.
If you've got an International Harvester project on your mind, give us a call! We would love to talk you through the process and help you build out the International Harvester Scout, Travelall, Travelette or truck of your dreams.