From the minute you lay eyes on this stunning 1972 Brittany Blue Ford Bronco, you know it's something special.
This precision-crafted Modern Classic embodies the passion, and creativity of some of the finest builders in the industry today. Built from the frame up with modern components, this 1972 Ford Bronco offers a thoroughly modern driving experience that is leaps and bounds beyond anything offered in the early 1970s. Velocity Modern Classics prides themselves on providing a vehicle with a bespoke, and luxurious level of fit and finish, that never forgets where it came from.
Let's take a deep dive into this beautiful example of a Modern Classic done the Velocity way.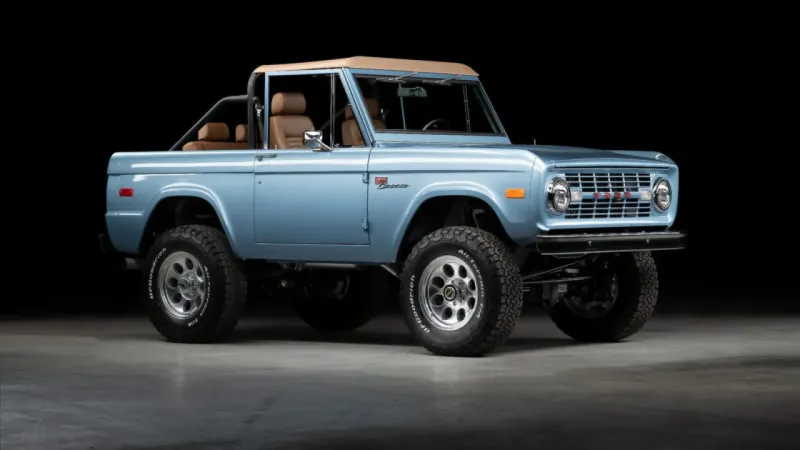 Color Heritage
Ford vehicles of the 1960s and 1970s have a storied history around the color blue. Yes, beyond Ford's nickname being the "blue oval", some of Ford's most iconic vehicles and iconic color combinations were shown in a beautiful blue hue.
Although Brittany Blue was not offered on the 1972 Bronco, no less than six shades of blue were offered by Ford Motor Company that year. Although there were plenty of incredible heritage colors to choose from, we decided to paint this impeccably designed 1972 Ford Bronco in a lustrous shade of Brittany Blue that harkens back to a certain famous muscle car. That's right, Brittany Blue was a stock color option on the first generation of Ford Mustangs.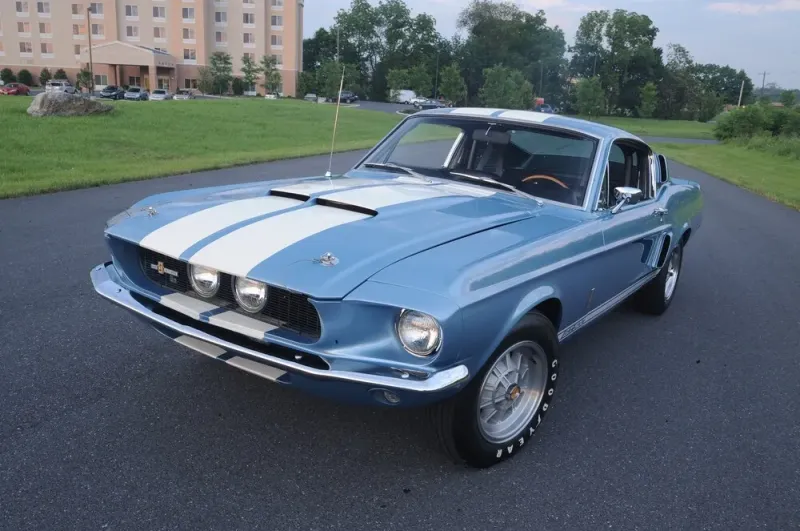 Part of the allure for the F – Series truck (today or back in the 1960's) was the ability to customize this unique truck for a variety of different tasks, and the fifth gen F-Series was where Ford really started to stretch the perception of what a truck could do for owners. In fact, 1965 was the very first four door, crew cab F – series produced by Ford, a trend that would grow and evolve over the next 50 years.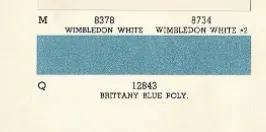 Perhaps the most famous Brittany Blue mustangs were the 1967 models, and at the height of the muscle car movement, Brittany Blue mustangs stood out from the rest with their near European levels of elegance and design.
Painting our 1972 Ford Bronco in a stunning shade of heritage-rich, Brittany Blue paint was an easy choice for the passionate team at Velocity Modern Classics.
Aggressive & Refined
We've equipped this 1972 Bronco with a two-and-a-half-inch lift that perfectly complements the elegant shade of Brittany Blue. From the custom-molded fender flares to the polished Mickey Thompson wheels and JW Speaker LED headlights; this Bronco has a presence that cannot be denied.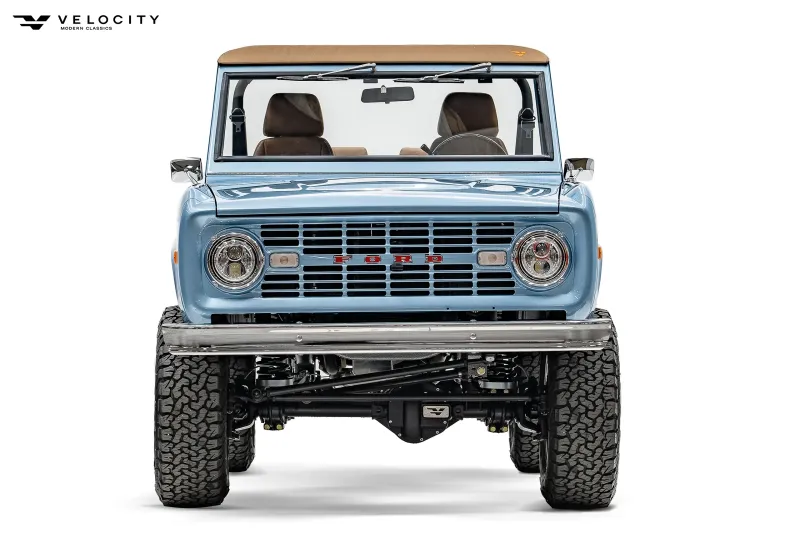 Everything about a Velocity Modern Classic starts with the meticulously corrected and powder-coated chassis. Building off our state of the art, fully-boxed frame that's built in house; we meticulously construct every component of the chassis to be both capable and refined. All new drivetrain components from some of the top names in the industry, such as Dana, underpin this 1972 Ford Bronco and give it a capability and driving character that is anything but old school.
This solid foundation allows us to construct a Modern Classic that offers thundering performance from a 5.0L Ford Coyote V8. Much like that stunning shade of PPG paint, the team at Velocity Modern Classics has chosen to give this Brittany Blue Ford Bronco a dose of muscle car heritage. If you love muscle cars, then you know the numbers 5.0 mean something on the side of your ride.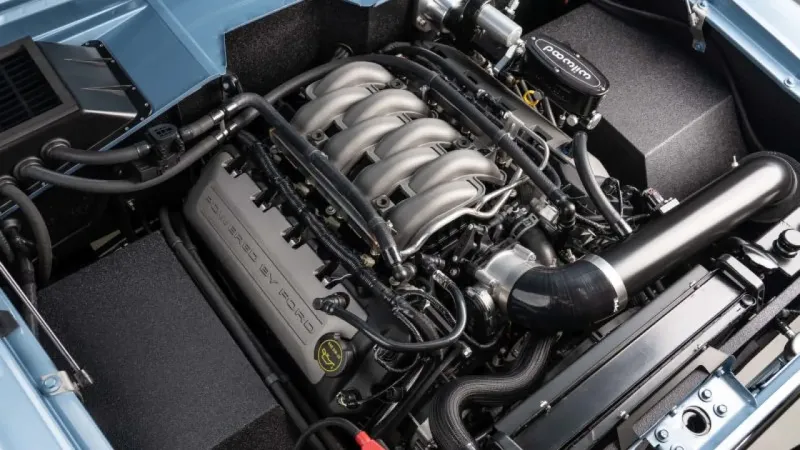 Ford Performance has rebuilt and refined the howling Coyote V8 for the modern generation, and it's a perfect fit for this Brittany Blue Bronco. Pumping out 430 horsepower through a set of Velocity exclusive headers and Velocity exclusive performance exhaust, you won't believe the acceleration and sound of this 1972 Ford Bronco. As soon as you turn on this engine, your hair will stand on end and you won't be able to wipe the smile off your face as you stand on the gas.
Velocity Modern Classics takes the extra step of tuning the Coyote V8 in house for that extra level of refinement and performance.
The Inside Story
While the outside of this 1972 Ford Bronco does have a modern flair, it still retains its nostalgic, wide-shouldered good looks. Inside, however, the story couldn't be much different.
Simply put, this 1972 Ford Bronco's interior looks like it was plucked out of a modern luxury vehicle. Considering this vehicle's original mission, and the incredibly basic interior it once had, you won't believe that you're sitting in a classic Ford Bronco once you slide into the driver's seat. Wrapped in a custom-fitted shade of hickory, the upholstery on this 1972 Ford Bronco is both stunning in appearance and feel. We've chosen yacht grade upholstery to ensure that this interior will not only look good but will be durable and worry-free for many years to come.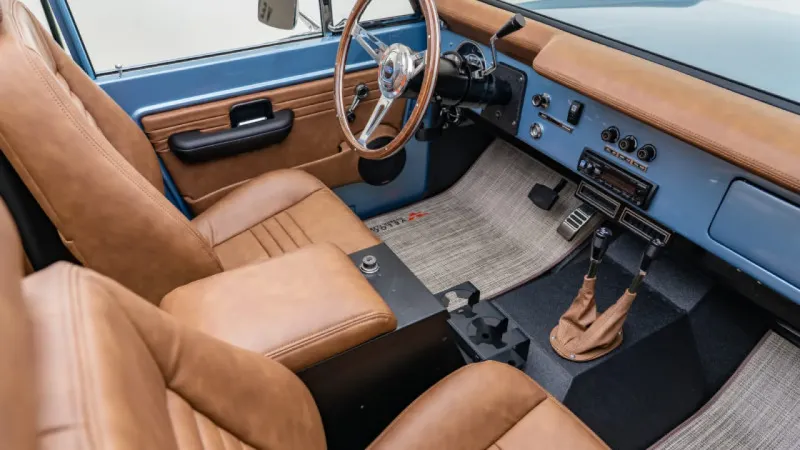 Little touches like all-new glass and weather seals, custom Velocity all-weather floor mats, and an adjustable Ididit steering column further bring the mission of modern luxury to this 1972 Ford Bronco. Long gone are the days of a single speaker AM or FM radio under the dash, and instead, we've included a Sony touch screen head unit, augmented by an Alpine subwoofer for the ultimate sound experience. That is, if you ever get tired of listening to that howling Coyote V8.
Nostalgic Design & Modern Luxury
Velocity Modern Classics has created a vehicle that is a charismatic and fun classic, yet is as luxurious and powerful as any modern luxury vehicle on the road today.
When we set about changing the perception of the classic car experience over a decade ago, we wanted to bring customers a slice of two very different eras. Most of us long for the days of the past that were simple and carefree, yet, we enjoy still enjoy the modern conveniences that have seemingly taken over our lives.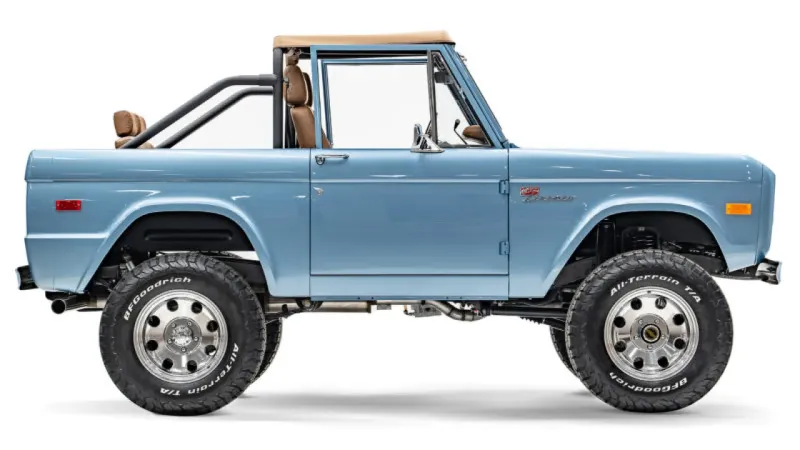 This 1972 Brittany Blue Bronco allows you to reconnect with the part of your soul that you may have left far behind. That part of your soul that stirs, and wants to have adventures that go well be on anything the modern age can offer.
This is the perfect escape pod for the modern, often chaotic world. This is a Velocity Modern Classic.