There's no doubt about it - the International Harvester Scout is one of the coolest vehicles to ever live in the pantheon of SUV history. When the Scout came to market, it was a bare-bones SUV that was built to persuade Bronco and Jeep buyers over to the International Harvester stable. Today, it's become a cult classic amongst lovers of vintage metal and it's growing in popularity year after year. We just wrapped up a Scout build that we can't wait to tell you about.
The team at Velocity is thrilled to bring this incredible 1967 model back to its glory days, that is, with just a few Velocity style enhancements, of course. Then again, let's be honest, anyone who knows Velocity knows that "a few enhancements" really means an incredible custom build that will make any Scout fan salivate.
We're going to cover everything you need to know about this iconic 1967 International Scout 800, custom-built by the outstanding men and women at Velocity Restorations.
We'll cover:
Birth Of The Scout
Under The Hood
Chassis and Frame
Interior Details
Exterior Details
There's an incredible amount to cover on this 67' and trust us, you'll want to strap in for this ride. Let's get into it!
Birth of the International Harvester Scout
Born of a company that made agricultural equipment, (yes, you read that right) the Scout was the vision of a company that was determined to carve out a niche and build a competitor to semi-popular Jeep CJ. While Jeeps had a rabid audience, they were less than a full-blown commercial success but manufacturers like Ford and IH saw the potential for "adventure" vehicles that could do everything from taking their owners camping to getting put to work on a ranch. Every SUV you see on the road today has vehicles like the IH Scout to thank for their existence but the spirit of these original SUV's hardly lives on today.
Originally, the Scout (officially named the Scout 80) was offered in a dizzying array of styles including a pickup, soft-top and even a removable, traveling hardtop. They even offered a Camper model in 1963 that cashed in on the boom of the "camping culture" that was sweeping the nation. This deserves its own story on its own since it was so poorly made that it fell apart on rough terrain. Luckily, less than 100 were sold but that's another story for another day. IH was looking for that perfect blend of daily driver and terrain hopping runabout and in 1965, the successor to the Scout 80 was born; the Scout 800.
The Scout 800, 800A, and 800B would cement the Scout as one of the leaders in the rising SUV movement that was sweeping the nation. A more modern interior with features like bucket seats and the option of a V-8 engine made the Scout a fantastic competitor to the Broncos and Jeeps of the day. Production of the Scout 800 would continue until 1971 when the all-new Scout II would hit the market. This variant would last an astounding 9 years and would be the last of the Scouts prior to the demise of IH in the early 1980s.
Under The Hood
Sure, the original 1967 Scout 800 could be had with a V8 engine but that original powerplant just wasn't going to cut it for us. The Velocity team took one look at the engine bay and saw an incredible opportunity to shoehorn in one of the most ferocious V-8's available; the LS3. Yes, the high-revving, deep breathing powerplant that came standard in the Camaro SS and C6 Corvette is under the hood of this Scout! Velocity adds in a Concept One Serpentine System along with a Turn One Power Steering System Upgrade and free-breathing, spine-tingling 3-inch Magnaflow High-performance Exhaust System. We've also installed Velocity designed billet valve covers to properly finish off the engine bay.
This incredible motor is custom-tuned by the Velocity team to achieve high levels of not only power but driveability as well. This International Harvester Scout, like every one of our builds, is built to a standard that is far above your typical builder. One of the things that truly sets us apart is our commitment to providing our customers with builds that look and feel like they rolled off the factory floor while still retaining the edge and attitude of one of the leading custom builders in the country. Power is nothing without control.
Putting down this power is one of the stalwarts of the automatic transmission game - the GM 4L60E. This 4-speed, quick-shifting automatic is a perfect match for the wide powerband of the LS3 and offers this Scout a completely modern driving experience that belies its 50+ year-old age. Sending the power to all 4 wheels is the absolute industry standard transfer case from Atlas. This 4-speed unit has 3 separate low-speed ratios for the ultimate in off-road capability should your adventures take you off the beaten path. Atlas transfer cases are also well known for their long-term durability and superior strength making this an easy choice for this 67' Scout.
A Solid Foundation: Velocity's VSS Chassis
The chassis of this Scout is truly the foundation for what makes it incredibly unique. This one-off build features Velocity's VS3 chassis, the first custom-engineered chassis designed specifically for the International Scout. From the custom welded frame to the engineered suspension, every element of this chassis has been completely customized and was designed to meet the quality performance standards Velocity is known for.
The frame is the first of its kind and was designed for the Scout 80 and 800, but we didn't stop there! Our team has also designed a Velocity-exclusive chassis for the International Harvester Scout II.
At the corners, we have installed a 4-link coilover suspension kit that is custom engineered to offer exceptional levels of both ride comfort and control. The suspension design is enhanced with 9-inch Double-Adjustable AFCO Pro Shocks that offer a setting for both low speed and high-speed driving. Keep in mind, AFCO has been providing shocks to racing teams on both ovals and street tracks for over 30 years and they know a thing or two about incredible shocks.
Dana provides both axles to the Scout and we've selected the Dana 44 for the front and a Dana 60 for the rear. Those who know off-road vehicles know that the absolute standard for durability and reliability is the Dana series of axles. In fact, Dana has been making axles for vehicles that undergo serious abuse since the 1940s! We only utilize top of the line componentry like Dana axles because we expect our vehicles to go the distance, be completely driveable on a daily basis and hold up to abuse.
Bringing things to a halt are huge Wilwood, 4 wheel disc brakes that are backed up by hydroboost assisted braking. Wilwood is a leading provider of high-powered braking systems and has been in business since 1977. To say this is an upgrade over the original drum brakes found on the Scout is an understatement. Since power is nothing without control, these brakes offer the type of power and driveability you expect in a build from Velocity.
A Look Inside: International Harvester Scout Interior Details
Once you've hopped inside via the custom fabricated and powder coated side-steps, you won't believe you're sitting inside a 1967 vehicle. Bar none, this is one of the most unique, luxurious, and technologically advanced cockpits that's ever been seen in a Scout. From the hand-stitched upholstery to the advanced, audiophile stereo - the incredible attention to detail that sets Velocity apart from the rest is on full display here. Let's take a ride through this incredible interior!
Let's start with the high-back bucket front and fold/tumble rear seats. The seats were custom designed and custom stitched in house and provide not only a rich texture and beautiful color tone but also provide the type of long-term durability that you expect from Velocity. We've also custom-designed the door pulls, dash pad, and kick panels to match the color palette and achieve that high-end finished look. A hand-stitched and wrapped, bespoke steering wheel provides the ultimate tactile experience while the custom wrapped roll cage matches the sumptuous interior appointments.
In between the front seats you'll find a custom, leather-wrapped console unit featuring two integrated cup-holders. In fact, custom doesn't really begin to describe just how unique this console unit really! It features a custom-designed console lid to provide a discreet, magnetically-closing storage compartment to allow you to safely stash away your personal belongings. There's even a custom-installed wireless charger that provides you with a place to secure and charge your phone. You won't find a console like this on any other Scout in existence! It's equally useful and beautiful, which complements the mission of this Scout perfectly.
Want your International Harvester Scout with the most up to date technology? How about in-dash air conditioning flowing through custom powder-coated vents? Yes, this Scout has air conditioning built right into the custom interior! You could only dream of a feature like this on a Scout in 1967! Dakota Digital gauges provide all the information you need at a glance and provide a keen, modern design.
The flush-mounted, touchscreen head unit from Alpine blends right into the interior design and offers the type of power and customization that earns this system the label of "high-fidelity". An Alpine subwoofer and Morel Virtus Nano Carbon Ultra-Slim Mount Speakers along with SoundSkin Pro 3-layer acoustical sound dampening material work in concert to provide an incredible level of acoustic performance and overall power. These Morel speakers are designed to fit in with custom builds by providing power in the most challenging of mounting points. They're a natural fit in this custom interior and sound absolutely incredible.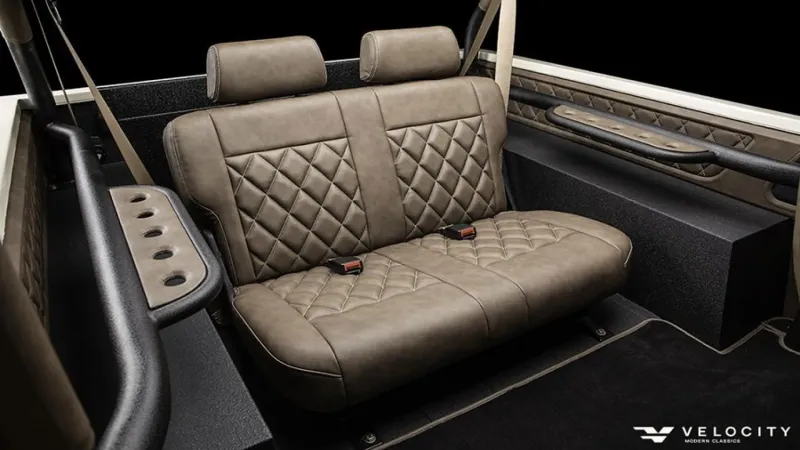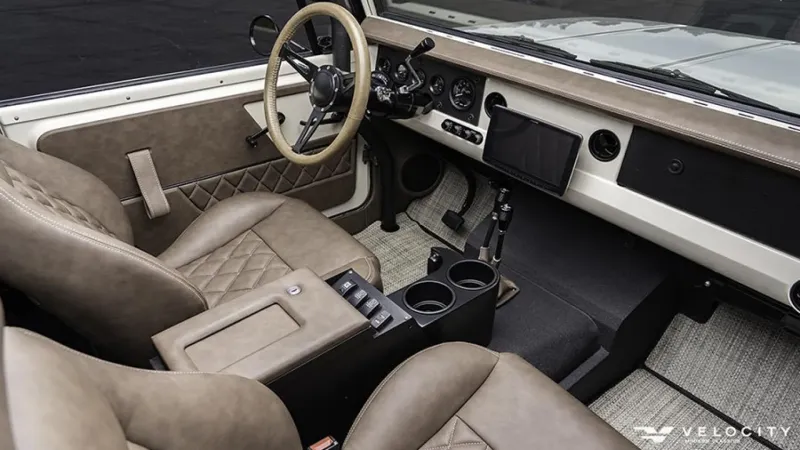 International Harvester Scout Exterior Details
One of the first things you'll notice about this restored International Scout is the stunningly rich and unique shade of PPG custom paint, that's set off by a rugged set of Method wheels shoed with 295x70x17 BFGoodrich All-Terrain T/A K02 tires. We've also custom-designed and fabricated a Velocity-exclusive billet grille that features one-of-a-kind "IH" cut-outs (IH for International Harvester). You'll also find custom, powder-coated bumpers with integrated hitch, recovery hooks, and heavy-duty winch.
Lighting is a crucial component of not only safety but also contributes to overall aesthetics and completion of an overall design theme. Velocity rolls in Rigid LED Backlit Headlights/Taillights with custom-designed tailgate lenses to ensure that the road ahead stays lit no matter what the conditions. Those custom bumpers we mentioned? Velocity rolls in Rigid Front/Rear Amber Backlit Fog Lights right into the bumpers themselves for a clean look that has the benefit of additional lighting capabilities.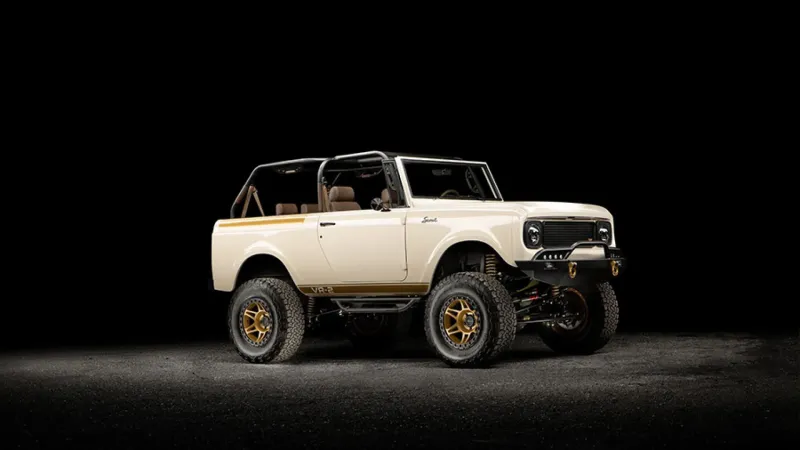 The Velocity Difference
This fully restored 1967 model represents the ultimate in International Harvester Scout restorations. Quite simply, it is the culmination of efforts from a diverse team of passionate men and women that never settle for anything less than the best. From the drivetrain to the upholstery and metalwork; each team member left their unique stamp on this build and contributed to the vision of the overall package. Inside, outside, or under the skin; the attention to detail of this incredible build sets Velocity apart as a premier builder of custom vehicles in the United States. If you're looking to purchase or build the ultimate International Scout, then look no further because Velocity is your one-stop shop!