It's easy to throw the word "Icon" around these days without taking a few seconds to really consider the weight of this seemingly simple word. The Oxford dictionary says that an icon is "a person or thing regarded as a representative symbol or as worthy of veneration." That's a huge expectation to live up to and few things in this world can truly, rightfully claim their right to the designation of being an icon. An Early Ford Bronco fits the bill.
So, why should you choose a Velocity Ford Bronco? Well, it's that four-letter word, Icon. The Early Ford Bronco is most assuredly an icon. An icon that birthed an entirely new class of vehicle and subsequently defined it. An icon that defined an era, died an untimely death, and has only recently been brought back to life. An icon that has the ability to simultaneously tug on your heart and get it racing at the same time. An icon of personal connection to others and to the natural world around us. An icon of all the things that make life worth living.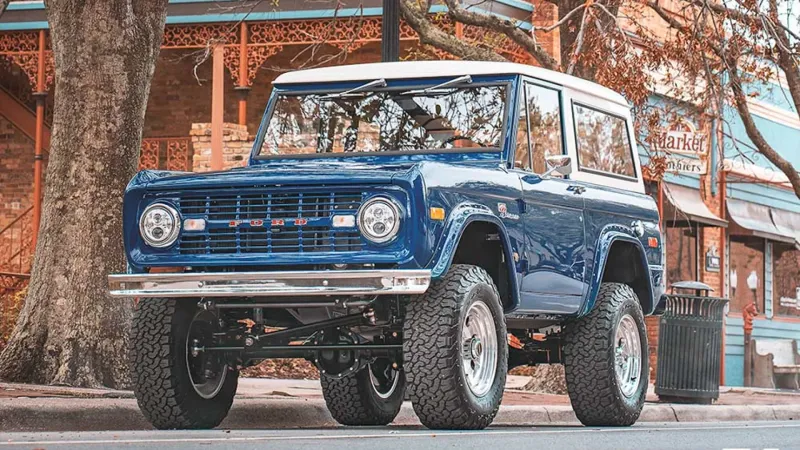 We'll dive deep into the Velocity Ford Bronco and show you why you should choose this uniquely American icon for your next ride:
Defining An Icon: Where It All Started
Creating the Sport Utility Vehicle
Evolution Without Revolution
Classic VS. Modern
Defining An Icon: Where It All Started
To really understand the Bronco, you need to roll it all the way back to WWII. Ford was one of three companies that were charged with developing the troop carrier that we know today as the Jeep and produced over 250,000 of this rugged runabout. After the war, GI's sorely missed their Jeeps and were looking for something basic but rugged that could be taken off the beaten path to go camping, reach their favorite fishing spot, or hunt. This vehicle also needed to perform daily driver's duties for their owners since most could not afford multiple vehicles.
Although the International Harvester Scout and Jeep were occupying this corner of the market, Ford saw a huge opportunity to further expand the breadth of the Bronco and believed that an entirely new segment of vehicle could be created. In 1962, Ford began to survey Scout and Jeep owners to learn what they did and did not like about their vehicle. By 1963, work was well on its way to introducing a vehicle that kept the spirit of its forebearers while adding in another level of refinement and usefulness that was missing from its competitors.
By 1965, the off-road stablemate to the now ubiquitous Mustang was ready. The Bronco was born.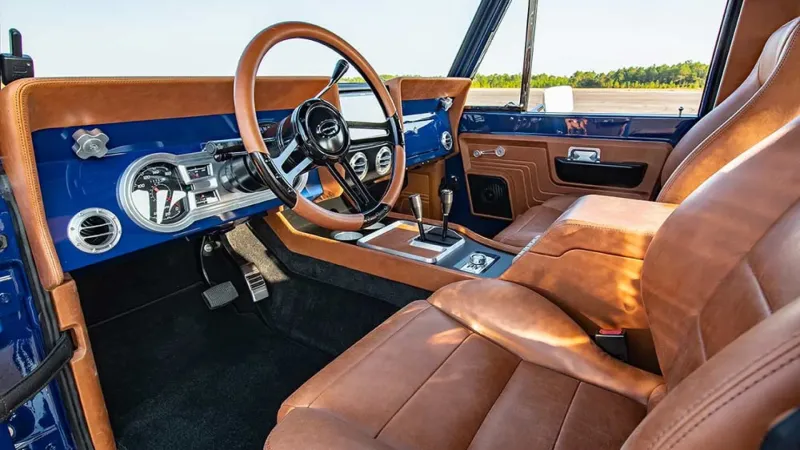 Creating the Sport Utility Vehicle
Although the roads of America are littered with vehicles that bear the designation of "SUV", the original sport utility vehicle was a vehicle that could do it all. Don Frey, the man responsible for the development and launch of the Bronco, had this to say: "neither a conventional car nor a truck, but as a vehicle which combines the best of both worlds. It can serve as a family sedan, as a sports roadster, as a snowplow, or as a farm or civil defense vehicle. It has been designed to go nearly anywhere and do nearly anything."
Ford took the complaints of Scout and Jeep owners to heart when creating the building blocks for the Classic Bronco. Originally, the Bronco was offered in three distinct body styles that ranged from a bare-bones "roadster" with no roof or doors to a more complete "wagon" with doors, roofs, and a fully finished interior set up. There was even a version with a pickup bed that was simply known as the "sport utility" trim.
For what it's worth, the original Bronco was the world's first branded sport utility vehicle. It was a vehicle that was made to carry five people, had a reasonable amount of cargo space, and could basically crawl over any terrain that you put in its way. It defined and therefore became an icon for what a REAL SUV is supposed to be. Not a fuel-sipping commuter car but a bonafide, off-road trail crushing machine that climbs a mountain and takes the kids to soccer practice on the same day.
Owning a classic Bronco means you'll be owning a piece of modern history. A vehicle that sat at the beginning of America's appetite for ruggedness and spawned the modern monster that is the SUV takeover. This is the granddaddy of all SUVs.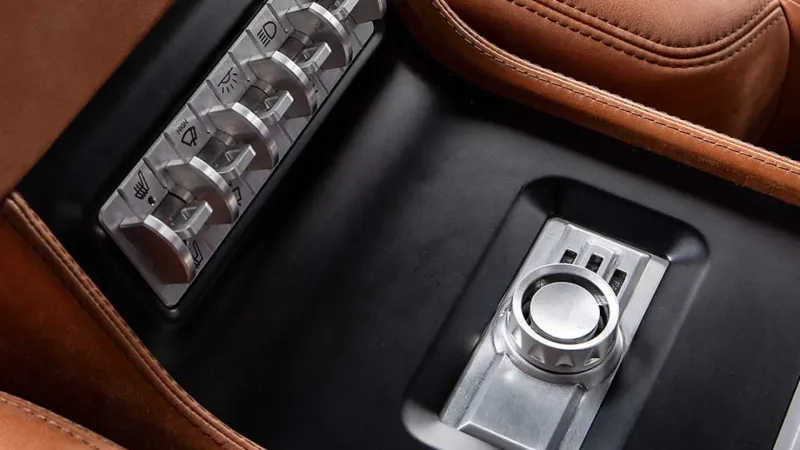 Evolution Vs. Revolution
The first generation of the classic Bronco had a remarkably long first run, going all the way from 1966 to 1977. For the first few model years, there were several body styles offered but the best selling versions were the wagon version and the open-top roadster. There were very few standard items on the Bronco, which had a base price of under $3,000 (which is around $17,000 in today's dollars) but there were a plethora of aftermarket parts offered by both Ford and other companies. This was yet another huge differentiator for the Bronco. You could get everything from a camper on the back to an attachment that would dig posts out on the ranch.
As the model years soldiered on, Ford began to offer more trims and more options to meet their buyer's demands. 1973 brought some huge changes to the Bronco, including the availability of a 3-speed automatic transmission to go along with the 302 cubic inches V-8 option. Ford also replaced the standard straight six with a larger, more powerful 200 cubic inch option. Ford also decided to connect the Bronco to the F-150 lineup at the hip by introducing the Ranger trim, which sat at the top of the line. Carpeted floor mats, wood grain trim, and bucket seats were among the standard items that the Ranger carried.
Introducing the Ranger trim level was a huge game-changer for the public perception of the Bronco. Suddenly, the SUV went from being an off the beaten path, fence post digging, bare-bones affair to something that could almost be considered luxurious by 1973 truck/SUV standards.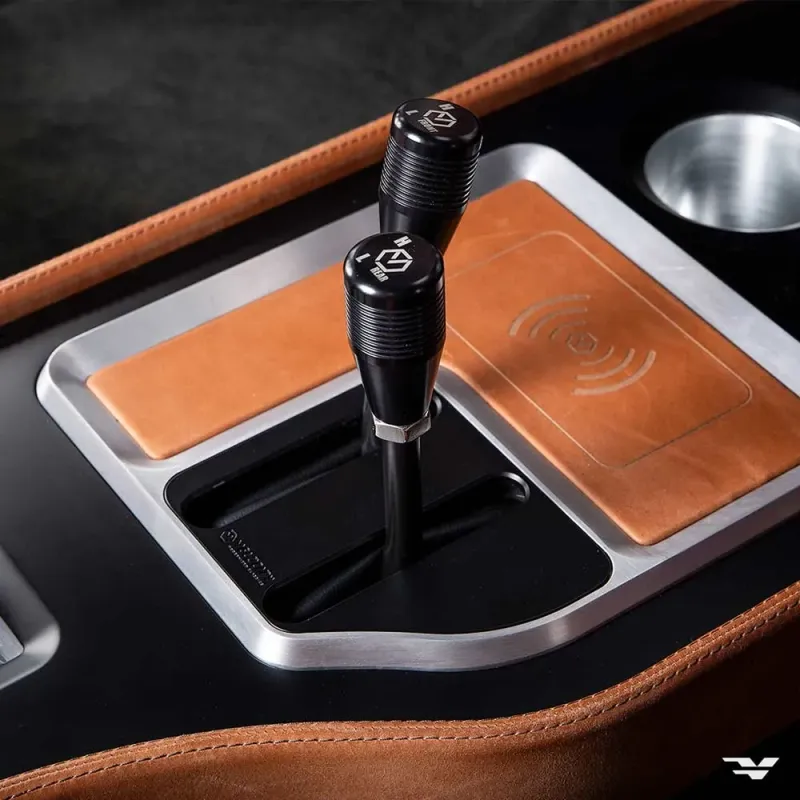 Finally, a fully redesigned Bronco hit the road in 1978 and brought with it an entirely new mission: an SUV with highway-friendly road-manners and upgraded interior options. The 1978 Bronco was a V-8 only and included options like air-conditioning and AM/FM radio while offering much larger passenger space and higher levels of overall refinement. This model year only lasted 2 years and was replaced in 1980 by a new model that was based exclusively on the Ford F-150 truck. Two more generations would come to pass from 1987 - 1991 and 1992 - 1996.
Sadly, the Bronco met an untimely demise in 1996 after years of slow sales, bad press, and a completely evolving American market. The Bronco was gone. Throughout its history, this iconic vehicle stuck to a formula: tough as nails, two doors, off-road capable, basic transportation for the adventurous owner. This unwillingness to adapt led to the demise of the Bronco. Sure, it evolved but not enough to meet extinction at the hands of the Explorer and Expedition. It needed a revolution and it never got it.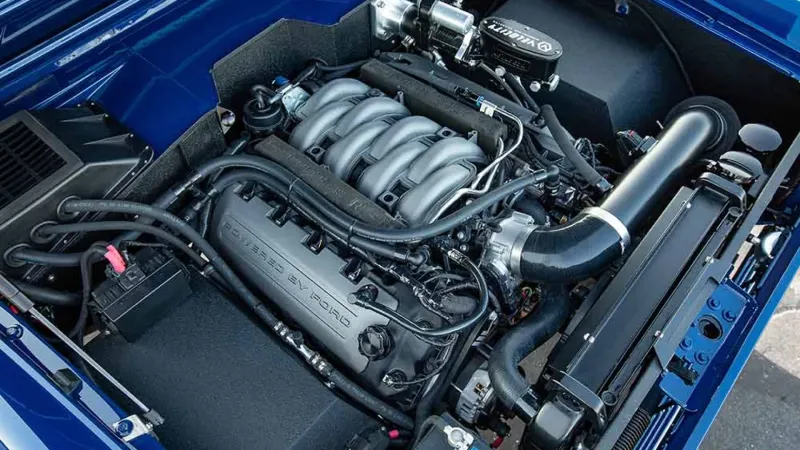 Why an Early Ford Bronco?
Just take a look around you next time you're out on the road. Heck, you may even own one yourself! The SUV craze is here to stay and our appetite for car-based SUVs is downright ravenous. The classic Bronco stands in stark contrast to the modern SUV, in fact, it is the anti-SUV. SUV medication, if you will. The classic Bronco is the impetus of all modern SUVs, a movement that would have no power today if Ford didn't offer a vehicle way back in 1966 that could do it all. Its evolution into a passenger-friendly vehicle that was decent to drive on the open road paved the way for the throngs of passenger SUVs that make up the majority of the market today.
Owning a classic Bronco cuts away the decades of progress that have turned SUVs into money-making machines for automakers. They're refreshingly basic, refreshingly honest, and completely unique in their ability to transport your heart and soul back to a time when people bought Broncos for a purpose. It's the icon of all SUVs, the kind of thing that only comes once in a generation and spawns countless imitators.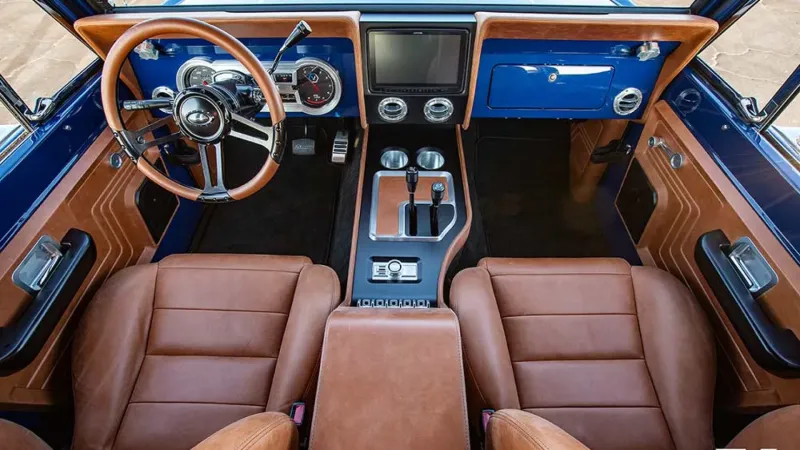 The Velocity Difference
The team at Velocity takes the iconic, Classic Bronco and turns it into a luxurious, furiously powerful, and incredibly capable machine that pays homage to the original attitude and soul of the classic Ford Bronco. Each build is as unique as the owners themselves and reflects the blood, sweat, and tears of a dedicated group of craftspeople that pour their hearts into every piece of the build. Even with the intense levels of modification, there's no doubt that the final result is undeniably a classic Bronco.
Sure, you could buy something brand new that may equal its capability or amenities but will it be an icon? Will it maintain the classic, simple design of the classic Bronco? Will it be customized to your every need and desire?
Exactly.
If you're ready to travel back through time in style and live a bygone era with a modern edge - it's time to connect with Velocity and get your build started today! For complete details on customizing your own Velocity-built modern classic, talk to our success team today!