Power is nothing without control.
The foundation of any great classic Bronco build is not the motor, or the transmission but a modern, technologically advanced chassis that properly integrates both powertrain, and suspension for ultimate refinement and control.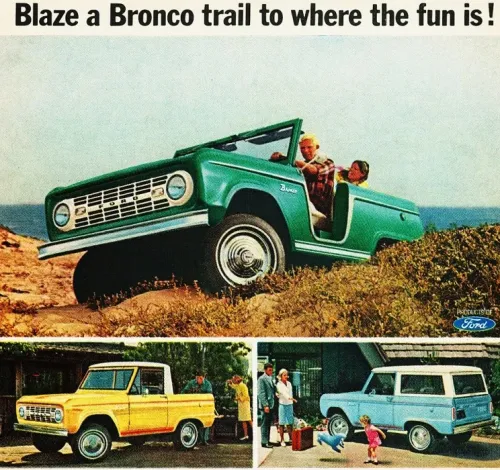 Since the classic Bronco hasn't been made since 1977, and the technology of the era was less than stellar by today's standards, we needed to build a chassis from scratch that would meet the needs of our new generation of Modern Classics. Never settling for good enough, our in-house engineers created a line of chassis products that represent the best in the world.
At our core, we're builders and the Velocity team wanted to offer the finest classic Bronco and Scout chassis on the market for other builders like us that love to get their hands dirty and create their own unique version of a Modern Classic.
We're going to cover everything you need to know about the Velocity Classic Bronco Chassis Lineup:
A Foundation Of Performance
Classic Bronco Bare Frame
Classic Bronco Chassis
Classic Bronco Chassis and Powertrain
A Foundation Of Performance
Part of bringing the reality of a modern classic to life is looking well beneath the surface and starting at the absolute foundation of a vehicle: the chassis.
An inferior Bronco frame, or an original frame, will succumb to frame flex at high-stress points during driving. The stiffer the chassis of the vehicle is, the more secure it will feel on the road, and the fewer issues you'll have with overall build quality as the vehicle ages. Beyond the frame, the rest of the chassis needs to work in a carefully engineered dance for full effect.
With today's modern technology, it's possible to take the basic design of a classic Bronco chassis and re-engineer it to meet a modern level of sophistication, quality, and precision. In fact, the rest of our builds would be nothing if they were placed upon a chassis that didn't meet the goal of the Modern Classic.
The chassis of a Velocity Modern Classic includes the following components:
Velocity Exclusive Frame
Brand New Front and Rear Axles w/ Hubs
Braking System
Steering System
Suspension System
Velocity's exclusive chassis lineup includes: The VB1 Bare Frame which allows you to customize your build to your unique needs, the VB2 Rolling Chassis which is a great foundation for the serious Bronco builder, and the top of the line VB3 Chassis and Powertrain that includes virtually everything you'll need for your build under the body.
If you already have a Classic Bronco frame, we offer a stellar trade-in program that can put a Velocity VB1 frame in your hands for as little as $2500.
VB1 Classic Bronco Bare Frame
The heart of any great chassis build starts with the frame.

While the original frame in the classic Bronco was known for its overall toughness, it was a victim of 1960s and 1970s technology. Today, our engineers utilize advanced computer modeling to create frames that mimic the original design of the classic Bronco but add in a level of modern sophistication and quality.

The VB1 chassis frame utilizes thick-walled, fully-boxed construction that has been laser cut with specifically contoured main rails that are designed to eliminate flex and kinks and high-stress areas around the chassis. We've also included a 1-in body lift that fully integrates all factory body mount locations for precision fitment.
Multiple transmission cross members and an increased inner frame width are designed to accept a wide range of popular powertrain options. For those that are seeking to create the finest Classic Bronco builds in the world, this is an incredible place to start.
Classic Bronco VB2 Rolling Chassis
Taking the build to another level, the Velocity VB2 rolling chassis includes the VB1 frame, as well as specifically curated and engineered components that form a brilliant foundation for any Classic Bronco build.

Every velocity VB2 rolling chassis includes the following components:
New Dana 44 front axle with Warn premium locking hubs
New Ford 9-inch rear axle with Trac - Loc
Wilwood four-piston big brake kit
Bilstein custom valve shocks
2.5-inch suspension lifts
If you're looking for even more performance out of your Bronco build, we offer the following upgrades to the VB2 rolling chassis:
3.5" lift springs with long travel radius arms
Front and rear sway bars
17" wheels
31" - 35" Cooper or BFG tires
Classic Bronco Chassis and Powertrain
For the ultimate performance and modern refinement; the Velocity VB3 chassis includes a fully integrated package including frame, engine, transmission, brakes, and suspension all in one.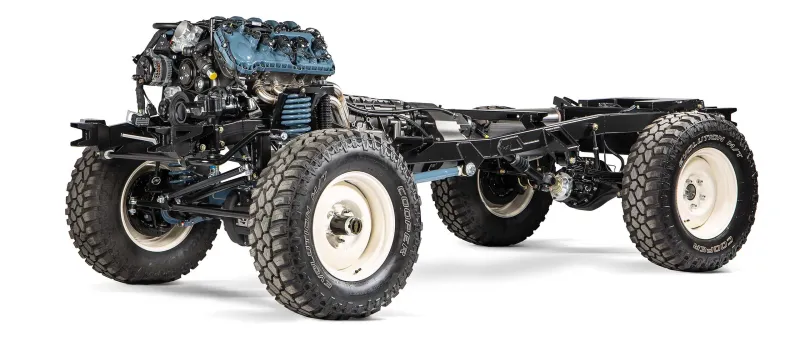 The VB3 chassis is a fully engineered solution that serves as the foundation for almost every single one of our classic Bronco builds. Every component is designed to work in sync with other components, providing a level of refined power and control that is unheard of in the Classic Bronco market.
We love V8's and we couldn't think of a better V8 for our Classic Bronco Builds than the Ford Performance Coyote engine.
This masterpiece of modern engineering puts out a stout 435 horsepower and flows through a quick-shifting Ford 4R7OW four-speed automatic transmission. Power hits the ground through an Atlas two-speed transfer case with cable shift twin sticks.
Never happy with just enough, the Velocity team includes custom engineered and precision-crafted components that are Velocity exclusive and are created in-house by our team of Classic Bronco experts. Every single one of our Velocity exclusive components is designed to enhance the Coyote engine and provide an additional layer of refinement and reliability.
Powerful, capable, and refined - it's a perfect match for our Modern Classics.
Drivetrain
Ford Performance Gen II Coyote Crate Engine

435 HP/400 TQ
11:1 compression ratio (requires 91 minimum octane)
Controlled by FRPP Control Pack
Ford Racing ignition coil covers
Custom-designed Stef's aluminum 7 qt oil pan to provide ample engine-to-axle clearance
Ford 4R70W 4-speed automatic transmission with torque converter

Controlled by US Shift Quick 4 transmission controller

Atlas 2 Transfer Case with cable shift twin sticks

Hi range 1:1 ratio
Low range 3:1 ratio
Velocity Cooling System
Velocity aluminum satin black powder-coated shroud
GC 16" HP Cooling Fan for awesome cooling power yet reducing power consumption.
Radiator hoses needed w/ proper heat shrink clamps
Velocity Exhaust System
Custom fabricated and tig-welded 304 Stainless Steel construction

3/8" thick 304 SS header flanges to prevent warping and leaks
1 ¾" Header primary tubes
2 ½" Header collectors
2 ½" y-pipe w/ flex pipe to a 3" outlet
3" y-pipe to tail pipe
We use v-band clamps on our exhaust systems to increase end-user ease of adjustability and maintenance.

Offered in 2 exhaust tones:

w/ 2 Magnaflow mufflers for extremely quiet (almost stock) sound
w/ 1 Magnaflow muffler and secondary muffler delete pipe (more aggressive/off-road sound)

All necessary gaskets are hardware
Velocity Exclusive Belt System
Velocity Serpentine 6-rib system to ensure quiet belt operation and concentrate accessories as tight towards the engine as possible.

Power Steering Pump
Alternator 175AMP
A/C Compressor
Tensioners and Belts
Velocity Exclusive Fuel Tank
Weighs 35 lbs.
20 Gallon capacity
Velocity's exclusive intank fuel pump with capabilities up to 800 hp.
3/8" quick disconnect fuel fitting
Dual corner pickups to keep the fuel pump hat full of fuel no matter the fuel tank level, all the way down to the last drop. Great for high inclines and banks while off-roading.
Center full-height baffle to help limit sloshing inside the tank.
Fits VB1 frame and factory EB frame
Fits best with 1" body lift
Upgrades & More
Ididit steering column with lower steering shaft and joints
Motor mount brackets with rubber motor mounts
Motorcraft starter
Lokar transmission dipstick for ease of mounting
Hydratech hydro-boost braking system
Wilwood master cylinder and proportioning valve with lines from the proportioning valve to frame
Black billet power steering and coolant overflow
Transmission cooler with lines and fittings
Vintage Air A/C kit with evaporator, condenser, dryer, trinary switch, controls, and all lines and fittings needed
The Velocity Difference
Our commitment to offering the finest components for Classic Broncos is only part of what sets us apart as a builder.
Velocity is also one of the only builders in the country to offer a fully realized International Scout frame, rolling chassis, and drivetrain that is ready for any Scout restoration build. From the fire-breathing LS3 V8 to the fully engineered and laser-welded box frame; this is one of the finest Scout chassis and powertrain packages ever offered for sale. Check it out here.
Looking to restore a frame you already have?
Velocity offers an incredible classic Bronco frame trade-in program that allows builders to trade in an original classic Bronco frame and receive one of our state-of-the-art VB1 frames for as low as $2,500. This is a saving of up to $5,500! All frames must have an acceptable core, and an original VIN number to be considered. Keep in mind, trade-in values may flex depending on the quality and condition of the original frame.
There's nothing we love more than helping out people who are building their dreams and our Velocity exclusive lineup of Classic Bronco chassis, International Scout chassis, and bare frame products are the finest in the world.
Happy building!