Our Signature Series goes well beyond a traditional restoration by combining a bespoke level of luxury, with purposeful engineering and technology that was only a figment of the imagination when the classic Bronco roamed the streets of America.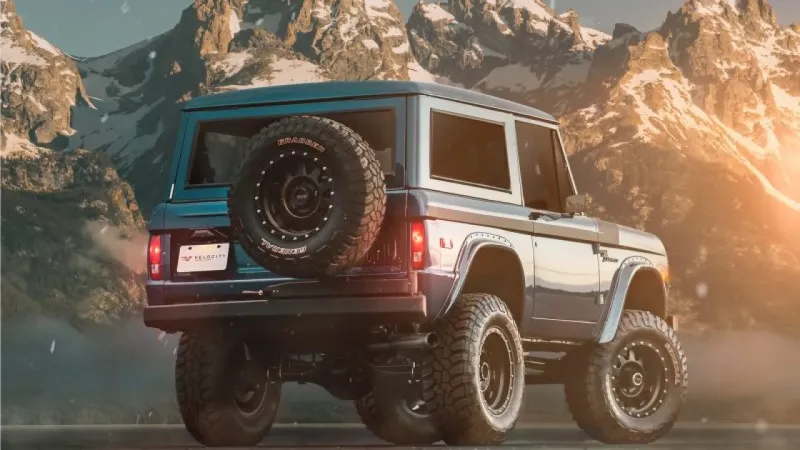 Starting at $224,900, these creations are unique to Velocity and represent countless hours of blood, sweat, and tears from some of the finest craftspeople in the industry. A team that is hell-bent on building the absolute finest Bronco's available in the world today, customized to the exact desires of our customers.
So, what goes into a Velocity Signature Ford Bronco? From paint to wheels; the journey of a classic Bronco from a forgotten classic to a revived masterpiece is a story worth telling:
Velocity Headquarters
Superior Components, Superior Performance
Velocity Exclusive Parts
Client Focused Experience
Velocity Headquarters
If you're going to build the finest classic Broncos in the world, then you better have the finest facility in the world to do it, and that's exactly what Velocity has created.
Our 135,000 square-foot facility consists of everything from a 5-axis CNC machine shop, to in-house upholstery, powder coating, and an on-premises paint shop. This allows our team to custom build and control the quality of every step of a Velocity Signature Series build.
Our in-house, 5 axis CNC machine shop allows our engineers to create proprietary parts that are of the finest quality and completely unique to Velocity. We don't just build classic Broncos, we shape them and create them in our custom metal shop that allows us to build everything from custom bumpers to custom fenders with absolute precision and ease. To achieve that perfect shade of Velocity paint, we have not one but two downdraft paint booths right at Velocity HQ.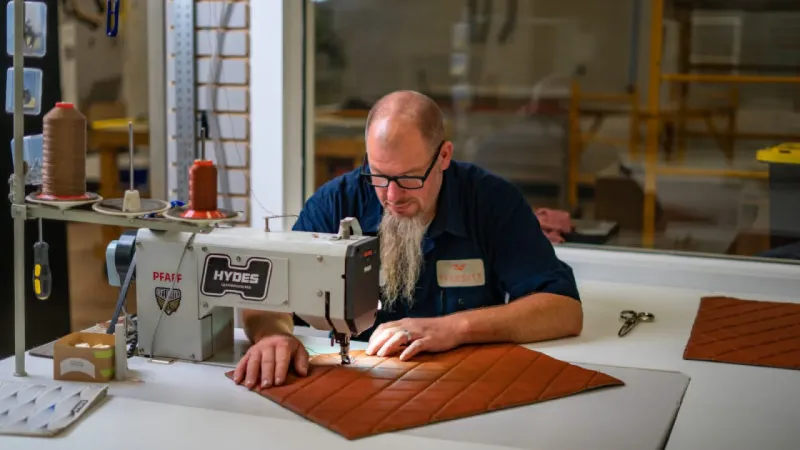 What makes a Velocity Signature Series Bronco's so unique is the incredible attention to detail on the interior of every build and our in-house upholstery shop allows us to create custom-crafted interiors that are of the highest quality and tailored to the exact desires of the client. To provide a level of durability and rugged beauty to our metal components, we've even built a powder coating assembly line right into our shop for the ultimate quality control and customization. Our parts department isn't just a room in our shop, it's so expansive that it puts a standard auto parts store to shame. The reason behind maintaining such a massive inventory is quite simple: it means that we don't have to wait for parts to ship or rely on other distributors to get the parts needed. This eliminates delays and keeps all builds on budget and on schedule.
This is the temple of Bronco and we're proud to call it home.
Superior Components, Superior Performance
When creating the ultimate Bronco, the quality of the parts and components can either make or break the entire build. At Velocity Restorations, we don't just use parts and components that are good enough, we use the absolute best parts and components in the industry.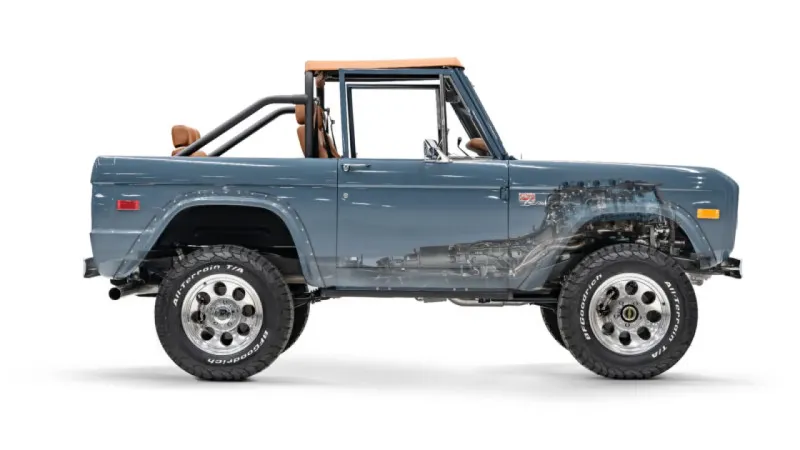 Take our fire-breathing Ford Coyote V8 for example. This incredible engine is both incredibly powerful, and incredibly refined at the same time. Its dual overhead cam design and Variable Valve Timing technology mean that I can pull hard at almost any engine speed and produce the type of thrills that are befitting of a vehicle that is as stunning as of Velocity Signature Series Bronco. We could have used a crate engine or a 302 but instead, we chose to go with the motor that mixes old-school V8 thrills with a modern dose of refinement. One drive and you'll see, it's a perfect match.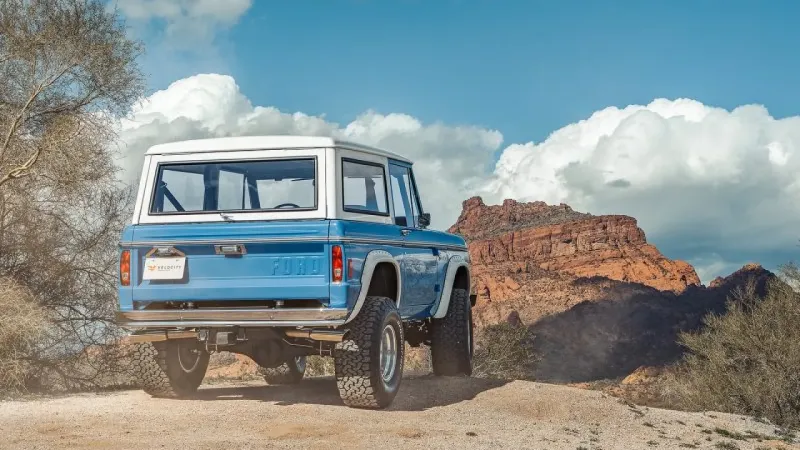 Those who off-road know the name Dana stands for quality and that's exactly why we use Dana 44 axles on every single one of our Velocity Signature Broncos. Not only does this give our vehicles a high level of capability, but ensures long-term durability as well. Each one of these components is not expected to stand on its own but instead is part of an overall chassis and suspension package that includes the finest components from the finest manufacturers in the world. Velocity even allows buyers to choose between short-throw manual transmission or an automatic overdrive transmission for the ultimate in power, smoothness, and ease of use.
No matter what your performance goal is, our select series of components can make your Signature Series Bronco perform at the highest levels of reliability and refinement.
Velocity Exclusive Parts
At Velocity, we've crafted a series of proprietary parts that are specifically engineered and designed to meet our stringent quality requirements by offering both long-term durability and exemplary performance. Frankly, the market wasn't offering certain components that met our goals for quality and refinement, so rather than put poor-quality components in our builds, we chose to create many components ourselves to achieve our vision.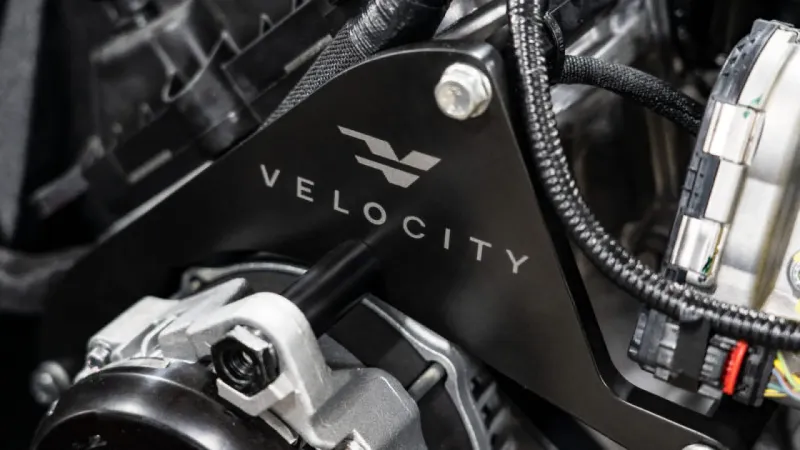 Our choice to use a highly engineered and highly durable custom serpentine system is just one example of the extra care and precision that we put into every one of our Velocity Signature Broncos. This system is not only extremely durable but offers a level of visual appeal that simply cannot be matched by any off-the-shelf part on the market. There isn't an off-the-shelf header on the market that completely met the performance requirements and visual appeal we were looking for in our Broncos either, so again what do we do, we built it ourselves! We also offer a custom chassis, custom fuel cell, hand-built steering gearboxes, and even a hand-assembled gearbox in every build.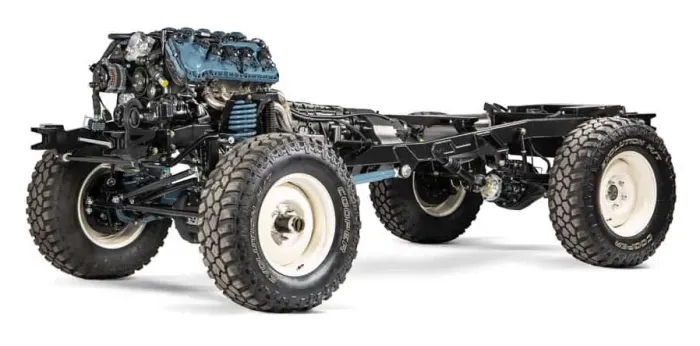 When you drive a velocity series Bronco, you are putting components that have been honed by the finest Craftsmen in the industry to the test, and trust us, the parts live up to the hype.
Client Focused Experience
Every step of the Velocity Signature build process is focused around you, the client. Once you decide on a basic direction for your Velocity build, our in-house rendering artist puts your vision to reality and allows you to visualize the final product. We have a team of Customer Success Managers that are assigned to each and every build to ensure that every step of the process is completed on time and on budget. There's nothing worse than looking forward to owning and driving a restored Bronco, only to realize that the process has been delayed by several weeks or even months. This is not something we want our customers to ever experience.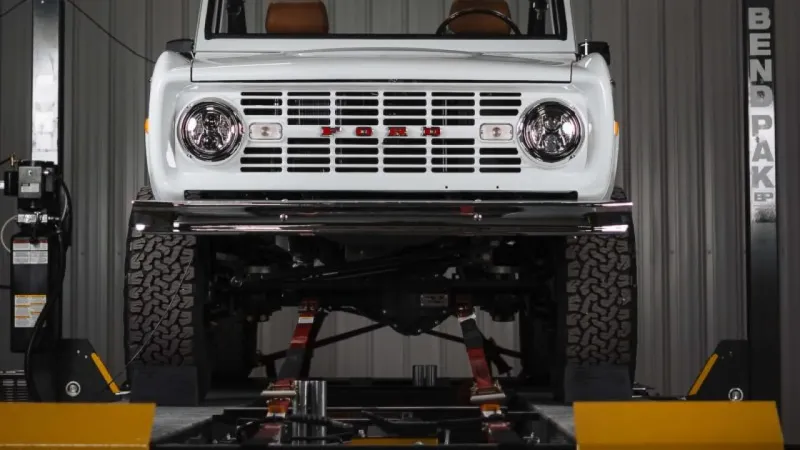 Once your velocity Signature Series Bronco has completed the building process, we then run an extensive test and tune process that consists of driving each vehicle for 500 miles to check for final quality-control measures and putting the vehicle through a custom tune on our Dynojet dynamometer. This process ensures not only optimum performance but optimum refinement as well. We want your signature series Bronco to drive like the modern luxury performance vehicle that it is and not something that feels like it belongs in another decade.
A Modern Classic
Creating a Velocity Signature Series Bronco takes a high level of commitment, resources, and passionate dedication. We're not interested and just building any vehicle, we're interested in building vehicles that achieve OE levels of fit and finish with the passion and energy of a custom builder that has made its mark by redefining the Classic Ford Bronco.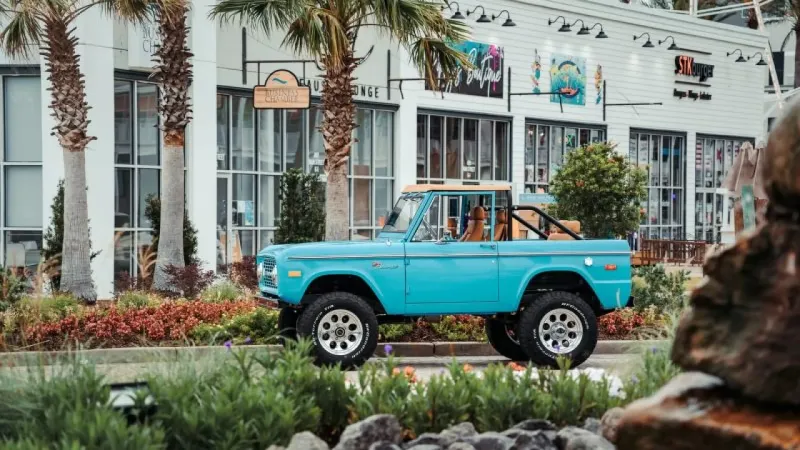 Today, the classic Bronco is more popular than ever before with some examples fetching over $200,000 at such legendary auction houses as Barret Jackson or Russo & Steele! Many of these examples come from builders that lack the deep expertise required to truly turn a classic Ford Bronco into a modern luxury vehicle that will stand the test of time. A Velocity Signature Series Bronco is not something you'll only enjoy today, but something that can be passed down to your family for many generations to come.
Every component that rolls down the road, every stitch of the interior, and every valve on the engine has been carefully considered to provide an overall driving and ownership experience that is unlike anything else offered in the country today. A soon as you step inside one of our builds, you won't know if you're looking at a modern performance luxury vehicle or something that was first built decades ago! It takes an incredibly skilled builder to achieve that vision on a grand scale, and that's exactly that Velocity has done.
If you want to be part of this movement, start by talking to one of our Customer Success Managers today.