So-called because of their burly, shoulders out appearance and straight lines; the square body general motors pickups are among the most sought after designs on the modern classic market. In fact, the square body was internally termed the "round body" by General Motors and was the first truck to spend time in a wind tunnel to reduce drag and increase fuel economy but the round moniker only referred to the windows, and lights that had a rounded edge. Plus, "square body" just sounds cooler.
The third generation of C/K pickup trucks stayed on sale for a staggering 18 years! Over this period of time through the 70s and into the very early 90s, General Motors made various changes to this truck to keep it relevant and fresh but the original design was good enough to last nearly 20 years.
Among the most sought-after models in this generation is the iconic K-Series 4×4 pickup truck. At the time, these relatively bare-bones pick-ups were the rig of choice for those who wanted to use their truck to get off the beaten path and look damn good doing it. Today, those that remember those warm summer days trucking through the backcountry are looking to put a K-Series back in their driveway.
We're going to do a deep dive into the iconic C/K line of pickup trucks and put a special emphasis on the K-Series to explain why they were so ahead of their time.
Trust us when we say: this is a truck whose story needs to be told!
Development and Design
Introduced in 1973, the Chevrolet / GMC C/K was the answer to Ford's F- Series line of trucks that was gaining popularity all across the country. General Motors baked in not only an iconic, square body design but also an interior that was more sedan-like than anything that was put in the truck to that point and a chassis and suspension system that was built for comfort on the road as well as ultimate capability for whatever the owner wanted to use their truck for.
Chevrolet and GMC versions of the CK were offered in two cab designs, three-bed configurations, and three different wheelbase lengths. In addition, two-wheel drive or four-wheel drive was available. K_Series pickups were only offered with four-wheel drive.
Chevrolet C/K trucks were designated as either 10, 20, or 30 series while GMC trucks were marketed as 1500, 2500, or 3500. 10 and 1500 series trucks were 1/2 ton trucks (nominal payload) while 20 series and 2500 series were 3/4 ton trucks and 30 series and 3500 series were one-ton trucks. For the average consumer, the ½ ton model was by far the most popular choice.
While a four-door pickup truck body was available in the "Big Dooley" 30 or 3500 series trucks, most C/K trucks were sold as single cabs. We would be remiss if we didn't mention the iconic Blazer and Suburban vehicles of the same era that were based on the C/K line of trucks. If you take a good look at these vehicles of this era, you can see there's not much difference except for a covered bed!
Trims and More Trims
General Motors carried over much of its naming nomenclature for its trims from the previous generation C/K pickup trucks. At the bottom of the trim structure, was the Custom trim, followed by the Custom Deluxe with the Cheyenne and Cheyenne Super topping the range.
Essentially, the Custom was a bare-bones work style pickup truck that lacked such basic features as carpeted floors and interior trim panels. For most personal use buyers, the Custom Deluxe was the true starting point and included things like color-keyed upholstery, unique interior trim, and chrome trim. The Cheyenne and Cheyenne super were the most luxurious of the C/K trucks and came with such niceties as additional sound installation, radios, and even the option for air conditioning.
In 1975, Chevrolet revised their truck line and included a few more trims for good measure. The iconic Scottsdale trim was somewhere between the Custom Deluxe and the Cheyenne, while the Silverado trim replaced the Cheyenne Super. Anyone who knows anything about pickup trucks today knows just how iconic the Silverado name is, and this is where it got its start!
General Motors also marketed a "Bonanza" appearance package that was meant to be coupled with the Scottsdale trim and offered additional niceties such as color-coded panels color-coded interiors and unique interior carpeting.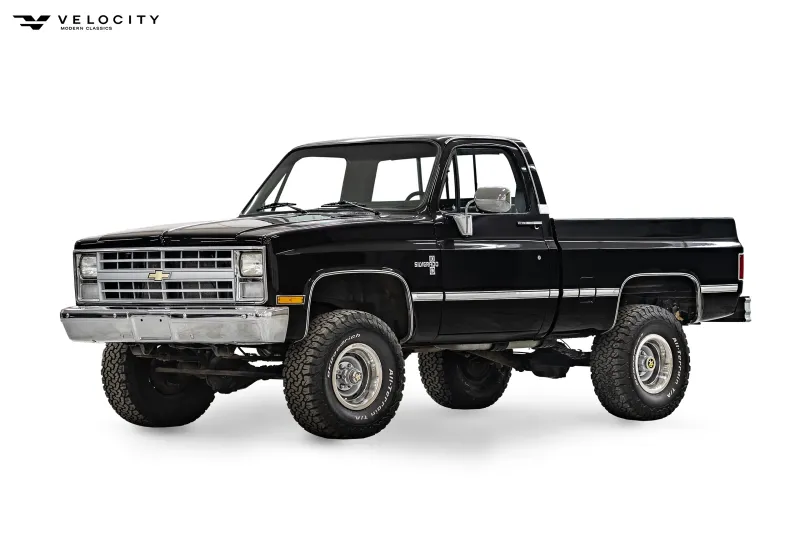 Depending on the year, many of the 10 series and 1500 series trucks of the era could be offered in either a fleetside or a stepside design. Today, the stepside design is especially sought after.
Engine and Transmission
At launch, the 3rd generation C/K was offered with five different engines. At the bottom of the line, was a 250 cubic inch inline 6, that would go on to do service in these trucks for nearly 16 years! A 292 cubic in inline 6 was also optional, as was a 307 V8, a 350 V8, and the massive 454 V8 in 2 wheel drive trucks.
In 1978, General Motors would become the only American manufacturer to offer a light-duty truck with a diesel engine. This motor, the Oldsmobile diesel V8, was an option in 10 series and 1500 series trucks of the era. In 82, the Oldsmobile 350 would be replaced by the 379 Detroit Diesel, but it was no longer available and 10 or 1500 series trucks.
Transmission choices at launch for a 3-speed manual, a 4-speed manual, or a Turbo Hydramatic 3-speed automatic.
Suspension & Off-Road Mission
One area where C Series and K Series trucks differ quite a bit is their suspension systems and chassis design.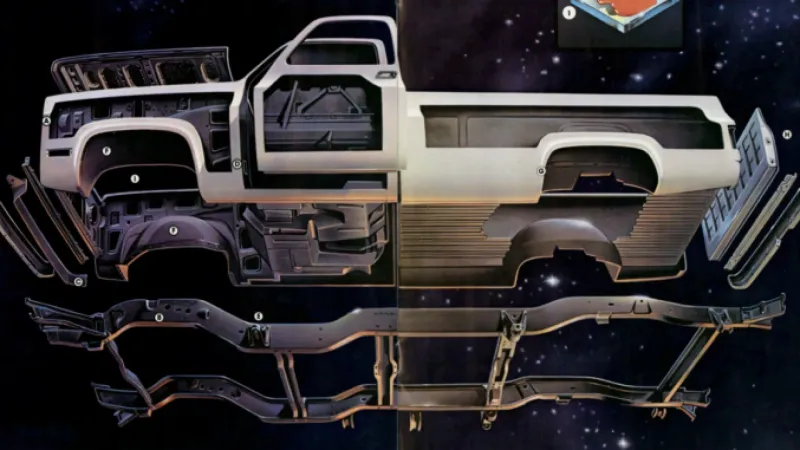 The decision to create two different suspension systems between the C- series and K series trucks comes down to the mission of the trucks themselves. C- series trucks were marketed as having an exemplary ride and they were offered luxurious trims such as the Cheyenne Super and the Silverado to back up this cushy, highway-focused ride quality. On the flip side, K-series trucks were marketed as tough and capable machines that could perform duty as outdoors rigs for everything from working on the ranch to hunting in the deep forests of America.
C/K Suspension Designs
Third generation 2 Wheel drive C/K trucks used an independent (yes, all the way back in 1973) front suspension with a dual-stage multi-leaf spring supporting a live rear axle out back. K series trucks ditched the independent front suspension for a live axle set up, four-corner Vari-Rate multi-leaf springs, and the Load Control rear suspension system. In addition to the suspension changes, the K- series trucks also received a revised frame design that incorporated a flat seat area to better accommodate tucked-up components like the exhaust and brake lines, as well as additional frame stiffening in the side rails and the cross members.
4 Wheel Drive Systems
Keeping with its rugged nature, the K10, K20, and later on the K30 utilized a few different four-wheel-drive systems that made it easy when going got tough:
Conventional: Standard equipment on all K series trucks with the straight 6 was a conventional four-wheel-drive system that utilized a two-speed transfer case with four drive modes. The same system could be ordered on the V8 model as well.
Full Time: Today, there are numerous four-wheel-drive systems on the market that market themselves as "full-time systems", but this was relatively unheard of in the 1970s. However, from 1973 to 1979, K-series pickups from General Motors had an optional full-time four-wheel-drive system! This system gave drivers the ability to lock the differentials in high or low, as well as the ability to automatically send power via in Eaton Automatic Differential Lock during normal operations at speeds below 20 mph. This allowed those who are venturing off-road to completely control the differentials on the vehicle from the cab of the truck and utilize an automatic slip detection system that could send power to the right wheel at the right time.
Shift On The Move: The 1981 refresh brought a four-wheel-drive system known as "Shift On The Move" to the K series pickups. This all-new system utilized self-locking hubs and synchronized high range gearing so that the truck be shifted from two-wheel drive to four-wheel drive at speeds up to 25 miles an hour. Much like today's modern pickup truck, the K10 from 1981 on offered two high, four high, neutral, and four low modes for off-road fun.
Legacy & Impact On Modern Trucks
The third generation C/K series trucks, especially the K10, are among the most sought-after classics on the market today. It's not hard to understand why when you see the rugged good looks that still hold up today and have inspired both Chevrolet and GMC trucks ever since the body style was introduced in 1973.
Beyond looks, these pickup trucks were among the first to offer two distinct versions to buyers. Much like the Ford Raptor or Chevrolet Trail Boss Silverado, the K series was a distinct model that had a different suspension, different options, and a whole slew of off-road parts that were either standard or optional. You could even order a K-series truck in the '80s with bash plates, tow hooks, and even a mild factory lift! Today we take this for granted, but in the '70s and '80s, it was not common.
If you're looking for that perfect K – series truck to relive the glory days, Velocity has you covered. Whether you want to restore your K- series truck to its factory goodness or you want to create a modern classic that includes features and amenities that were completely unheard of in the 70s and 80s; Velocity are your square body experts that can get it done.
We don't just restore vehicles, we resurrect them and bring them back to their former glory with a level of craftsmanship and skill that is unheard of in the industry.
Ready for your K – Series truck dream to become reality? Reach out to us today!