There are some things in life that stand the test of time by possessing an almost ethereal quality that consistently resonates with a portion of our soul. We consider these things irreplaceable, untouchable, and unable to be duplicated. Why? Because they represent passionate expressions of past feelings and the memories that go along with them. Things that belong to us and only us. Things that move us, complete us, and make us fall right back into those moments where everything just felt right. This Classic Scout sure moves us.
There's no wonder that true classics from the past have become so much more popular in recent years. Our world moves shockingly fast via infinite information, infinite viewpoints, and infinite choices. Yet here, in this generation of instantly available everything, things like records and classic cars have enjoyed a huge resurgence. Why? Just ask the team at Velocity and they'll tell you: It's all about capturing that classic feeling and giving it a modern soul.
Yes, you can simultaneously scratch the itch for something new and have the unmistakable feeling and nostalgia that come with driving something that existed in a time when things were much less complicated.
A perfect example of this example in motion is our incredible 1967 International Harvester Scout. A vehicle that blends classic bones with a modern soul in a way that only Velocity can deliver.
Defining A Classic Scout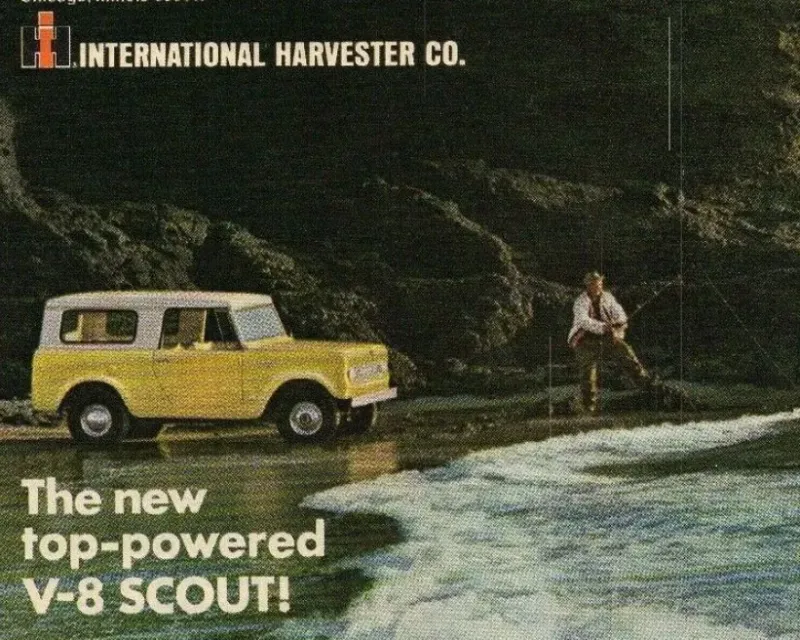 So what exactly does it mean to be classic, anyway? Well, it depends who you ask and frankly, there are dozens of legit definitions you could mull over but for the purposes of this exercise, we're going to fall back on our old friend: the dictionary.
"A classic is an outstanding example of a particular style; something of lasting worth or with a timeless quality; of the first or highest quality, class, or rank – something that exemplifies its class."
It's pretty obvious to us why the International Harvester Scout is considered such a classic in the automotive world. It represents a particular style of transportation, one that is both basic in its intention and pure in its form. I mean, look at that ad for the 1967 International Harvester Scout! A bright yellow, go anywhere, do anything SUV that is shown on a beach with crashing surf, as a man, rugged as the Scout no doubt, cast the perfect cast, to catch the perfect fish.
Ah, this is rugged individualism and the triumphant American spirit at its best!
Much like the classic Ford Bronco, the International Scout was a forward-looking example of where things would eventually end up in our world. At the time of its creation, the team at International, a company more known for tractors than SUVs, had no idea that this type of vehicle would eventually go to take over American roads in the form of crossovers and other tall, car based wagons.
Here's the thing though; even that crossover sitting in your neighbor's driveway is trying to call out the feeling of freedom and ruggedness that SUVs like the International Harvester Scout originally represented. Judging by the sheer number of SUVs on the road today, we'd say this idea has traction with Americans!
Classic Scout Looks - Modern Gear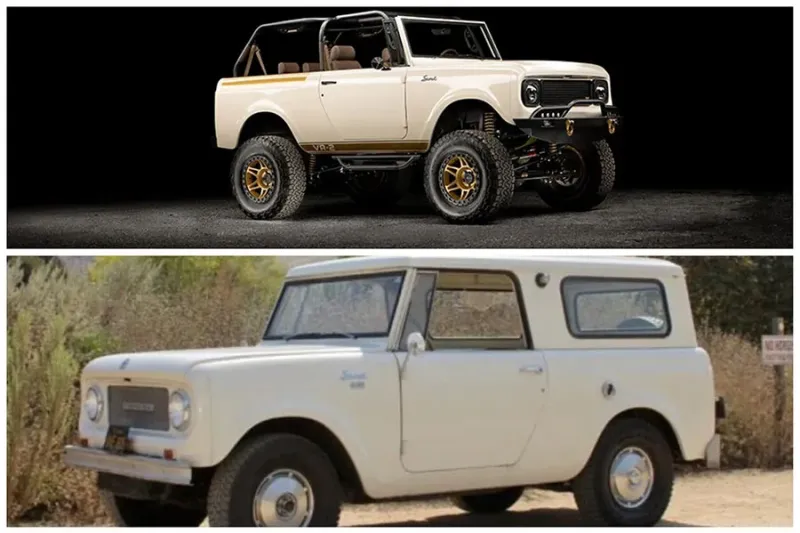 Inspired by an American Original.
To Velocity, the proportions of the International Harvester Scout give it a timeless look that simply screams "classic". Ultra short front and rear overhangs, along with a short wheelbase and two simple doors just ooze utilitarian charm and character. When creating our 1967 International Harvester Scout restoration, we did everything we could to preserve the classic look of the 1967 Scout while simultaneously adding in a huge dose of modern technology. What you see is the classic face of the Scout, while underneath the skin, it's all modern.
Check out those Method wheels that are rocking 295x70x17 BFGoodrich All-Terrain T/A K02 tires! Sure, for the time, the Scout had the type of running gear that could pretty much take you anywhere you wanted to go but Velocity wanted to bring that capability and style to another level entirely. To further the performance goals of the build, Velocity rips out the stock chassis and swaps in an all-new, precisely engineered one designed and built exclusively for them, which includes a Dana 44 and a Dana 60 axle that are the industry standard for tough suspension components all over the world.
Underpinning the classic body, we have the Velocity exclusive VS3 chassis that was created exclusively for International Harvester restorations. It moves this vehicle beyond anything that was available from an engineering aspect in the 1960s and right into today's computer age.
The original 1967 came with a "sport top" that could be totally removed for top-down excitement. As you can imagine, this top-down excitement can also be completely dangerous in the event of a roll-over, so the Velocity craftsmen installed a custom roll cage so the original, top-down spirit is preserved but stepped up to modern levels of safety.
Rugged looks, top off, wind in your hair vibes, and a fully modern chassis. We'd say that's a fine mix of classic and modern!
You Want A V-8? We'll Give You A V-8!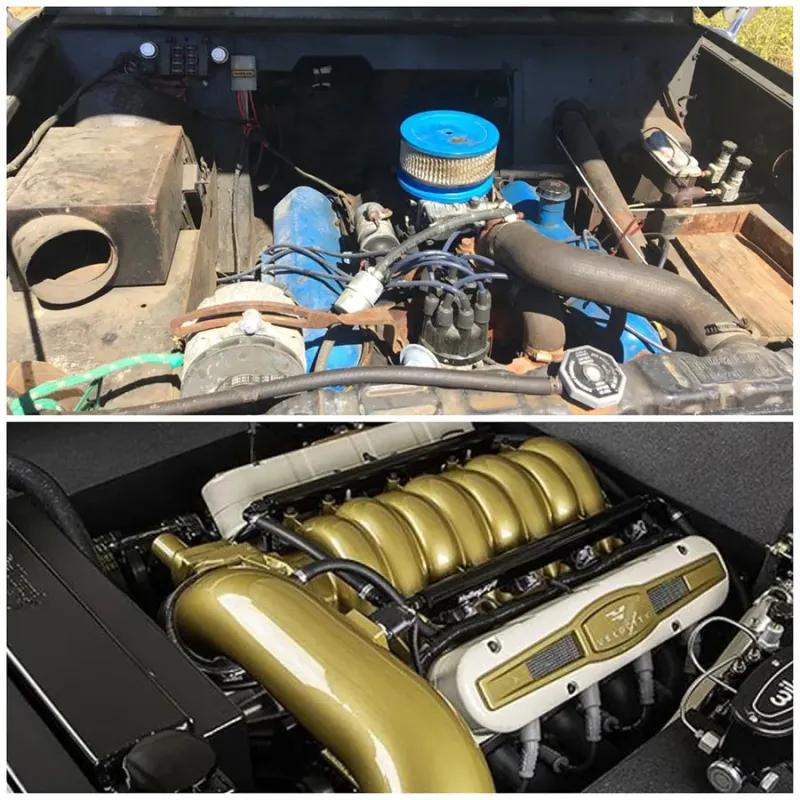 A Monster Lives Under This Hood.
Part of what makes a classic car so wonderful is the visceral driving experience that mixes noise, sounds, and smells in a way that instantly snaps you back in time. While older engines are fantastic, they remain a far cry from engines that are being produced today in terms of refinement, horsepower, emissions, and reliability. We needed a motor that mixed old school, hair standing on end noise and power with a modern level of reliability and refinement.
The experts at Velocity decided to shoehorn in one of the best V-8 engines ever produced; the ferocious GM LS3. Yes, the motor that made its debut in the C6 Corvette is powering this 1967 International Scout!
At its core, this engine is an eternally classic design that avoids going the way of modern, dual overhead cam engines in favor of a more traditional "pushrod" or overhead valve (OHV) design that is both effective and reliable. Listening to this thing sing through the 3 - inch Magnaflow exhaust will instantly transport you right back to 1967, that is until you put your foot to the floor.
Again, here Velocity mixes that old-school feeling with a completely modern interpretation of a classically engineered powerplant. We love this engine and we love the way it looks in the engine bay even more.
It's What's Inside That Counts
If there's anywhere the Velocity team really mixes the old and the new with precision, it is the interior of our classic restorations. The interior on the original 1967 Scout 800 was austere and basic. Keep in mind, this is a vehicle that was meant to live its life being a useful, if not utilitarian rig that saw usage on farms and out in the wilderness. It was meant to be functional, not comfortable. We wanted to keep that soul of function alive while providing an interior that is at once luxurious and comfortable.
Velocity kept the upright, slab-style dash intact while tacking on modern technology showpieces like the Alpine head unit and air-conditioning that flows through custom powder coated vents. Yes, you read that right, this 1967 Scout has air-conditioning - a feature that was not even close to reality on 1967 Scouts! We kept true to the Scout theme of mixing exterior color with interior accents by showcasing a custom dashboard and adding in rich, dark, tones into the custom stitched seats, door pulls, and door panels.
This is an interior that speaks to that rugged, wind in your hair, hit the trail soul of the original scout without succumbing to the utilitarian trappings of the original. Like an aged bourbon, this 1967 Scout is much more complex and dynamic than anything IH could have imagined in 1967.
Classic With A Modern Soul
Whether it's a classic Ford Bronco or an International Harvester Scout; the team at Velocity brings together two separate worlds like no other builder in America can. We love taking once utilitarian, rugged vehicles and turning them into completely modern, performance-focused machines. Our goal is to put the emphasis on the right parts of the classic formula, while completely reinventing the rest. These are vehicles that truly defy categories and expectations and there is no box big enough to contain our imagination or our spirit.
This is the Velocity difference.