It's July 2020 and the all-new Ford Bronco has just been unveiled to a massive online crowd after an enormous buildup. But at Barrett-Jackson's July online auction, a 44-year-old Bronco was stealing the show. Lot #148 that went for over $200,000 was the 1976 Ford Bronco built for the SEMA Show in 2017 by Velocity of Pensacola, Florida. And it didn't just set a new world record at the renowned auto auction – it demolished the old one. Check out this Barrett Jackson Ford Bronco.
Unlike some high-value sales at Barrett-Jackson Auctions for charities, the '76 Bronco was a bidding war between two people set on owning this vehicle from the nation's leading Bronco builder. Velocity's record-setting Bronco is the type of custom build that demands to be recognized at the most prestigious auctions worldwide, with auction prices becoming almost on par with restoration prices. And that's precisely what the new owner gets from this Velocity build.
Green with Envy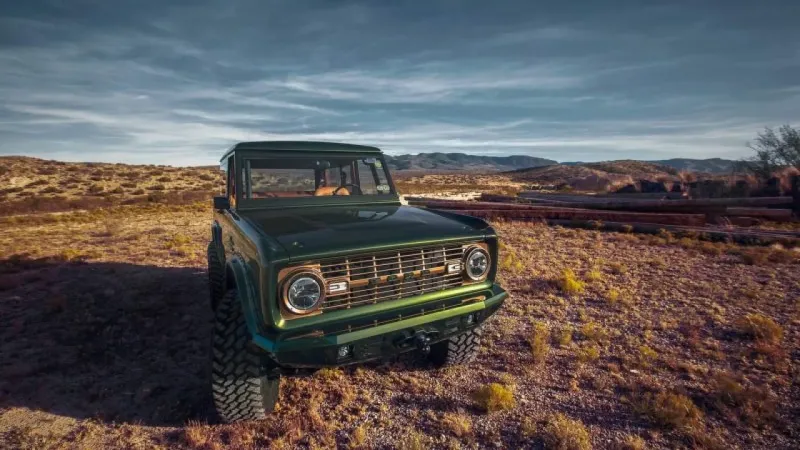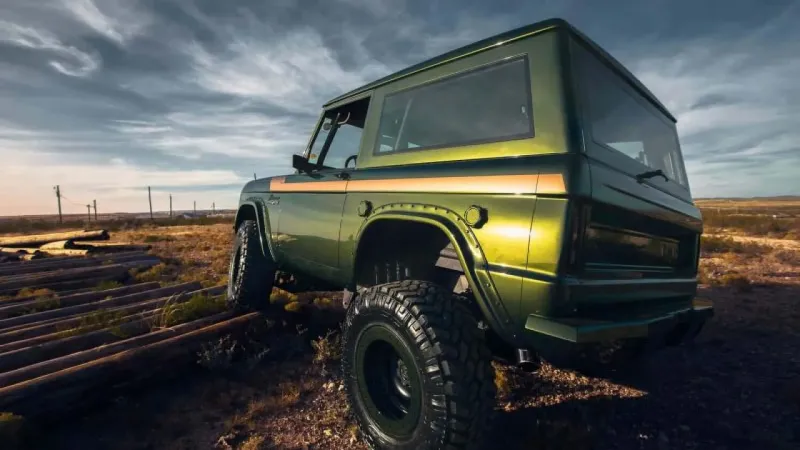 As the saying goes, "You only have one chance to make a first impression." If that's the case, Velocity's SEMA Bronco doesn't need a second. Its deep green paint is a special PPG Custom color blend, accented with warm copper. The hardtop, grille, and wheels are cohesively finished with the same color combination that absolutely rivets your gaze to the classic SUV.
It's the little touches that set this vehicle apart from a simple restoration: shaved hinges, perfectly fit fender flares, Velocity-exclusive front and rear bumpers, custom light bezels and lenses, and tubular side steps that mimic the body lines exactly.
While it's essentially brand new from the wheels up, it retains the original body. And make no mistake – this flawless finished product took more than 3,500 hours to complete altogether, and much of that is in the attention to detail in perfecting the body.
Luxury Custom Interior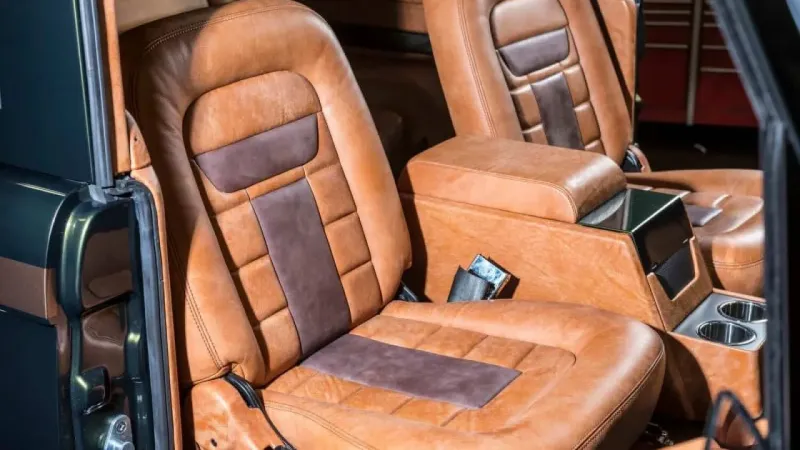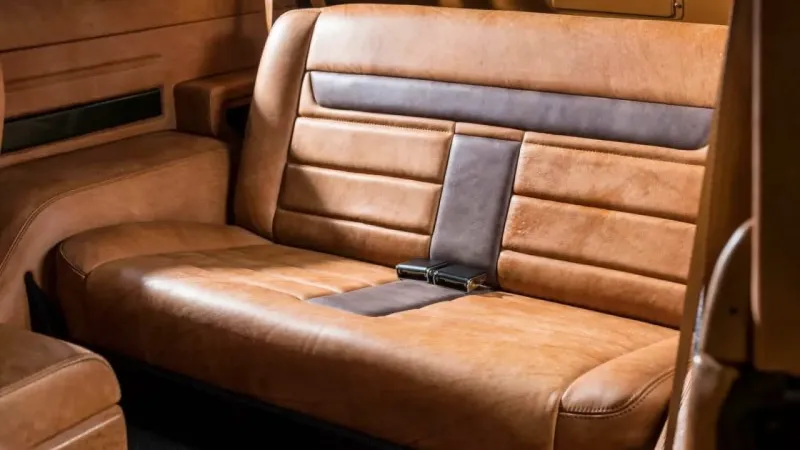 Lowback front seats and a fold-and-tumble rear bench wrapped in Native Mohican leather match the interior panels and the removable roof's liner. There's a breathtaking richness to the classic fit and finish inside the built-for-SEMA Bronco. What you don't see at first glance is just as important, though.
A neatly-integrated Velocity 6-point roll cage, shoulder seat belts, and IDIDIT steering column add 21st-century safety to the classic Bronco. Restomod Air provides the controlled climate while Dakota Digital HDX gauges offer precise monitoring for the immaculate SUV.
You can tell the level of investment Velocity has put into the interior. It's no wonder it sold for a record-setting price!
All Business Underneath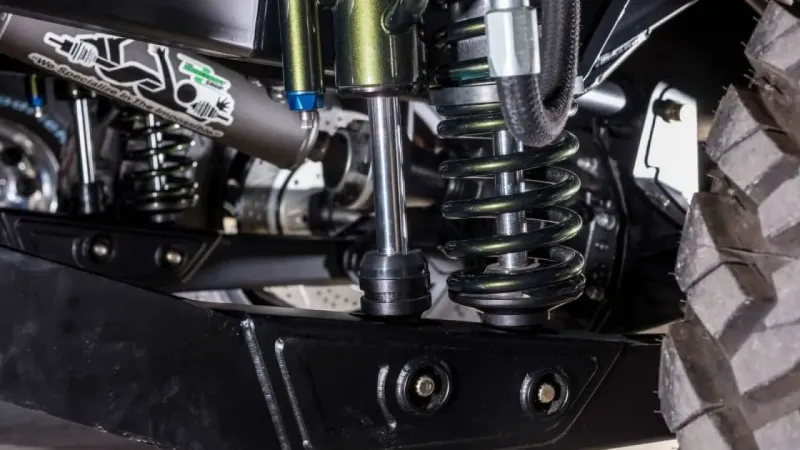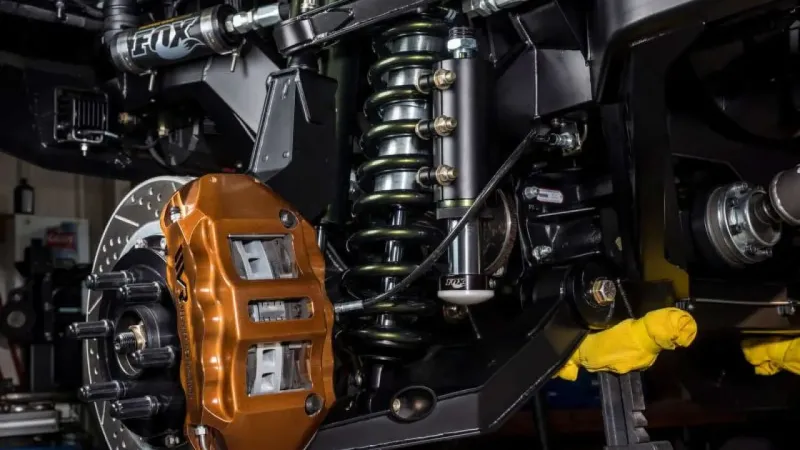 The most powerful trim in the all-new 2021 Ford Bronco lineup will have the 2.7L EcoBoost V6 under the hood with 310 horsepower. That doesn't hold a flickering candle to the Barrett Jackson Ford Bronco build by Velocity and sold in July. It boasts a 5.0L Coyote V8 crate engine topped with a 2.9L Whipple supercharger. The result is more than 700 ponies of pure, unadulterated power channeled to its four wheels through a custom-built 6R80 tranny.
It's all stacked onto the Roadster Shop chassis which features 12-inch suspension travel with independent front suspension, 4-link rear suspension, and Fox coilovers. Baer disc brakes bring the speeding Bronco to a halt in a hurry.
Who knows what the new owner will use the SEMA Bronco for? What we do know is that whatever they do, wherever they go, the stares this custom SUV gets will be a testament to Velocity's passion and quality for decades to come.
Also mentioned on:
ClassicCars.com
Ford-Trucks.com