If you look at the grizzled, yet familiar face of this classic Toyota FJ Series 40, your mind immediately races to faraway lands with rugged mountain tops, dense jungles, frozen tundras, and seething deserts. Sure, the modern car companies want you to believe that your crossover is just as good at plodding through the jungle as it is conquering the Sahara but modern vehicles are simply an illusion to what a proper SUV should be able to do.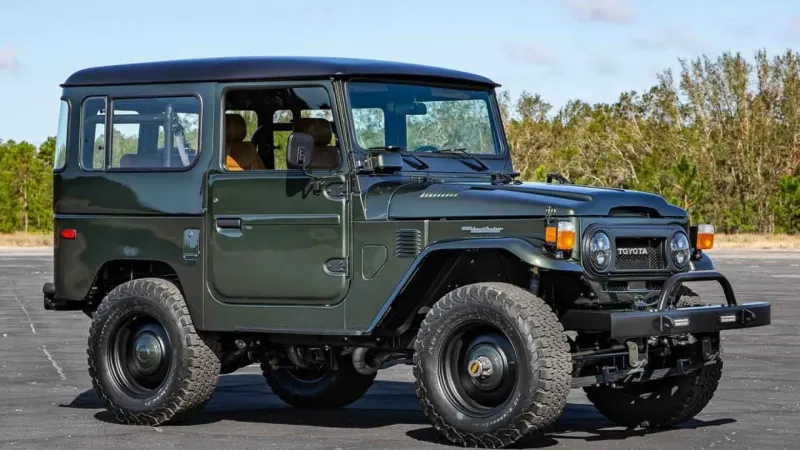 This incredibly unique SUV is exactly the kind of vehicle you'll find in the most remote corners of the world, doing the types of things that most SUVs can only dream of. It's a critically overengineered, tough as nails approach to the SUV that further enhances the durability and reliability mission that Toyota has come to be known for.
So, what happens when the team at Velocity gets a hold of a 1978 Series 40 FJ Land Cruiser? They amp up every piece of the original FJ goodness to create a package that is imminently capable in any condition but has those Velocity style touches that spoil the driver at every turn.
We're going to cover everything you need to know about this incredible 1978 Toyota FJ40:
FJ Origin Story
LS3 Upgrade: Under The Hood
Under The Skin: Chassis and Frame
A Look Inside: Interior Details
Rugged and Purposeful: Exterior Details
There's so much to talk about with this incredible SUV, so let's get right to it!
Toyota FJ Origin Story
The history of our 1978 FJ has an origin story that begins back in 1941, at the onset of World War II. Japan had just invaded the Philippines and in the course of military actions, came across an American Jeep that had been abandoned by American troops. Toyota's own history on this matter is a little hazy but most believe it was a Willy's Jeep and not the version built by Ford. This vehicle was promptly shipped back to Japan where the Japanese government instructed Toyota to reverse engineer the vehicle and produce a military equivalent. The AK10 was born.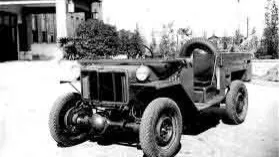 This vehicle saw limited usage on the battlefield and as a result, very few photographs exist but you can absolutely see the family resemblance to our 78' FJ in the few that do:
In 1950, the Korean conflict brought war to Japan's doorstep and they were asked by the U.S. Military to produce a Jeep equivalent. In 1951, the BJ was produced ("B" the series of engine, "J" for Japan) as a go-anywhere, do-it-all, Japanese version of the Jeep. Several hundred were produced from 1951 to 1955, with an upgrade to the original (dubbed the J20) introduced in late 1955 and produced until 1960. These would go on to be everything from firetrucks to police vehicles.
Interesting fact: The term "Land Cruiser", which is often used interdependently with the term FJ, was developed by a Toyota Executive as a competitive response to the Land Rover models that were just starting to see a rise in popularity.
By 1960, Toyota's plucky Land Cruiser/ FJ was seeing a huge boom in popularity. The outdoor lifestyle was starting to take hold and Toyota needed a vehicle to compete in this space here in the states. Enter the most famous of all FJ variants: The FJ Series 40. How good was the FJ40? Good enough to go on a staggering 24-year production run with only minimal changes to its design. In fact, the FJ was the best-selling Toyota vehicle in the mid-1960s! People loved them and they would go on to become a legend in the industry.
This brings us right back to our beautiful 1978 build, so let's explore what makes this Toyota FJ built by Velocity such an incredible vehicle.
LS3 Upgrade: Under The Hood
Let's be clear here, we're not talking down on the original 2F 4.2L I6 that was originally under the hood of our 1978 FJ. This motor was legendarily reliable but it only put out 125 horsepower and 200 lb. ft. of torque, which while competitive for the day, is not enough to move around a vehicle this large and heavy, and in the end, it was merely adequate.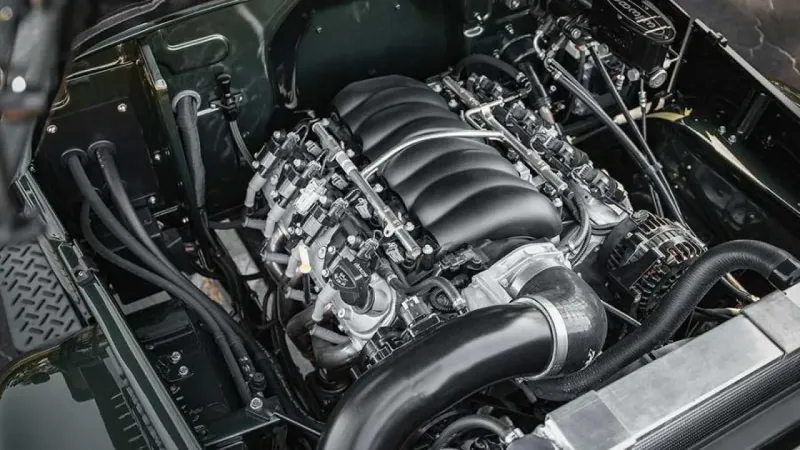 If you know Velocity, you know that we are never content leaving something as "adequate", especially when it comes time for our power plants. We ripped out the old 2F and installed not just any engine but a deep breathing, high-revving, 6.2L LS3 V-8 with 430 horsepower and 425 lb. of torque! The LS3 was introduced in the C6 Corvette and also made an appearance in the fifth-generation Camaro as well, proving it has the performance chops for any application. It's also the starter engine for every Corvette race car that GM's factory teams tune and the choice of enthusiasts the world over in a staggering variety of applications. It was natural for a vehicle as unique as this FJ.
Putting all this power into the driveline is another stalwart in the performance car world: the GM 4L60E transmission. This 4-speed unit is renowned for its quick shifts, and rock-solid reliability - making it a perfect match for the all-aluminum LS3. Did we mention this 1978 Toyota FJ also sounds incredible? The Velocity team made sure you're heard as well as seen with a sonorous 3" performance exhaust.
This 1978 Toyota FJ restoration is unlike anything on the road today.
Under The Skin: Toyota FJ Chassis and Frame
Sometimes the stock parts on a vehicle are so good that you just don't see the need to upgrade! When it came down to putting power to the ground, we didn't feel the need to upgrade the incredibly durable Toyota 3 speed transfer case and opted for restoration instead. We also kept the original frame and original body and let our metalworking and body experts finesse the final build for a perfect final product without losing a bit of that original FJ quality and precision.
To bring this 1978 Series 40 into the modern age, we tossed the original Toyota suspension and gave this FJ a huge upgrade with a 2 " lift and a comprehensive 4 x4 suspension kit from the experts at Old Man Emu. This unique kit is designed to work off-road while still providing an additional measure of control on-road as well. Originally designed for usage in the rugged Australian Outback, Old Man Emu suspensions represent the pinnacle of 4x4 engineering prowess.
One of the weakest points on the 1978 FJ (like most vehicles of the era) is the stock brakes. Velocity took care of this issue but promptly tossing the stock set for Wilwood disc brakes. These high-powered brakes are a natural match for the increased performance on tap from that all-aluminum LS3. We've also installed a Hyrdo-Boost brake booster for additional ease of application and performance.
A Look Inside: Interior Details
Much like the bespoke installation of the LS3 under the hood, the interior of this 1978 Toyota Series 40 Land Cruiser is the most unique and most luxurious of its kind in the world today. Our team of experts has truly honed an interior that perfectly meshes the classic, slab-faced charm of the original FJ with a timeless, luxurious feel that the original could only dream of.
One of the first things you're bound to notice is the distressed, Scotch leather seats. Their unique design manages to mix a sense of classic luxury with a dash of rugged practicality and they imbue this 1978 Toyota FJ with a sense of subdued elegance. We also custom fit a suede headliner to continue the theme of rugged, bespoke luxury that Velocity does so incredibly well. The exposed dashboard looks vintage but is chock full of modern luxury features like an integrated Vintage air A/C system with in dash vents and a Pioneer digital head unit with audiophile-grade, Kicker speakers. Yes, that's right, this 1978 FJ has air conditioning and a Bluetooth-capable stereo with a rocking sound system!
We've also dialed up the technology behind the wheel with a Dakota Digital gauge cluster and a fully adjustable Ididit steering column. For safety, we've installed a 6 point roll cage that's directly tied into the frame of this FJ.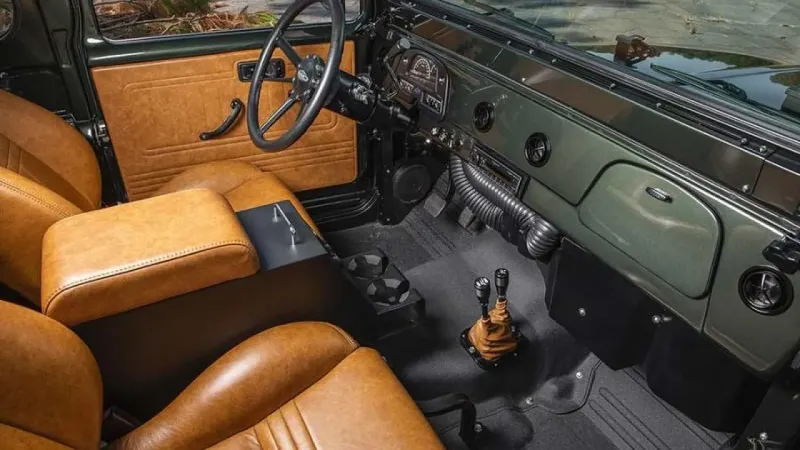 Rugged and Purposeful: Toyota FJ Exterior Details
On the outside, this 1978 Toyota Series 40 FJ looks purposeful, rugged, and capable in its shade of dark green, PPG custom paint. Classic FJ character lines flow into the sharply creased fenders, ultra-short wheelbase, and high roof with safari-style windows. Although these features definitely look cool, they were all originally designed for a purpose and we've captured and enhanced this original attitude through the build.
We've set off the appropriately rugged FJ look with matte black accents all around and complimented the Old Man Emu lift with a stunning set of ATX American Racing wheels shod with a meaty set of 31X10.50×15 BFGoodrich All-Terrain T/A K02 tires. Yes, that also includes the exposed, full-size spare tire that lives on the characteristic FJ swing-open rear doors as well.
Giving this FJ a dash of modern technology and upgraded safety are a killer set of JW Speaker LED headlights in place of the ancient incandescents found on the original Toyota FJ Series 40's.
The Velocity Difference
This 1978 Toyota FJ is a perfect example of what sets Velocity apart as a renowned builder of custom vehicles in the United States today. We know the FJ enjoys a voracious fanbase of off-roading enthusiasts who deeply enjoy this unique vehicle in its stock or restored to stock form. When it comes to modifications and custom builds, the Series 40 FJ often sits on hallowed ground.
In order to succeed, we needed to hit on several key points and frankly, the Velocity team simply crushed this build. We not only needed to build a vehicle that any automotive enthusiast would salivate over, but we also needed to build a Series 40 that any hardcore FJ enthusiast would appreciate. Our goal was to not crush the spirit of this build but instead enhance it where it made sense and to leave it alone where it didn't need a thing.
This melding of old and tough with modern and luxurious is exactly what the experts at Velocity do best and we couldn't be more proud of this unique build.