726,004.
That's the number of Ford F-Series trucks that the blue oval folks over at Ford sold in 2021, making it the best-selling vehicle in the country since Jimmy Carter was president. In the automotive industry, there are few vehicles that can match the unabashed success of the Ford F-Series on a sales level, let alone a cultural level. After all, we love trucks in America and the Ford F-Series just happens to offer almost everything any truck-loving American could ever dream of.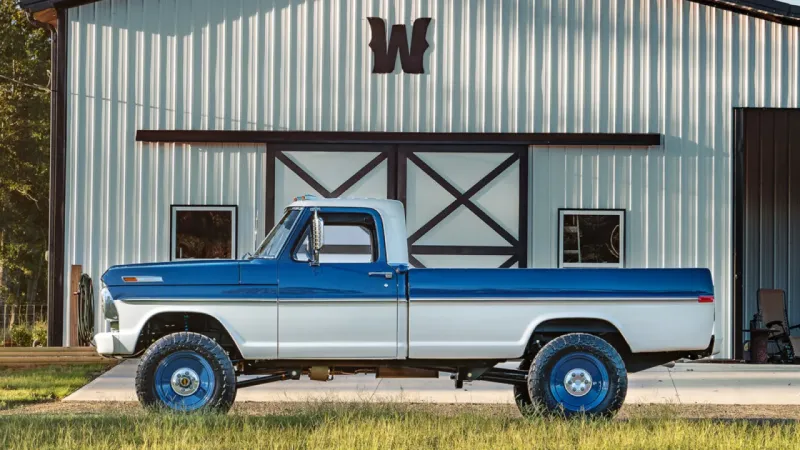 Introducing The Velocity Signature F-Series Truck
At Velocity Modern Classics, our passion is to bring vehicles like the F-Series, and the classic Ford Bronco into the modern era like no other builder in the country. Our Velocity Signature Series Broncos showcase an OEM-style approach to building custom vehicles. A strategy that not only produces incredibly unique vehicles for our clients but classic Ford Broncos that exude quality and precision built to last a lifetime.
The Velocity team and our clients absolutely love classic F-Series trucks and we've had our hands on a few builds over the years that have redefined what a classic Ford truck can be. We're proud to announce that Velocity Modern Classics will be launching a full line of Velocity Signature Series F-Series trucks to market in early 2023!
Yes, you heard it here first.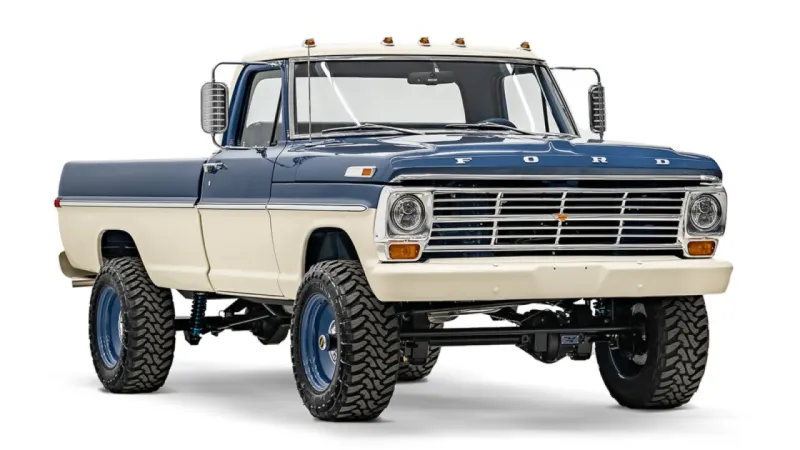 Our revolutionary custom build process will soon be available on classic Ford F-Series trucks and we'll be debuting the first F-250 build at
Good Guys at the Texas Motor Speedway in Fort Worth, Texas on September 17th.
We don't want to reveal all the good stuff quite yet, but here are some of the highlights from our very first Velocity Signature F-Series:
Ford Coyote Engine V8
Dana 60 rear and Dana 44 front axles
Baer Brakes
18 In Wheels with 35 in tires
Velocity Custom Cab Lights and door handles
Velocity custom-weaved leather
Custom door panels
Full package of Velocity Interior Billet parts
Munssey Speed lower dash
Dakota Digital Gauges
Custom carpet, and floor mat.
To help understand why we love the classic Ford - Series and why we think they're so iconic, let's take a deeper dive into the 13 generations of Ford F-Series trucks to see just why they're so beloved.
The Early Years
In 1917, Ford launched the Ford TT truck bed, which completely redefined the automotive market. It took the Ford Model T, beefed up the frame, and added in a truck bed/stake bed for hauling. By 1925, Ford was selling a more consumer-friendly Model T with a truck bed, which would then morph into the AA and BB trucks. By 1928, Ford had already sold well over a million trucks, marking its domination early.

1935 marked the introduction of the Ford Model 50 pickup, which benefited from the outrageously beautiful styling of the era, and was the first Ford to nab a V8. Not just any V8, but a flathead Ford V8. Much like the rest of the world, Ford production came to a halt during World War II, but not before they sold 4 million Ford 50 trucks. Game on.
1st Generation (1948-1952)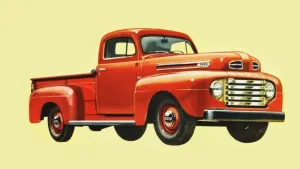 Post World War II, Ford was immediately looking at jumping into the market with both feet. Their first F-Series, known as the F-Series Bonus Built trucks encompassed everything from a basic half-ton F-1 all the way up to the cab-over F-8 that was used for everything from garbage trucks to tow trucks. Ford would use this "truck for all" methodology to market future F-Series generations.
2nd Generation (1953-1956)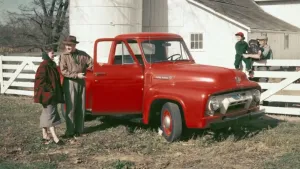 Iconic styling and Ford's move to the classic naming marque would define the second generation F-Series. The F-1 was now the F-100, while F-2 and F-3 trucks were combined into the F-250 lineup. Larger vehicles would bounce to Ford's commercial division, and on the consumer side, Ford would begin to introduce niceties like armrests, sun shades, radio, and nicer levels of interior comfort. Considering the luxury-lined trucks of today, this was a far cry, but it was a start. A small block V8 would hit the F-Series line in 1954, replacing the flathead.
3rd Generation (1957 - 1960)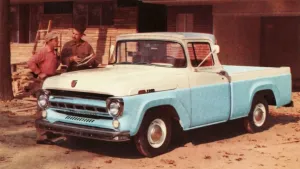 Not much changed under the hood, but Ford started to move the F-Series into a more squared-off, broad-shouldered look that would come to define the F-Series truck until today. This generation also marks the introduction of factory-available four-wheel drive, something we all take for granted today, but this was unique back in the 50s. Without the 59' F Series, you would have no Ford Raptor today.
4th Generation (1961 - 1966)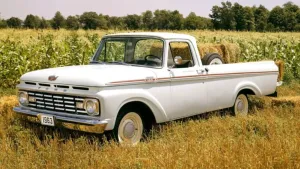 Ford's most dramatic shift toward the consumer market came in the 4th generation F-Series due to the introduction of their famous Twin I-Beam suspension, crew cab, and Ranger trim. Ditching the very traditional solid axle, the Twin I-Beam was marketed directly toward consumers and not towards contractors or other commercial users. The tagline was simple, "Works like a truck, drives like a car". To further make the F-Series move liveable, Ford introduced the F-250 Crew Cab in 1965, which was the first four-door truck from the Blue Oval. In 1966, they introduced the Ranger trim, which included luxury items not found on trucks of the era such as carpeting, air conditioning, power brakes, and power steering.
If you drive any modern truck and enjoy the day-to-day liveability, you have the 4th Gen F-Series to thank!
5th Generation (1967-1972)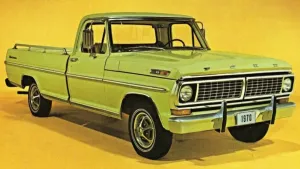 Styling would take another huge turn for the 5th generation Ford F-Series, moving to an even more squared-off look, and completed by the FORD name spelled out in huge block letters on the hood, which is something Ford still does today. Inside, the cab would get some big upgrades in materials, but mainly in space with four extra inches of shoulder room inside. This marked the start of pickup trucks getting ever bigger and bigger.
6th Generation (1973 - 1979)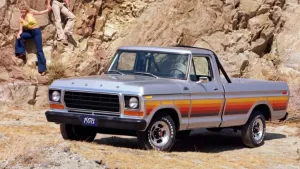 Although the styling was updated, there wasn't much happening under the chassis or hood of the 6th generation trucks. The most significant event of this generation was the introduction of the F-150 name to the order books. In 1978, Ford would update the F-150 with squared headlights, and swap to a single-piece grill.
Seventh-generation (1980-1986)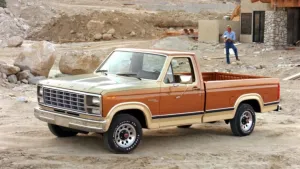 For the first time in over a decade, Ford updated the chassis of the seventh-generation Ford F-Series. This meant a better ride, more payload and towing capacity along with a better handling balance. Styling would move towards an even more squared look, with squared lights, squared grill, and more. A staggering five body styles were available, marking the beginning of the trend to offer something for everyone.
Eighth-Generation (1987-1991)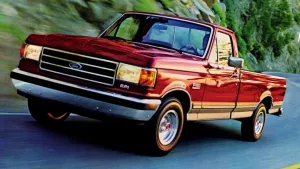 Ford ditched the squared grill and lights for a more modern look on the eighth-generation trucks, but the engineering under the skin was a carryover from the 1980 model. ABS made its way into this generation, along with a host of new engines that utilized electronic fuel injection.
Ninth-Generation (1992-1996)
Although the modernization of the exterior continued, the engine offerings and chassis of the ninth-gen F-Series largely went unchanged. This would be the last of the squared-off F-Series trucks, and it would be the first time the F-150 Lightning performance truck would make its debut. Since sport trucks were all the rage in the '90s, this isn't surprising but it was unique to see a factory-backed sport truck from the blue oval crew.
10th-Generation F-Series (1997-2003)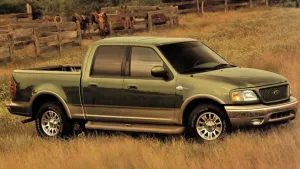 For the "modern" era of F-Series trucks, the 10th-generation model is the most significant. Not only did Ford completely ditch the squared styling for a more sculpted and styled look, but they completely revamped the chassis for the first time since 1980! This truck offered things like cd-changers, heated seats, and upgraded stereos, which were typically offered on SUVs of the era and not trucks. The entire truck was more carlike, more daily driveable, and more liveable. Ford had a massive hit on its hands and it basically redefined the next 20 years of trucks not just from Ford, but all manufacturers.
11th-Generation (2004-2008)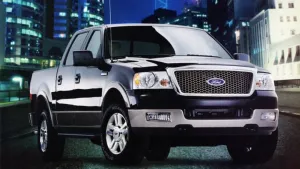 If the 10th-generation introduced the daily driver pickup, the 11th-generation model smashed this concept out of the park. Noticeably wider, taller, and longer, the F-Series was growing in every direction. Yet, the entire experience was easier to drive and more car-like than ever before. Ford's modular V8s, including the Triton V10, were available in this generation, and the aftermarket really started to grasp how much people wanted to customize their trucks.
12th-Generation (2009-2014)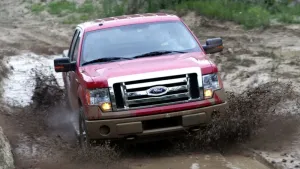 Bigger, taller, and wider. Notice a theme yet? The F-150 grew even more during the 12th generation, along with finally getting an all-new V8: the Coyote. If you know Velocity, then you know think the Coyote is the best crate motor out there, and it debuted on this generation of F-150. In addition to the Coyote, Ford also introduced the much-celebrated Raptor in 2011 as well. Although we take these hyper-focused off-road beasts for granted today, this was the first time someone had built a trophy truck for the street. A concept that every manufacturer soon copied. In addition, this generation would also see the introduction of the Ecoboost concept, which would move Ford away from V8s and towards small-displacement turbocharged engines.
13th-Generation(2015-2020)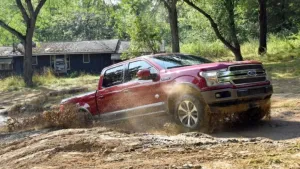 Advanced construction made its way into the 13th-generation F-150 by way of aluminum panels that were placed over a rigid steel frame to save 750 pounds. Luxury trim levels were moved to stratospheric levels of content and price, while Ford continued to refine their Ecoboost engines to provide more and more power. This generation's Raptor was kicking out over 500 horsepower and its dominance over the truck market was absolutely cemented.
Built Ford Tough by Velocity
For over a decade, we've built our reputation by offering classic Ford Broncos that break with tradition.
Our Modern Classic Broncos off a modern level of luxury and quality with all the attitude of a vintage machine. Velocity Modern Classics are OEM quality, custom machines that utilize the finest materials, assembled by the most experienced craftspeople in the industry. This approach to redefining the concept of a classic vehicle ensures that owners get to experience the rumble, performance, and style of a classic, without any limitations. This 'best of all worlds' approach makes Velocity Modern Classics stand out in the automotive industry.
Applying this same level of quality and vision to the iconic classic Ford F-Series line of trucks means that buyers can get a vehicle that is supremely capable yet still has a massive cool factor and a look that is unmistakably all-American. Beautiful finishes, serious power, and modern luxury all collide in an engaging, high-quality experience.
Can you have it all? The answer is yes, you can have it all, and the Velocity Signature F-Series proves that the classic American pickup truck is ready for a makeover.
Explore The Velocity Signature Ford F250