For fans of American automotive glory, there are few eras better than the late '60s / early '70s.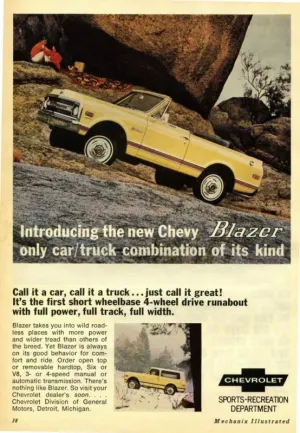 Muscle cars kept getting faster, while vehicles like the classic Ford Bronco, International Scout, and Jeep CJ were busy defining what the term SUV meant to American buyers. Tough, basic, and supremely capable off-road, we just couldn't get enough of these bare-bones, body-on-frame vehicles. By the time 1969 rolled around, Ford had already sold over 100,000 of their classic Bronco and yet their biggest competitor, General Motors, still hadn't joined the rugged, topless, SUV party. Sure, they had been making the iconic Suburban since the '30s, but that was a completely different beast from what everyone else was doing in the SUV boom of the swinging sixties.
By 1969, GM had an answer to the Bronco challenge, and it would go on to redefine how American manufacturers packaged and sold SUVs for years to come. This is the complete history of the 1969 to 1972 Chevrolet K5 Blazer.
Truck-Based Origin Story
Vehicles like the classic Ford Bronco, International Scout, and Jeep CJ all shared one thing in common: they are considered compact vehicles by today's standards. Wheelbases on these competitive vehicles ranged from a diminutive 81 inches on the Jeep CJ to 100 inches on the International Scout. Predictably, the original Ford Bronco was smack in the middle at 92 inches. Combine these short wheelbases with compact widths and well, these vehicles didn't exactly make the most practical daily drivers. Great for scampering up a narrow trail, sure. Great for hauling the family to a ball game or dealing with rough, suburban roads - no.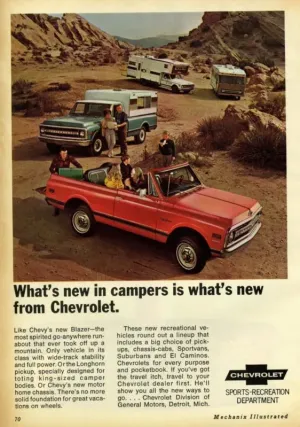 In addition to their small dimensions, each and every one of these early SUVs was bare bones to the max. They had things like CB radios, bench seats, and utilitarian attachments for working on a farm, all of which serve a very specific, niche audience. Marketing of the day slanted toward the tough and rugged outdoorsman who could use vehicles like the Scout II or original Ford Bronco for a day of fishing or hunting. General Motors, who recently released their lineup of groundbreaking C/K full-size pickup trucks, saw an opportunity to grab some sales from Jeep, Ford, and IH with a clever twist on the formula.
GM had just redesigned the C/K line of pickup trucks in 1967, and the Blazer would be based on the smallest of these vehicles: the K10 truck. Engineers mounted a body to the K10 frame and designed a sort of pseudo passenger compartment where the bed of the K10 would normally be. Over the top of the bed was a removable hardtop, a la Ford Bronco, and Scout, that gave the classic K5 Blazer a unique "soap bar" silhouette.
Being based on a full-size truck gave the first K5 Blazer a much more commodious interior without straying too far from the short-wheelbase SUVs of the era. The wheelbase on the original K5 came in at 106 inches, besting the International Scout by a full 6 inches. Track width was also a huge differentiator for the K5 Blazer, and at 79 inches, it was a full 10.5 inches WIDER than the classic Ford Bronco of the same era. Unsurprisingly, this made the K5 less ideal in tough off-road situations than the goat-like Bronco, but for day-to-day usage, the larger dimensions provided much more interior room and a much better ride. Keep in mind, despite the larger size, the K5 was no slouch off-road either.
Daily Driver Power and Convenience
Features like an automatic transmission and air-conditioning (rarely found on the classic Bronco) were available (and inexpensive) on the classic K5 Blazer. Combine the extra room of the K5 and feature content with the better ride characteristics and you can see straight away why the K5 was so popular.
1969 K5 models only came with 4-wheel drive, but 1970 saw the introduction of a C10 Blazer with rear-wheel drive standard. Under the hood, GM offered four engines that ranged from a straight-six to a stonking 350 V8 with 400 lb-ft of torque:
| Engine | Horsepower | Torque (lb-ft) |
| --- | --- | --- |
| Turbo - Thrift 250 | 155 | 235 |
| High Torque 292 | 170 | 275 |
| 307 V8 | 200 | 300 |
| 350 V8 | 255 | 400 (est.) |
Transmission offerings were a standard 3-speed manual column shifter with synchromesh, a 4-speed manual with synchro (plus crawler gear), or the popular TH350 Turbo Hydromatic automatic. Many K5 Blazer models were optioned with Hydromatic, which made them a great choice for a family vehicle that could be driven on a daily basis.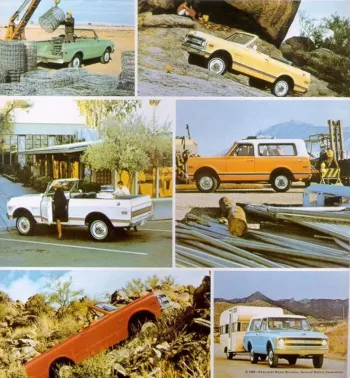 4x4 models ran a pair of solid axles while 2-wheel drive models ran an independent front / solid-axle rear layout for a better ride and control. Heavy-duty shocks were available, along with power steering and power brake assist. Drum brakes were standard at all four corners, which later changed to front discs once the Blazer was redesigned for 1973. 4x4 K5 Blazers were formidable off-road with 8 inches of ground clearance, Dana 20 axles, and 35-degree departure angles for getting over the rough stuff.
GM married features that were commonly available on pick-up trucks of the era with the style and freedom of a shorter wheelbase SUV. Interestingly, the base model of the K5 was so basic that it only came with a driver's seat and nothing else. No roof, no passenger seats, nothing! These bare-bones units were mostly relegated for conversions that would see usage in the military, and most K5 units that hit lots were much better equipped.
Legacy and Impact
The K5 Blazer was an unabashed smash hit for GM. Within a year of its debut, the Blazer was already outselling the classic Ford Bronco, IH Scout, and Jeep CJ due to its combination of size, ride comfort, and overall execution. Rather than tackle a niche audience, GM's Jimmy/Blazer twins appealed to everyone from outdoors enthusiasts to active suburban families who were looking for a ride that was a little more fun. The release of the K5 Blazer also prompted Dodge to release its own truck-based SUV (Ram-based Ramcharger) in 1975, and Ford would soon follow with their second-gen Bronco (based on the F-150) in 1978.
The trend of building SUVs off the backs of trucks would remain popular throughout the 80s and 90s, culminating with the demise of the Ford Bronco in 1996. Manufacturers like GM quickly realized that profits could also be enhanced by meshing their ever-growing line of pickup trucks with SUVs that could be built on the same line. Today, body-on-frame truck-based SUVs are more of a rarity but that doesn't mean they are any less beloved. The all-new Bronco, along with stalwarts like the Jeep Wrangler, Chevrolet Tahoe, and Toyota 4Runner continue to be based on truck-style chassis setups that favor off-road prowess and towing punch over on-road dynamics.
Regardless, the lesson of meshing SUVs with more popular vehicles hasn't been lost as most SUVs today are not built on truck-based chassis configurations, but on unibody platforms that look more like a car under the skin than a truck. Are these SUVs? Sure. Are they as cool as the K5 Blazer, classic Ford Bronco, or iconic International Scout? No way.
K5 Blazers For The Modern Era
There's nothing quite like the iconic looks and attitude of the classic Chevrolet K5 Blazer. At Velocity, we bring the K5 Blazer into the modern age by re-imagining this iconic SUV with modern luxury and technology. You get every bit of the roof-off, wind in your hair, V8 rumble experience you remember, with none of the compromises.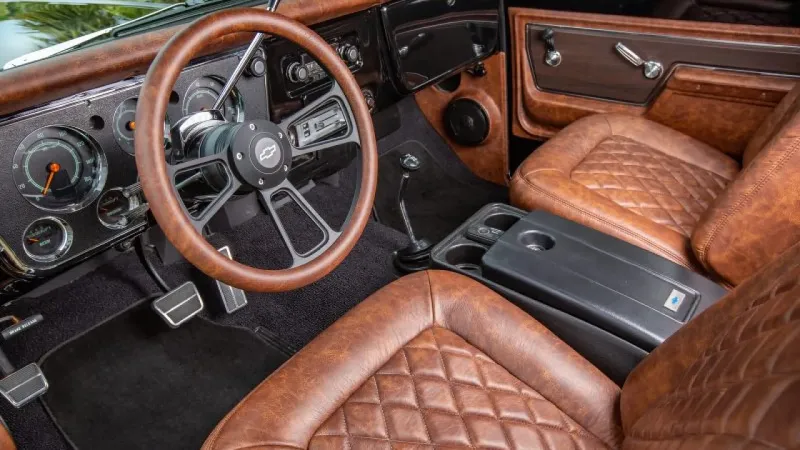 Although the K5 did bring a more livable interior to the classic short-wheelbase SUV, Velocity completely redefines the K5 experience with hand-stiched upholstery in dozens of color combinations, modern digital gauge clusters, hi-fi sound systems with touchscreen interfaces, and modern HVAC controls. No matter where you look or touch, you're greeted with incredible quality and design that never forgets the classic look.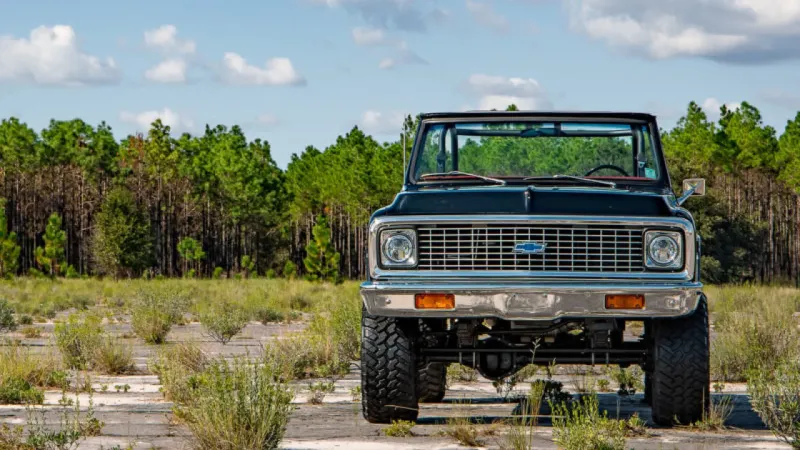 To bring a true classic into the modern age on the exterior, the master craftsman at Velocity has mastered the art of enhancing the classic looks of the K5 Blazer with modern components like J.W Speaker LED headlights and Mickey Thompson wheels. From a multi-step paint process that's completed in-house to a thorough reconditioning of the chassis, Velocity creates K5 Blazers like no one else.
Performance remains a centerpiece of the Velocity experience and you'll find plenty of power under the massive hood of these machines. Every build is designed to provide not only plenty of power but a level of refinement that was unheard of in the late 1960s / early 1970s. Modern transmissions that offer smooth gear changes, along with refined suspension setups and powerful disc brakes from brands like Wilwood ensure a complete performance experience.
If you're looking for a classic Ford Bronco, Chevrolet K5 Blazer, or International Scout that provides modern luxury with an iconic attitude, Velocity Restorations is your first and last call.