40 million.
That's the number of Ford F-Series trucks that have rolled off factory lines all over the country and into the hands of truck enthusiasts since 1948. This staggering number proves that Ford's F-Series owns a place of notoriety within the American automotive industry that has been unmatched by any other American manufacturer. At the core of their success model lies the secret sauce that would go on to make Ford F-Series the juggernaut it is today: choice.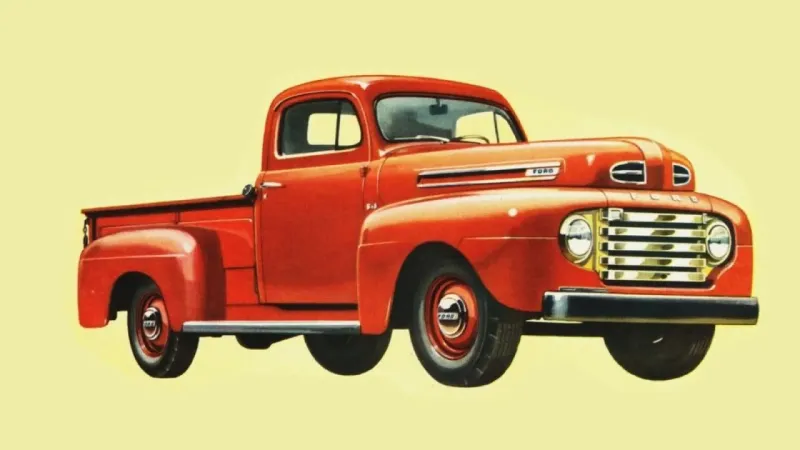 From the very beginning, Ford offered up the F-Series in three models that were designed to meet the needs of their loyal customers. Truck-loving Americans could choose from half-ton, three-quarter-ton, and one-ton models that were all designed with different capabilities in mind. Remember, although trucks are a daily driver for many people today, the very first generations of F-Series trucks were designed as work vehicles that were bare bones and basic. Honest, hardworking, and durable, this was the way that Ford's iconic F-Series made a name for itself.
Among the most sought-after generations of the Ford F-Series are the fifth-generation (1967-1972) and sixth-generation (1973-1979) models, and more specifically, the heavy-duty classic Ford F-250. At Velocity, we've had the opportunity to build not only the finest classic Broncos on the planet but mind-bending renditions of the classic "bumpside" 5th generation F-250 trucks and "dentside" 6th generation F-250 trucks. Trucks that bring the world of classic, earnest pickups together with bespoke luxury like nothing on the road.
Don't just take our word for it. At SEMA 2022, our "High Roller" 1970 Ford-250 bumpside was named a top 12 finalist in the iconic Battle Of The Builders competition. How's that for some name-dropping?
Let's take a deep dive into the world of dentside and bumpside Ford F-250 trucks and see why Velocity Modern Classics are hell-bent on redefining the classic heavy-duty truck.
Choices, Choices, Choices
In the very beginning, Ford's F-Series were known as "Ford Bonus-Built trucks" and they were incredibly basic and simple machines that were designed to get a variety of jobs done.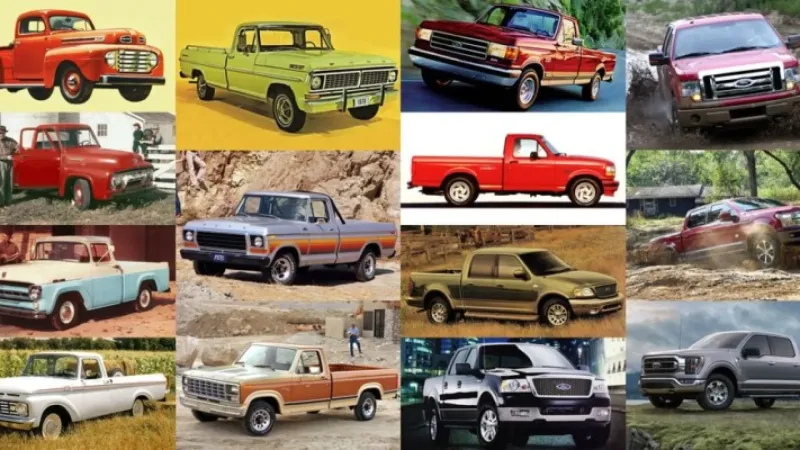 Remember, although trucks are daily drivers for many Americans today, this was not the case in 1948. Trucks were designed to do truck things like haul heavy loads, or pull up tree stumps, not take the missus to dinner. Customers could choose from the F-1 half-ton truck, F-2 ¾-ton truck, or the F-3 1-ton truck depending on their hauling needs. Think of these early trucks as the pre-cursors to the F-150, F-250, and F-350 that would eventually become ubiquitous in the Ford lineup.
Each generation of Ford F-Series trucks moved Ford gradually in the direction of offering more choices, and more daily driver-friendly features, drivetrains, and chassis setups culminating with the 5th generation truck in 1967.
Bumpside Style, Car-Like Ride
Known among enthusiasts as the bumpside, thanks to the raised ridge that runs along the side of the truck, the 1967 Ford F-Series bore the tagline "Work like a truck, ride like a car!" to hammer home this more subdued, friendly F-Series truck.
F-250 models sat in the middle of the F-Series lineup, making them a popular choice for everyone from outdoor enthusiasts to construction workers thanks to the longer 131-inch wheelbase and standard 8-foot bed. Customers could choose between "styleside" models, like our 1970 SEMA build, which looks like a traditional pickup truck bed, or a "flareside" design that offered a more useful bed. To our eyes, the most iconic of the F-Series bumpside trucks was undoubtedly the F-250 styleside, which looked tough with its long wheelbase and classic muscle-car era styling.
Ford achieved the balance of capability and comfort courtesy of their clever Twin I-Beam Front Suspension, which offered a much better ride and handling than a traditional solid axle design. In fact, the Twin I Beam was so good that it's still being used on F-250 and F-350 trucks today! Rather than have a single axle attached to both wheels, the I Beam design gives each wheel its own mini axle. This design rode and steered much better than previous designs, without giving up the capability Ford truck owners expected. This was a game-changer for Ford.
In another big move for the boys in blue, Ford also offered up to four levels of luxury on the 5th generation truck. Trims included Custom, Sport Custom, Ranger, and Ranger XLT. Each trim pushed the F-250 into ever higher levels of equipment and design, with features like color-keyed upholstery and matching wall-to-wall carpeting. Air conditioning, AM/FM radios, and even cruise control were available on the top trims of the bumpside F-250.
Dentside Trucks Start A Revolution
Ford billed the 6th generation dentside trucks as a revolution in the world of trucks and considering where trucks have gone since the dentside hit the streets, that doesn't seem far off. So-called because of the unique dented body line that runs down the side of the truck, the 6th generation F Series took the concept of a daily driver truck and hauler to a whole new level.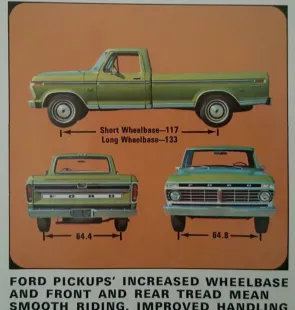 The biggest changes to the dentside were found in the cab. Ford moved the gas tank to a location farther back in the bed, which allowed designers to spread out the cabin dimensions in nearly every direction. Unlike previous models, the sixth generation trucks had not only room for people but reasonably sized storage space behind the bench seat. As with the bumpside, the dentside utilized "long-wearing" upholstery that was color-keyed to the outside color of the truck. We take it for granted today, but the bumpside also included simple little things like a reclining seat and a bench that could slide back and forth to accommodate different types of drivers. This was all done in an attempt to make the dentside more car-like and more liveable for daily driving.
Mechanically, the dentside also got some massive upgrades from the previous generation. Disc brakes were finally standard across the lineup, including the option of power brakes on heavy-duty trucks. Ford also widened the front track on the dentside, along with providing a reinforced chassis, a new hood with extra reinforcements, and a bed with sides made from a single piece of steel.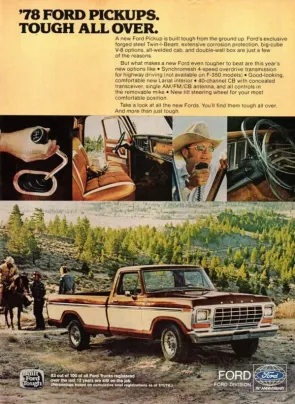 Wheelbase length on F-250 models was bumped two inches over the previous generation to a massive 133 inches. The goal was to show off a level of durability and quality that was missing in other brands and we think Ford absolutely nailed it.
One other thing that really set the dentside apart from the other generation was the availability to customize and option this beast of a truck out the right way. F-250 and F-350 models could be had with a factory camper RV set-up (yes, we said a camper straight from the factory!), integrated toolbox in the bed (take that Ram!), a sliding spare tire carrier, cargo box cover, black roof, and even an integrated air conditioner.
Every generation of F-250 that came after the dentside continually moved toward more comfort and more luxury features but these extra niceties never came at the expense of capability. That, at the end of the day, is what makes these trucks so special.
A Modern Take On A Classic
When you look at a classic truck, how does it make you feel?
Are you transported to a moment in time when you're riding shotgun with your dad down a country road? How about that first camping trip you took with your new wife and baby? We all have stories and these stories often wrap up with vehicles that took us from place to place, moved us, and inspired us. Velocity wants to bring you right back to those memories while providing a beautifully crafted modern vehicle that outperforms expectations.
Once you twist the key on a Velocity Modern Classic, you'll never be the same again.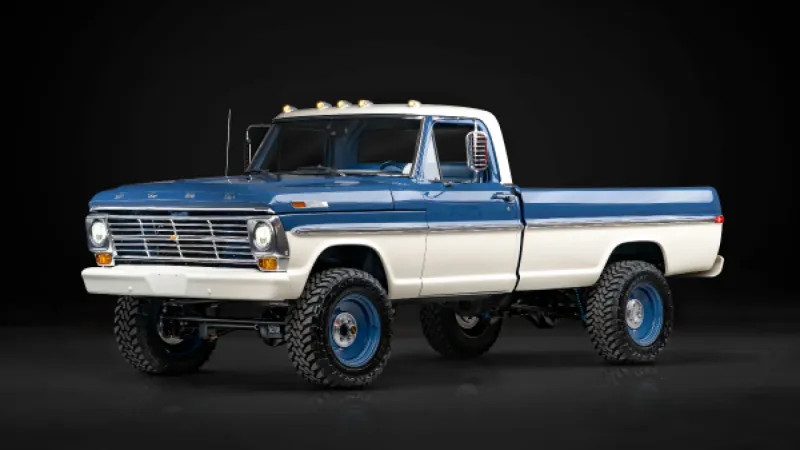 5th and 6th generation F-250 trucks hold a strong place in our hearts and our 1970 SEMA show-stopper is a love letter to nostalgia. Outside, we didn't do much to the appearance, because, we just didn't need to! This era of Ford design showed off a bold, yet modern look that bristled with character and purpose. All we did was provide a stunning GLASURIT custom, two-toned paint scheme, along with a beautiful set of painted steel wheels wrapped in 33-inch off-road tires and a few other visual touches.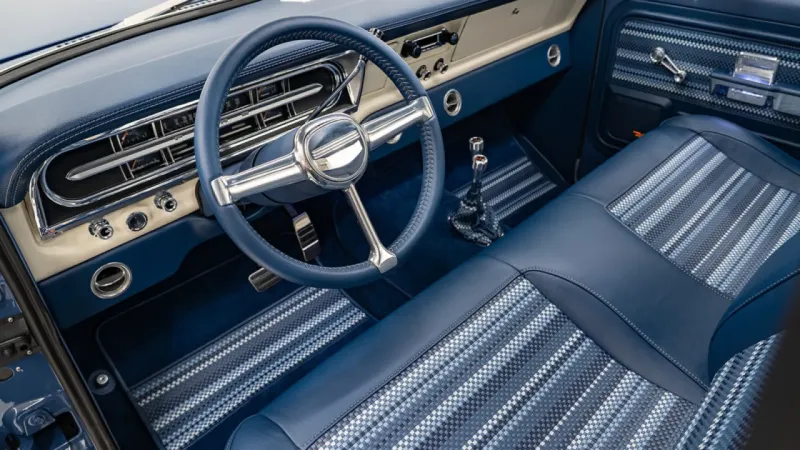 Inside, our team of engineers and designers were inspired by the mod-squad, color-keyed look of the 1970 Ford F-250 when they took to the drawing board to custom craft our own SEMA Battle of The Builder truck. To match the exterior colors, our 1970 F-250 offers custom-crafted Moore and Gilles leather-wrapped seats and color-matched carpet and floor mats, just like it was back in 1970, but with a decidedly modern touch.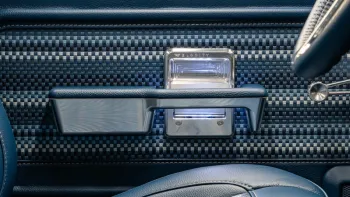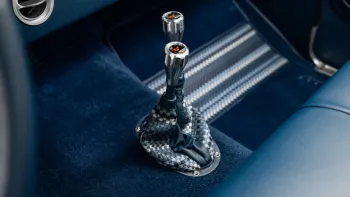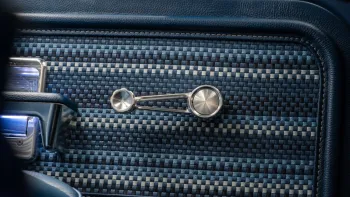 To further enhance the look, Velocity included touches of solid, premium Billet Aluminum throughout the cabin. This means touch points like door handles, window cranks, and shifters all have a beautiful heft and quality to them. Rounding out the modernizations, Velocity includes air conditioning, Dakota Digital gauges, and a RetroSound stereo that looks like it's from 1970 but sounds like it's straight from 2022.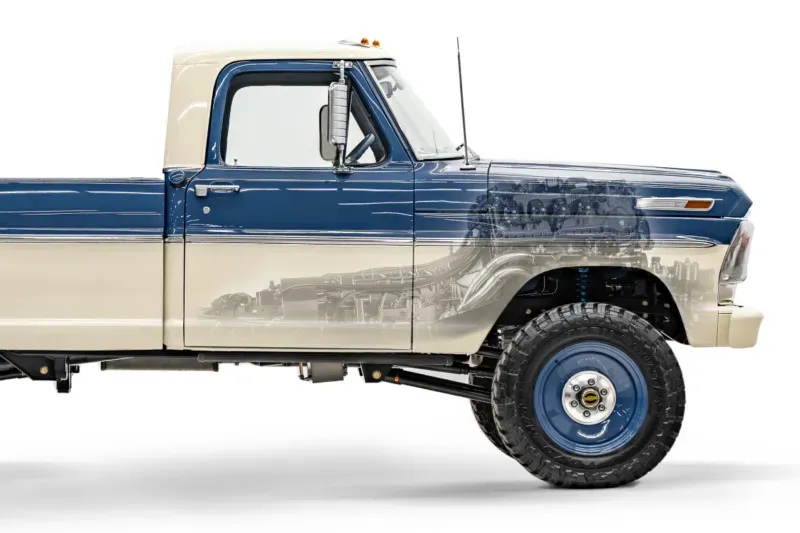 Mechanically, we kept true to the V8 engine found on the bumpside trucks but took up the power to another level courtesy of a Gen II Coyote 5.0-liter V8 that cranks out over 400 horsepower. A modern, automatic overdrive transmission pushes power to a Dana 44 front axle and a Dana 60 rear axle. This vehicle doesn't just look capable, it absolutely is, courtesy of a thoroughly reworked four-wheel drive system and those tough Dana axles. Velocity-exclusive touches are everywhere on this truck, with a custom exhaust, serpentine belt, custom headers and so much more.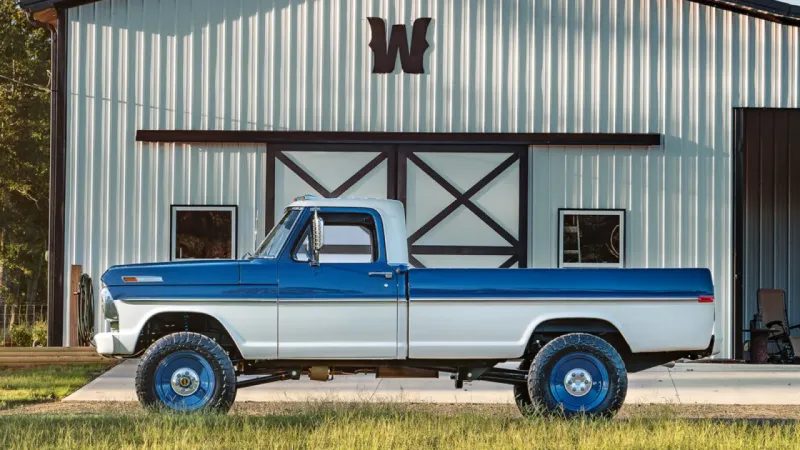 What Velocity has done is create a world-class truck that offers the look of a classic bumpside Ford F-250, but brings in levels of performance, craftsmanship, and luxury that are unmatched in the industry. We want our customers to feel the same rush of excitement every time they twist the key, and we want that excitement to be passed down from generation to generation. These are not vehicles that are meant to be displayed in a garage, these are trucks that are born to be on the road.
Velocity is also proud to announce that this won't be the last classic Ford F-250 to hit the streets. Much like our Velocity Signature Broncos, we will also be offering customers the opportunity to customize their very own classic F-250 trucks on our expedited production timeline.
Deliveries begin in the Spring of 2023, so stay tuned for more information in the coming months.