Today's modern performance engines seem to have lost their soul.
Sure, a turbocharged engine puts out preposterous amounts of horsepower while being remarkably efficient, but the sound and fury? It's not even close to the way it used to be. At Velocity, we strive to mesh the energy and passion of old-school trucks like the Bronco or F-Series with today's modern technology. Our Broncos, Scouts, and F-Series trucks all need to perform like a modern car, but give that spine-tingling sensation that only a classic ride can.
When choosing an engine for our Signature vintage Ford builds, we knew it needed to not only perform well, but be impeccably refined yet still give our clients that Americana roar that they expect in a proper classic. Luckily for us, Ford happens to have one of the greatest crate engines available on the market and it's a perfect companion to our builds: the 5.0L Coyote V8.
Ford enthusiasts (especially Mustang owners) know that the 5.0 defines vintage performance, but how the modern version of this incredible engine came to be is a story worth telling.
5.0 Origin Story
Let's just start off by setting the record straight: the 5.0 nomenclature made famous in 1979 was not really a 5.0 at all.
The 1979 Mustang had a 4.9L V8, or for your old school muscle heads out there, a 302 cubic inch unit. If that 302 number sticks out in your head, it's because another legendary Ford product bore those iconic numbers in 1969 and 1970. Yes, we're talking about the homologation special known as the Boss 302 Mustang. A vehicle that for all intents and purposes was a thinly disguised race car, released for the sole purpose of competing in the SCCA's 1969 Trans Am series.

In order to compete in the Trans Am series, Ford needed to produce a production version of the car being raced at the track and the Boss 302 was it. The thin-wall, high nickel content block casting design, and solid lifters, combined with free flowing heads from the upcoming Cleveland V8 ensured a high-revving, punchy V8 that was light and powerful. Ford offered a 302 in other products, including the Bronco, but it was nothing like the Boss 302 unit. For clarity, Ford offered the 302 in the Bronco all the way through 1977, which made installing it's cousin the Coyote in our restorations even more appropriate.
After the demise of the muscle car in the early 1970's, the Mustang soldiered on as the Mustang II. The first time Ford bestowed the 5.0 moniker on the side of their famous pony car was in 1975, when they brought back the V8 after a four year hiatus. Even though it hammered out 5 liters of displacement, this sad 302 only made 122 horsepower due to emissions requirements of the day. Regardless, the people loved it and the Mustang was hot again.
Fox Body Power
Most muscle car fans know that the 5.0 GT is the true enthusiast choice, but back in 1979 when the fox body Mustang came out, Ford executives didn't agree. The top brass at Ford wanted to cut the Mustang down to a front-wheel drive coupe with a Mazda chassis. While there's nothing technically wrong with that, a front-wheel drive coupe is not a Mustang. Give me rear-wheel drive or give me death! Buyers indicated horror at the thought of a front-wheel pony car and the Mustang was bestowed not with a FWD platform, but the existing Ford Fox platform instead.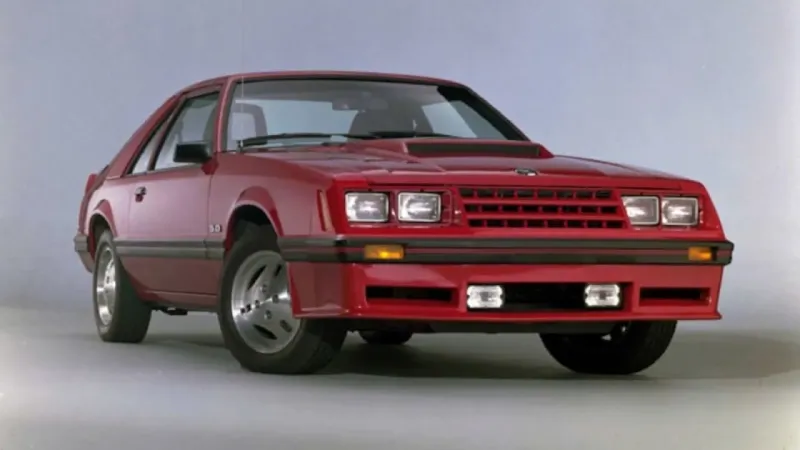 Coming back after 13 years, the 1979 Mustang GT proudly wore 5.0 on its side, a nod to the 302 Windsor under the hood. The 5.0 would disappear for 1980 and 1981, but would again return in 1982 as the 5.0 H.O or "High Output" V8. Equipped with a four barrel Holley from 1983 to 1985, and then an EFI system in 1986, the H.O. was a case study in affordable performance. It was so good, so durable and so capable of making power, that it would last all the way up until 1995 with fairly few modifications. Shadetree mechanics of the era loved the 5.0 because it was fairly easy to add in some amazing horsepower numbers with a plethora of aftermarket products for cheap.
Ford's modular V8 took over for the 1996 model year, and that was the end of the 5.0. That is, until 2010, when Ford announced that the 5.0 was back but this time, it was about to crush the competition.
The Howl Of The Coyote
Ford's Coyote has been around now for over ten years, but its design is still as good today as it was back in 2011.
To put it lightly, the Coyote is a modern powerhouse because of its advanced technology. It replaced the aging 3V modular, SOHC V8 and brought a brand-new 4V, dual-overhead cam design to the table. This meant the Coyote did not make power down low like Mustangs of yore, but that it made all its power up high in powerband. In other words, the Coyote was born to rev. As good as the base design is, Ford's Ti-VCT or Twin Independent Variable Cam Timing is what really set the Coyote apart from other American V8 engines like the General Motors LS.
Much like VTEC on Honda motors, Ti-VCT allowed the Coyote to alter cam position and timing to achieve more power when needed and better fuel economy when power wasn't needed. In addition , it also offered lower emissions, which is something challenging for any modern engine. The result of all this trickery was a stout 412 hp and 390 lb-ft of torque in the 2011 Mustang. Ford's ubiquitous F-150 would also receive the Coyote as an option, albeit a Coyote tuned for more low and mid-range torque than top end power.
To the credit of Ford, the 5.0L Coyote's deck height, and bore spacing matched the old 3V 4.6L V8. In addition, the bell housing bolt pattern was also kept from the old 4.6. This meant that Ford could produce the Coyote on the same assembly line as the old 4.6 modular engine, retaining the modular designation and allowing for future upgrades with relative ease.
Why We Chose The Coyote
As a builder of world class vintage Broncos, F-Series trucks and more, we needed an engine that was both powerful, and easy to work into a variety of applications. Now in its third generation, the Coyote is more flexible and powerful than ever. It provides a refined, torque rich character that produces ample power at nearly every RPM. Combining these good graces with our in-house dyno allows our engineers to dial in things like throttle response on every single vehicle that goes out the door.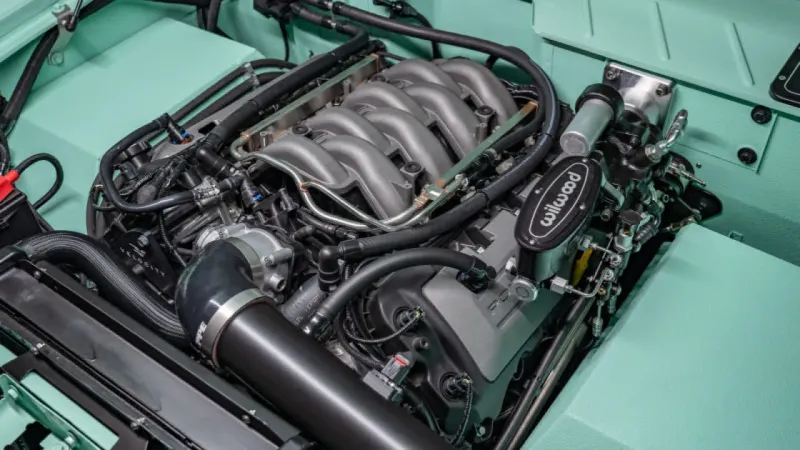 On top of the beautifully flexible and powerful engine, the Coyote also lends well to modifications like our Velocity exclusive serpentine belt system, custom headers and our thundering exhaust systems. It's also exceedingly easy to make the engine bay of our Broncos look incredible with custom engineered components that function as intended and look incredible.
Channeling the energy of past legends like the Boss 302 or the 5.0 GT Mustang fox body into a beautiful build is what we do every single day. Our vehicles may have a classic look but that Coyote under the hood, it's about as modern as anything else on the road.
We think it's the perfect engine for a modern classic.